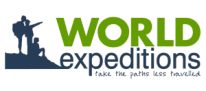 Number of tours

108
Age Range

16-80
Number of reviews

256
Rating

4.6

/5
Response rate

96%
Response time

within 1 day
Written on January 12th, 2023

What appeared to be a great tour on paper, turned out to be pretty ordinary. A number of things should have been done better to make it an enjoyable experience,…

Read more

World Expeditions commented on this review

Hi Peter, Many thanks for your review and for sharing your experience. I've investigated further and there are certainly some areas which didn't meet our normal standards and for that we apologise. Unfortunately, the reality is that this was just the second time we had operated this trip since the C19 lockdowns. Although your guide is one of the most experienced in the company and had travelled through all the regions on the itinerary multiple times, this was Robs first time back in a few years. This is no excuse and again is not normal, yet it is a reflection of having closed borders for almost 3 summer seasons. The error regarding the water taxi booking did mean your hike along the Queen Charlotte track ended up being closer to 17km instead of the planned 10km & we do apologise for this. This did mean, however, you visited Ships Cove, a highlight for many on this Great Walk. We thoroughly plan and research all hikes and the trails we visit on any itinerary. The Queen Charlotte and Abel Tasman Hike use well-known Department of Conservation walks which were currently open and readily used by individuals and other commercial operators. They are fit for purpose and offer stunning walks often away from crowds and showcasing a variety of topography. We do at times feel that the general feel and development of some tracks in New Zealand can be more challenging than some similar graded walks in other parts of the world. Mt Roberts is a steep climb and grunty in places. Mt Isobel is again steep in places and in some sections the trail relies on waymarks up quite rugged terrain. The descent from Mt Isobel is quite rough and requires careful footwork in some places. Additionally, both the climb and descent can be subject to water course erosion following heavy rain. I feel we could do a better job of describing the Mt Isobel walk. In light of your review, we will give more details on these two walks to ensure guests are suitably aware of expectations. Both of these walks occur at the end of the itinerary - on the final 2 days. The itinerary is designed for that to occur, the hikes build in commitment as the trip progresses. We hope that this allows the guests to grow in confidence and achieve walks which maybe they would not do earlier in the week. The degree of difficulty is in line with the trip grading of introductory, as we know there are always more committing sections on any intro walk. The lunch café in St Arnaud does sell petrol - they are a general store in a small remote village. This is a reflection of the remote locations we visit. We hope the above responses provide some answers to your valid concerns and that we see you back exploring another part of New Zealand with us again soon. We would be happy to chat with you some more if you would like. Warm regards, Pam World Expeditions

Written on December 11th, 2022

Amazing Tour,Bryan and Moses our tour leaders were exceptional, impressive knowledge and very nice people. i'm in love with Africa, i can't wait to go back. Tha…

Read more

World Expeditions commented on this review

Hi Marco, Great to hear you had a great experience in Africa and that we helped to get you there. All the best, Laura M. World Expeditions

Written on October 15th, 2022

Appalling!!! Unfortunately I can't give 0*. Local operations couldn't tell the truth if their life depended on it. Go to the Himalayas and experience alpine bea…

Read more

World Expeditions commented on this review

Hi Roger, We are sorry to hear that your experience in Nepal has not met your expectations. We take customer satisfaction seriously and have undertaken a full review of your trek. You will understand that the weather in Nepal in early October was extremely poor and the scheduled flights from Ramechap to Lukla for your Everest trek were clearly impacted by the cancellation of scheduled flights. We acknowledge that Ramechap, where flights to Lukla must be taken from in October, and which necessitates a 4 hours' drive from Kathmandu is not an ideal location, particularly when experiencing days of delays. Our purpose built camp was erected due to the virtual absence of commercial accommodation at Ramechap and to ensure we have a base where we can control hygiene and food preparation, which is conveniently located just minutes from the airport. It may occur that scheduled airline services from Ramechap to Lukla are affected by weather as our literature points out. In respect of your group, our team was working hard behind the scenes during that period to find alternatives with helicopters for your group. Yet, the weather was not conducive for them to fly either. Further, with that adverse weather cycle affecting all of Nepal over the first 9 days of October, helicopters were in extreme demand with people being rescued from legitimate emergency situations which was a further challenge. We certainly empathise with the disappointment of not being able to get into the region (which is completely dependent on air access) to undertake your trek, where all aircraft was immobilised with hundreds of people stranded at both ends as was widely reported in the local newspapers in Nepal. We note that the alternative trek services in the Annapurna region that was offered to you was declined but we note others on your original trek went on to enjoy the same. This alternative trek was given to ensure the group could also meet their departure flights home or to onward destinations. We appreciate why your circumstances personally meant you could not do the same. We can only imagine how frustrating these circumstances must have been for you. Under the circumstances of a force majeure situation, being weather related circumstances and the reason for the trip not proceeding, the avenue for recovery of funds is by making a claim on your insurance policy. We trust you have activated this with your travel agent and insurer. In respect of the statements you've made about staff locally, we respectfully must refute the claim that there was no communication with you. Your group leader was with you at all times and communicating the situation while waiting in Ramechap and when back in Kathmandu, our head office and local staff were in contact with you daily. We have 45 years of operating in Nepal and are experienced in dealing with the nuances of scheduled mountain flights in relation to weather conditions. We will always act in good faith in doing whatever we can, with safety as our first consideration, in having our travellers reach their scheduled trek. Our sincere empathies again for not being able to participate on the Everest Base Camp Trek. Regards, World Expeditions

Written on September 7th, 2022

This trip was everything we hoped for, and more. Our guides, Anna, Ella & Lilly, are passionate and knowledgeable about the environment, indigenous culture, flo…

Read more

World Expeditions commented on this review

Thank you for sharing such a positive review Stephanie. We are please you had a wonderful time & have shared this with our guides.

Janina

Written on August 23rd, 2022

South Africa is very beautiful and pritty deweloped countrie in Afrika. The tour brings you to wild rich of animals parks and beutiful coast! It's worthy to see…

Read more

World Expeditions commented on this review

thanks for the feedback, Janina!

Accommodation for first 4 nights not satisfactory for the price we paid for tour. No toilet and shower in cabins. The condition of the bus was dreadful. Very no…

Read more

World Expeditions commented on this review

Dear Paul, thank you for providing your detailed feedback. Our review of customer feedback is something that we pay close attention to, being an essential tool for ensuring that we are consistently delivering the highest quality trips possible. While we are pleased that you enjoyed the hiking aspect of your adventure, we are naturally disappointed that you felt the accommodation and facilities were not satisfactory. These are the same facilities that have been in use for this trip for 10 years and in sincerity, we've not received such a negative appraisal in the past. Despite our past experiences your detailed feedback demonstrates an area for improvement and has prompted us to further improve upon our accommodation offerings by undertaking an internal reviewal of practices and suitable providers. It is disappointing to hear of the experiences you had with our guides. We have standard operating practices in place for our guides to follow that detail our policies and procedures. In conjunction we have comprehensive training encompassing these practices to assist our guides in developing and demonstrating the professionalism we strive for with all our employees. I can confirm that it is safety policy to only have guides put wood on the fire as we have provided detailed training on how to safely chop wood, start the fire, cook on the fire, maximum fire size, etc. I apologise that you felt this subject was not broached with you properly and resulted in a negative impact on your experience. We will be following up your feedback with our guides. I do sincerely apologise for the mistake regarding same sex rooming. As soon as we were notified of this mistake by your co-traveler, we rectified the issue and provided additional rooming. Thank you for providing us with your detailed feedback that allows us to recognise the areas where we can further improve. We hope that our actions demonstrate that your feedback has been taken seriously and acted upon. It is now our hope that the positive memories of your trip ensue and that you may reconsider your decision to travel with us again.

Apart from the mix up with the shared accommodation, which was immediately rectified, I was happy with the whole experience with Tuesday's rock climbing day bei…

Read more

World Expeditions commented on this review

Thanks again for joining us, Belinda. Appreciate your review.

Anna

Accommodation reasonable n guides good though it would have been nice to have guides on both front n back for all walks.

World Expeditions commented on this review

Thanks for your comments, Anna. We will share your feedback with our operations team.

Fantastic experience with a fabulous guide Motaz. He was an incredibly generous and genuine man and took us on a quite unique trek. Mix in Wadi Rum, the Dead S…

Read more

World Expeditions commented on this review

thanks for your kind review, Chris

Michelle

Galapagos Islands on Beluga

Written on January 3rd, 2022

The Beluga was amazing. The guide, Alberto, was extremely knowledgeable and the crew went out of their way to look after us. I couldn't have wished for a better…

Read more

World Expeditions commented on this review

Thank you Michelle for sharing. We are pleased to hear that you enjoyed your trip. I'll pass along your nice words to our crew, we all need a dose of happy travel stories these days! Nathalie @ World Expeditions
World Expeditions Destinations
World Expeditions Videos
Why Travel With World Expeditions?
Leaders in Responsible Travel
Responsible Travel practice is at the heart of every program we offer around the world. Over decades we've honed our responsible travel philosophy and the initiatives we have in place around the world to ensure we minimise our impact and leave behind positive impressions. When you book one of our adventures you're supporting a program that is committed to safety and sustainability.

Innovative Multi Active Itineraries
We're always looking to provide new and unique experiences to get you off the well-trodden tourist trails. One of the best ways to do that is by joining one of our superb multi activity adventures. Whether you enjoy cycling, hiking, kayaking or all of the above, travelling under your own steam is an incredibly rewarding way to explore the hidden gems of the world.

Great Value
Quality services at the best prices make our adventures great value for money. We include bikes on our cycle adventures with back up vehicles in case you want to hang up your gloves for the day, kayaks to enable you to paddle to scenic spots, many meals and atmospheric accommodation. Quality services at the best prices make our adventures great value for money. Having essential items like meals, sightseeing and national park fees included in the trip cost allows you to better budget for your big adventure and eliminates the risk of having to carry large sums of money around with you on your journey.

Create Your Own Adventure
With World Expeditions, your adventure can take any form you desire. We love to use our 40 years of experience arranging adventures on the subcontinent to create outstanding custom itineraries just for you. Whether it's for individuals, couples, families or special interest groups, we know the region and can help you get the most out of your experience.

Expert Guides
It's our expert guides in the field guides make your international experiences so special. They're a passionate group of tourism professionals with extensive knowledge covering the long and varied history of the region, the tapestry of cultures that occupy the land, the best walking trails and most authentic restaurants to eat at. In a nutshell, our expert guides are the difference between a good and an excellent adventure.
World Firsts by World Expeditions
Himalaya
We proudly pioneered the first ever trekking trip to Tibet (1991) Developed trails in Nepal and the Indian Himalaya that had never before been used commercially, Piloted the first commercial opportunity to walk The Great Himalaya Trail (2010)

Asia
Pioneered the first commercial cycle trip in China (1978) and also in Vietnam (1990), Offered the first trek along Japan's Omine Pilgrimage Trail, Our unique Footsteps of Mongolia itinerary has been awarded one of National Geographic's Top 50 Tours of a Lifetime.

Australia
The South Coast Track in Tasmania (1984) The Larapinta Trail (1995), Hinchinbrook Island kayaking (1987) The first land-based travel around the Northern Territory's Garma Festival (1999).

Central America
Commercial traverse of Costa Rica. Our unique Costa Rica Traverse crosses the country by foot, bike, raft and kayak and received global acclaim by being recognised as Outside Magazine's Central America Trip of the Year in 2006.

South America
Pioneered the first commercial Inca Rivers Trek in Peru (2004), Great Patagonia Traverse (2012), through untouched National Parks in Chile and Argentina; The Venezuela Lost World trek (2001), amongst the great Tepui Mountains and spectacular Angel Falls.

India
Pioneered the first ever cycling and camel trek adventures in India (1978), A sailing trip down the Ganges River. We've developed trails that had never before been used commercially, including a traverse from Kashmir to Ladakh through Zanskar (1983) One of the first companies to offer cycling adventures around Sri Lanka.
Our COVID-19 Safety Measures
What we're doing to keep you safe

The safety of our travellers has always been our number one concern. We have developed a robust operating protocol that builds on its original safety and risk mitigation strategy to bring in new measures around COVID-19 when trips can resume. 
We have completed assessments to follow physical distancing measures and health and hygiene principles, submitted our COVID-19 Safety Plan to each respective state government, as well as obtained COVID CLEAN accreditation from Quality Tourism Australia.
Our COVID-19 Safety Plan that is registered with the Northern Territory Government (ref number: COVID19-CHK-4948) has been submitted and we have completed COVID-19 risk registers for all of our operating bases. All guides have been trained on additional cleaning and hygiene measures and in field protocols that have been developed in conjunction with our medical consultant Dr Ross.
The following safety measures will be implemented on the Australia & New Zealand trips operated by us.
Pre Trip
- A risk assessment and minimising plan in the company's greater operational risk assessment and mitigation plan.
- A pre-departure questionnaire for participants to complete with specific COVID-19 questions around whether they have travelled overseas within the last 2 months, have complied with any quarantine requirements, and disclosures if they have contracted and recovered from the virus or been in direct contact with any person/s whom has been confirmed with coronavirus.
- A response plan developed by the company's medical advisor in the event that a participant presents with coronavirus-like symptoms during a trip.
- On arrival for the tour, mandatory temperature testing.
- Issuing all clients with a face mask for mandatory use while travelling in vehicles.
Illness
- If a passenger is showing symptoms, activation of the response plan provided by our medical advisor and immediate isolation from the group.
- Liaison with local medical authorities.
- High levels of monitoring and reporting with possible removal from trip as required.
Group Size
- Compliance with the local authority in relation to maximum group size.
Vehicle Travel
- The utilisation of company vehicles only where high controls over deep cleaning can be executed and logs of such activity recorded.
- All participants, including guides, must wear a face mask when travelling in vehicles.
- Any participant presenting with virus symptoms may not travel in vehicle at the same time as other non-symptomatic participants.
Cooking
- Stringent hand washing/sanitisation before, during and after, food preparation.
- Guides to prepare and serve all food. Passengers not to touch group utensils.
- Participants are never to assist with cooking.
- Participants to use the same camp utensils throughout the entire trip.
- All surfaces to be wiped down twice daily with disinfectant products.
Sleeping
- All participants who are not travelling as a couple to be issued their own swags.
- Sheets and pillowcases to be washed between every trip and deep clean treatment of swags occur after each departure.
On Track
- Maintain social distancing procedures on the trail.
Toileting
- Toilets to be deep cleaned every day.
- Clients to be issued with their own toileting kits.
Guides & Staff
- Vigilant monitoring of staff health - guides who have shown symptoms will not be leading trips.
- Guides will be trained in our COVID-19 response plan that has been developed by the company's medical advisor in the event that a participant presents with coronavirus-like symptoms during a trip.
Questions & Answers
How often is a trip cancelled?

Because our group sizes are small, about 95% of our trips operate – so the chances of trip you are going on are very high!

What is included in my adventure holiday?

Unlike other cheaper tour providers, we aim to incorporate as many inclusions as possible in our tour costs to minimise your out of pocket expenses while you are on tour. This could include meals, national park fees, permits etc. This minimises the risk of carrying around large sums of cash while overseas, and means there are no unsuspected additional expenses while on the road. Please ensure you read our trip notes prior to leaving for exact inclusions.

What about the food?

There's nothing more satisfying after a hard day of trekking or cycling than sitting down with a hearty meal at the end of the day, so we ensure that our meals are tasty, varied and have plenty of fresh ingredients! You can expect a combination of local and European dishes cooked under a high standard of hygiene. We also cater for vegetarians and dietary requirements and ensure meals are filling and delicious!

What about environmental impact?

We at World Expeditions hold a firm belief that adventure travel revolves around creating a strong working relationship within the environments we operate and the people we interact with. On our trips, we encourage all travellers to familiarise themselves with our Responsible Tourism Guide before you depart on your trip. We are a strong supporter of the 10 Pieces initiative which encourages travellers to take 10 pieces of rubbish every day while trekking, leaving the environment in a better condition than when we arrived.

Where do we stay?

We carefully select the accommodation you stay in on our trips to ensure it reflects the local character. While staying in cities, hotel rooms are on a twin share basis with private facilities. Remote communities, however, have more simple yet clean rooms with basic facilities. When in the field, you can expect the best possible camping experience complete with two person tents, toilet tent and a mess tent for dining together.

How safe is it?

We are proud to say that safety is our number one priority, and our staff continually review every aspect of your adventure. Our expert guides are fully conversant with the demands of travelling in remote regions.

What level of comfort can I expect?

On our trekking adventures we camp in comfort and style using the best equipment. Meals are cooked for you while our staff prepare the campsites while you sit back and relax. The same level of comfort is provided on our cycling and sea kayak adventures. Our staff ensure that your day to day needs are taken care of, and while on your trip you travel in comfortable private vehicles and local hotels (when not camping).

How fit do I have to be for an adventure travel holiday?

All trips with World Expeditions are graded from an introductory to advanced mountaineering grading system, and each grading has a different physical requirement for the trip. While we recommend that anyone joining on an adventure should have a reasonable level of health and fitness, it is essential that you read the detailed trip notes and training advice for some of the intermediate and advanced trips to ensure you are able to complete the trip safely.

Am I suited to small group travel?

If you have not been on a small group trip before, rest assured that World Expeditions trips are very flexible and allow you to do your own thing within the framework of the itinerary. The maximum group size on World Expeditions trips is 16 people – an ideal size for for minimal impact travel and small enough to be able to form lasting friendships with your fellow travellers.
Contact our Travel Experts
+1 844 311 8331
24/7 Support
Our team of experienced tour specialists have travelled to hundreds of countries around the globe and have decades of first-hand travel experience to share. Contact us now to have all of your tour-related questions answered!