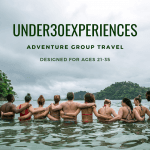 Number of tours

8
Age Range

21-35
Number of reviews

33
Rating

4.8

/5
Response rate

100%
Response time

within 1 day
Written on March 9th, 2020

Love this company! The trip was fantastic. The company has great customer service and employees, and are very easy to work with. The trip was a great mix of pla…

Read more

Written on February 12th, 2020

A great way to get a taste of Pura Vida! Our entire group became friends, and none of us were ready to go home. Our guide, Yoza, was fantastic. I would highly r…

Read more

Anonymous

Written on December 10th, 2019

Great trip and great tour guide (Tete) as well! Had a blast with meeting new people and the highlight for me was doing the repelling down the waterfalls. Woul…

Read more

Written on December 2nd, 2019

The tour was set up to be great and everything almost was. Unfortunately the group dynamic ruined a lot of the experience. I understand the company does not con…

Read more

Written on November 21st, 2019

Jon and Addi were so incredibly awesome !!! They made a great trip even better!!

Written on November 8th, 2019

Overall a great trip and good value for money. The optional activities were fantastic, especially the jungle hikes and adventures. It would have been nice to ac…

Read more

Written on October 28th, 2019

The trip was spoiled by the other guests. One person had booked themselves and 11 of their friends on the trip and completely took over everything (so 12 of 16 …

Read more

Written on August 22nd, 2019

I am so happy I booked this tour because Under 30 takes very good care of their clients, making sure that transportation, accommodations, meals, and included ac…

Read more

Written on July 9th, 2019

The trip was awesome and also our tour guide! I really enjoyed it!

Written on June 24th, 2019

This trip was fantastic! Each day was jam packed with activities showcasing the gorgeous landscapes of Iceland.
Under30Experiences Videos
Questions & Answers
Are you able to arrange airport transfers?

Arrival and departure airport transfers are generally included in the tour price as long as your arrival and departure flights follow the instructions provided. Flight instruction emails are sent after booking. We ask that you wait to book flights until after you have received this email.

Can you arrange additional accommodation before or after the tour?

Under30Experiences cannot arrange additional nights of accommodations, but are more than happy to give recommendations.

If I am a solo traveller, will I share a room with someone?

Under30Experiences are designed for young people who want to connect with each other and make friends from around the world so you will be paired with another traveller of the same gender. However, if you prefer the privacy of your own room a single room can be requested for an additional cost.

Who is the typical traveller on your tours?

You will generally find that over 70% of the people that come on Under30experiences are solo travellers who ages usually range from 21 -35 years. Many of the travellers are either professionals, creative types, ambitious students, entrepreneurs, or motivated young people just figuring life out.

Is tipping compulsory?

The Under30experiences trip leaders do not accept tips, the staff are all part of a community and trip leaders are there to help build that. Their main aim is for all travellers to feel comfortable with them and even build friendships with you, so a simple 'thank you' is all the tipping they need!

What is generally included in your tours?

The tours include all accommodation, breakfasts and dinners, daily transportation, airport pickup and drop-off, entertainment, local guides and Under30Experiences staff.

Can I connect with fellow travellers before the tour begins?

A month before your trip's departure, a representative of Under30Experiences will invite you to join a unique Facebook Group where you can meet your fellow travellers.

Do you offer optional activities on your tours?

On any tour you do with Under30experiences you will get to experience a few different activities and a list will be provided to you once your booking is confirmed. The activities can then be arranged once you are on the tour for an additional cost.
Contact our Travel Experts
+1 844 311 3006
24/7 Support
Our team of experienced tour specialists have travelled to hundreds of countries around the globe and have decades of first-hand travel experience to share. Contact us now to have all of your tour-related questions answered!