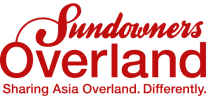 Sundowners Overland
Headquarters in Melbourne, Australia
View all tours
Number of tours

13
Age Range

18-99
Number of reviews

43
Rating

4.3

/5
Response rate

100%
Response time

within 1 day
Sundowners Overland Tours
Sundowners Overland Destinations
Why travel with Sundowners Overland?
Choosing the right travel partner for your journey is a big decision. It's not every day you get to uncover the secrets of the Silk Road or the romance of Russia.
For over 50 years its tours have been the reality of Sundowners Overland. We're powered by an eagerness for authentic overland travel - journeys that in capture you in cultures while carefully balancing exploration and relaxation. Our extensive network of specialist travel guides will help you experience the journey of a lifetime through captivating regions of the world. Our Local Guides and Tour Leaders are certified travel professionals with fantastic English and share the kind of idiosyncratic insight only a local could.

Unparalleled destinations
From golden empires to whispering wilderness, follow the couragious footsteps of early explorers along ancient trails of trade and conquest. Enjoy a unique glimpse of endearing people living extraordinary lives and soak up the cinematic scenery as you travel along the alluring lands by rail, road and sea. Choose from over 20 carefully created small group journeys or design your own.

Authentic encounters
Along the way find out the true value of people you get to meet. Sundowners Overland journeys are created to maximise the opportunity to interact with local life, enriching your understanding of cultures and countries far from home.

Moving journeys designed for you
Whether you want in-depth discovery or action-packed adventure, world-class luxury or something leisurely, Sundowners Overland has a Travelstyle that's right for you.

Small things in great packages
To create an intimate experience we have small group tours, you'll forge lasting friendships as you unlock the wonders of the world together.

Incredible experiences
Wander off the beaten track and delve deeper into fascinating regions through unique activities. Flexible journeys that let you plan independent activities whilst visiting each destination.

Peace of mind
Travellers have been enjoying our awe-inspiring experiences for over 50 years. Each journey is carefully created and carried out by passionate travel specialists, where 24/7 support is available in the office and on the ground.

Single supplements are optional
There are no single supplements on our group tours as long as you are happy to share with fellow travellers. If you're a sole traveller and would prefer private accommodation, this can be arranges but a single supplement may apply.

Travel Responsibly
We are committed to social and environmental, positive economic and social impacts through our Responsible Travel Policy.
Questions & Answers
Do you provide visa support?

Sundowners Overland provides full visa support for travellers, including visa guidelines and all the required visa invitations for your journey. Please ensure you have a passport with a minimum of six months validity from the date you complete your Sundowners Overland arrangements.

What are the train journeys like?

Majority of train travel with Sundowners Overland is in 2 or 4 berth compartments on regular rail services that are comfortable, reliable and offer great opportunities to make new friends and interact with local people. On board, there is plenty of room for luggage and for making yourself comfortable. Clean linen is provided on each rail sector and your carriage attendants are on hand to ensure you have an enjoyable journey. On the standard rail services, basic but adequate toilet and washing facilities are located at each end of your carriage. The dining car is always a focal point of life on board offering meals, snacks, drinks and a place to relax during the day. Meals available on board are usually cuisine from the country you are travelling through. Whilst it is a good idea to pack some of your own instant meals and snacks you can also purchase fresh produce from a number of vendors on the train platforms along the way, a great way to sample local flavours!

Do I need to tip during my journey?

Across Asia, people have become accustomed to the new freedoms and opportunities of a capitalist economy. Tipping has become an essential (and expected) supplement for those working with foreign tourists, eg: drivers, guides and porters. Sundowners Overland have found from experience, that it is convenient for the Tour Leader or an elected group member to collect a kitty and administer it according to the group's decision. Your contribution will be collected on day one of the journey. A tip kitty saves the need for regular use of small denomination bills and their pre tour information will help you to budget for this.

What type of accommodation do you use?

Most group tours are designed at a classic service level, meaning accommodation is equivalent to western 3-star with private facilities. Many people across the continent live in traditional gers and yurts. Some of Sundowners journeys give you the chance to stay in these nomadic camps as well as homestays. They are multi-share and mixed gender with basic shared facilities, most have western toilets. As you glean an insight into the extraordinary lives of your friendly hosts, it is sure to become one of your fondest memories.

What to expect at border crossings?

Border crossings are often fascinating. Glimpse people draped in sumptuous fabrics and farmers from rural frontiers. Watch traders pull carts of produce and consider how far they've come on foot and how far they have to go. When you reach the border, your transport will stop for officials to check visas and passports. Occasionally, the bureaucratic process can take a few hours, depending on how many people are waiting, or if officials have decided to take a long lunch. Sometimes you can stay on board, other times you will need to disembark and line up. Queuing etiquette varies in each country, if you have a Tour Leader, they'll help you cross like a local.

Do you have a recommended packing list for your tours?

If travelling in summer take light clothes, a hat, comfortable footwear and a jacket for the evenings when it might get cooler. If you are travelling in winter, bring plenty of layers of warm clothes, thermal underwear and hiking shoes. You will be required to carry your own luggage on and off the trains, through the stations and from the bus to your hotel. We recommend using a small/medium size bag with wheels, a medium soft a single rucksack or soft bag, these fit more easily into the limited luggage space on the trains. Some other handy things to take include taking a waterproof jacket, European plug adapter, toilet paper, hand sanitiser, universal sink plug, a small travel towel and a deck of cards. Whenever you are travelling don't forget your camera and multiple memory cards!

What level of fitness is required?

You have a responsibility to yourself and your fellow travellers to ensure you are fit enough to enjoy the tour. Each Sundowners Overland tour has an activity grading to give you an indication of the fitness that is required. Gradings are based on the cumulative effect of various factors, including; travel duration, sightseeing, pace, uneven terrain, ability to carry your own luggage, changing timezones and climate conditions.

Do I need travel insurance?

Travel insurance is compulsory on all Sundowners Overland 'Small Group Journeys'. Policies must provide adequate cover for the loss of personal items, repatriation and any potential medical expenses. Travellers will not be permitted to participate in the trip until your Tour Leader or Local Guide has seen evidence of travel insurance coverage.

What is a Local Guide?

Local Guides are certified travel professionals that enhance your sightseeing with historical and cultural knowledge. Being native to each destination, they offer the kind of authentic insight only a local could.

What is a Sundowners Overland Tour Leader?

Sundowner's tour leaders are organisers and master negotiators. They will help you discover sights, navigate border crossings, and understand cultural nuances with ease. On small group tours, they'll be with you every step of the way to ensure your exhilarating journey stays on track.

What is the size of the groups on your tours?

Most journeys have a maximum of 15 travellers. However, some special departures may have up to 24 travellers.

What is the Silk Road?

Not a single track, but a tangle of ancient threads with which the world was woven. The Silk Road's innovation, education, science, art and people flowed in both directions from the Orient to the Mediterranean, traversing mysterious lands to form civilisation as we know it.

What is the Trans Siberian and Trans Mongolian Railways?

Many adventurers have hailed it as the world's greatest train journey; it's certainly the longest. Covering 9,289 kilometres from Moscow to Vladivostok, the iron way connects East and West over mountains, rivers and time zones. Unlock the mysteries of Imperial Russia, Siberian civilisations and Soviet influence, then swing southwards into the wild heart of Mongolia, and east into China's exotic grasp. If you want a journey that immerses you in cultures, countries and customs afar, then you're on the right tracks to take you there.
Contact our Travel Experts
+1 844 311 8331
24/7 Support
Our team of experienced tour specialists have travelled to hundreds of countries around the globe and have decades of first-hand travel experience to share. Contact us now to have all of your tour-related questions answered!