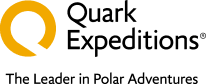 Number of tours

24
Age Range

18-80
Number of reviews

75
Rating

4.7

/5
Response rate

96%
Response time

5 hours
Sue

Written on March 3rd, 2021

Quark cancelled the cruise because of Covid 19 but has refused to refund our $9,030 deposit. Etihad airlines refunded our flight money but Quark refuses, saying…

Read more

Written on March 30th, 2020

Excellent! Tour , Quark Expedition staff. hotel, Food, Daily programs all thumb up

Written on December 23rd, 2019

Weather was very good for us Organized well Expedition team were good Food was very good

Spitsbergen in Depth

Written on August 16th, 2013

A fanatstic trip. The expedition staff were without exception, excellent. We sailed North into the pack ice and were rewarded with stunning scenery, many polar …

Read more

Spitsbergen in Depth

Written on August 14th, 2013

We joined this trip because we wanted to see a Polar Bear in the wild. We weren't disappointed - multiple bears on multiple occasions. The trip offered much mor…

Read more

Spitsbergen in Depth

Written on August 7th, 2013

My polar addiction started back in 2009 when i headed out to the Arctic with Paul, Ian Stirling and the elite of polar ships the Vavilov. We had incredible weat…

Read more

Spitsbergen in Depth

Written on August 5th, 2013

A Fantastic trip, excellent guides, support team and ship.What was the most inspirational moment of your trip?Seeing Polar Bears in their environment close-up.W…

Read more

Spitsbergen in Depth

Written on August 2nd, 2013

This was an exhilarating and awe-inspiring trip where we really got to experience and feel the magic of Spitzbergen and its wildlife.  The ship, the crew and al…

Read more

Spitsbergen in Depth

Written on August 2nd, 2013

To summarise such a monumental experience is impossible. Although I had read all about it, the reality was far beyond words. The scenery, the wildlife and shee…

Read more

Spitsbergen in Depth

Written on August 1st, 2013

Ever since reading about Fridtjof Nansen as a youngster I've wanted to head to the Arctic. Sometimes following dreams doesn't work out but this trip was everyth…

Read more
Quark Expeditions Destinations
Quark Expeditions Videos
About Us
Our People
Quark's Expedition team members are all Polar-passionate and are seasoned veterans with rich backgrounds in marine biology, history, geology and more. Many are skilled Zodiac drivers and kayakers. Quark offers one of the highest staff-to-guest ratios in the expedition world. And that means more expert guidance for your trip-of-a-lifetime, not to mention you'll be spending time with some of the most fascinating people on the planet!

Special Guests
Special Guest and Experts Fully Engaged with Quark Guests The scientists and researchers engage with our passengers, and make their work accessible to all travelers. They also deliver lectures on board, in their area of expertise. Quark is proud to announce this year's scientists-in-residence as Tom Hart, Mark Jessopp, and Mike Polito. Dr Tom Hart was a founding part of the program six years ago and his speciality is penguin science and conservtion. Mark Jessopp has been participating for three years, focusing on seabirds. Mike Polito has also been with the program for six years and he specialises in birds and mammals and their environment. Scientists are chosen for the nature of their research, and the relevance of our destinations to their research. They conduct ongoing research, and excel at explaining their work to guests in an informative, engaging way.

Sustainability
Quark Expeditions is profoundly committed to environmentally responsible tourism. As a long-time, active member of both the International Association of Antarctica Tour Operators (IAATO), and the Association of Arctic Expedition Cruise Operators (AECO), Quark adheres to stringent guidelines designed to ensure the Polar Regions remain pristine for generations to come. Our Sustainability Initiatives: Our vessels burn Marine Gas Oil (MGO) – a clean burning fuel with a low emission factor Quark conforms to all international regulations/policies governing disposal of waste at sea We serve only sustainable seafood We use eco-friendly laundry chemicals & cabin amenities We provide every passenger with a reusable water bottle We use only recycled, acid-free paper onboard and limit paper use We use recycled paper and acid free inks in the manufacture of our brochures Our Charitable Work: Quark has been a proud ambassador of the Polar Regions since 1991. Thanks to our passengers, Quark's onboard auctions have raised an average of $150,000 each season for charities dedicated to sustainability and conservation in the places we visit.

Our Ships
Expedition travel doesn't mean you have to "rough it." An important consideration for your expedition is which ship to choose. Quark doesn't operate traditional cruise ships. We operate small expedition ships and authentic icebreakers, each carrying fewer than 200 passengers. All our vessels are equipped with Zodiacs (inflatable landing craft) for safe, comfortable transfers from ship to shore, allowing us to reach some of the world's most remote places. Quark's ships will get you to the most isolated and breathtaking wilderness areas on the planet—the Arctic and Antarctica—safely and comfortably. Whatever your preferred travel style, Quark has a diverse fleet of modern ships to ensure every passenger experiences true comfort and maximum enjoyment while on an expedition.
Quark Expeditions Transports
Explore with Peace of Mind
Quark Expeditions' Four Pillars of Health and Safety

Passenger health and safety have been number one priorities for Quark Expeditions for the past three decades. The challenges prompted by Covid-19 have reinforced our commitment to guest safety. Consequently, we have assembled a multi-functional task force of physicians, polar experts and industry leaders to develop the most comprehensive health and safety plan in the expedition industry to provide you with peace of mind when exploring the Polar Regions. While we continue to build out that plan, we'd like to share with you the four pillars that form the core of our approach to health and safety.
Clean Expedition Ships
WE ENSURE YOUR EXPEDITION SHIP IS CLEAN AND HEALTHY.
Quark Expeditions' diverse fleet of small polar vessels means you'll never embark on a journey with more than 199 passengers. In fact, you could travel with a group as small as 110 guests. Fewer people means lower risk.
Our vessels will continue to meet international certifications for infection prevention. 
We are reviewing every disinfectant used in our processes to ensure that they meet or exceed relevant healthcare standards, and we'll increase the frequency of cleaning of high-risk areas. 
Our ingrained culture of disciplined operating procedures means that Quark Expeditions will enforce cleaning, disinfecting and sanitizing procedures.
We are revising our outbreak prevention manual to reduce any chance of transmission of infection. 
Healthy Staff
EVERYTHING WE DO TO HELP ENSURE OUR STAFF AND CREW JOIN THE EXPEDITION HEALTHY AND STAY HEALTHY.
At Quark Expeditions, we believe we have the most highly trained team of guides in the industry. Their training will be enhanced to ensure full understanding of all new health measures. 
Staff and crew will submit their travel history and health forms for medical review before they join an expedition with Quark Expeditions.
Formalized daily health checks of staff and crew.
Our team is investigating the right mix of personal protective equipment (PPE) that is necessary, and we will ensure that staff, crew and guests will have access to such PPE as required.
Healthy Fellow Passengers
EVERYTHING WE DO TO HELP ENSURE YOUR FELLOW PASSENGERS JOIN THE EXPEDITION HEALTHY AND STAY HEALTHY
In 2019/2020 Quark Expeditions was among the earliest expedition operators to implement epidemic pre-screening measures for our passengers. Quark Expeditions did not incur ANY COVID outbreaks on our voyages. These pre-screening measures will constitute the bare minimum of standards we will implement moving forward. 
Passengers will submit travel history and health forms for medical review   before they join a voyage with Quark Expeditions.  
Formalized daily health checks will ensure any passenger health concerns are actively addressed and monitored.
We're currently working with local hotels and airlines as well as health authorities to confirm safe and direct access.
We're working with local airport, seaport and health authorities to confirm embarkation and disembarkation protocols are streamlined and secure.
Healthy Expedition Environment
WE'LL DO EVERYTHING TO HELP ENSURE YOUR ENTIRE EXPEDITION EXPERIENCE IS A HEALTHY ONE.
The polar regions are among the most remote, pristine areas of the planet, providing you with a healthy environment to explore.
Regular guest health reporting will be implemented during all expeditions. Two licensed medical doctors will join every expedition. 
Quark Expeditions' team of expedition doctors are carefully reviewing the infirmary equipment and other medical supplies that will ensure your safety while on your polar voyage. 
Appropriate number of isolation suites will be available should the need arise during an expedition; we'll review this requirement regularly and adjust future voyages accordingly.
We're reviewing every step of the pre- and post-expedition journey to ensure we accommodate the enhanced health requirements from the moment you arrive at your destination until the moment you depart. 
We're reviewing every minute of the expedition day to maximize the physical space between passengers, including reviewing changes to our meal service plans and to our off-ship activity planning. 
Contact our Travel Experts
+1 844 311 3006
24/7 Support
Our team of experienced tour specialists have travelled to hundreds of countries around the globe and have decades of first-hand travel experience to share. Contact us now to have all of your tour-related questions answered!