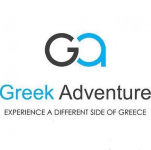 Number of tours

14
Age Range

10-99
Number of reviews

3
Rating

4.2

/5
Response rate

100%
Response time

within 1 day
Written on September 10th, 2019

We were just two in the group everything goes as well as planned the guide was very good was ready to all the options up on the mountain i liked the trek even i…

Read more

Greek Adventure commented on this review

Dear Mr Yaqub, thank you very much for your comments! It was a pleasure for us as weill, to explore Mt. Olympus with you :) Best regards

Written on August 5th, 2018

All other people on the tour cancelled (I was given no prior warning of this) so it was just myself and the guides who continually spoke Greek amongst themselve…

Read more

Greek Adventure commented on this review

Dear Ms. Alana Poliakow. Thanks for your comment. First of all, we would like to apologies if something was wrong in your trip. The philosophy of guarantee departure - schedule date trips is to be a part of a group in that closed price and usually we don't inform other members if we have any cancelations. Due to security reasons maximum participation in a group can't be more than 8 persons and all of our trips is open to book even one single day before the schedule date in case that we have any open slot. To be honest we are very surprised about Giannis, is one of our best guides in Mt. Olympus that's why we sent him another new guide to training him, so we want to apologies once again if they spoke Greek is not polite for sure. As our guide notice in his trip report he makes some changes because of the bad weather conditions that's why on 2nd day you visit the peak of Mt. Olympus that actually was schedule for 3rd day and finally you have a "short" day because of the rain. The 4th day it was according to your itinerary, a long and beautiful hike day. It is very important to us, all of our clients to be safe that's why all of our guides can change the itinerary according to weather forecast or similar dangerous situations. We don't use to have any complained customers so we are very open to invite you to join in one of our future trips with discount of 10% next time that plan to you visit Greece. Kind regards from all of Greek Adventure team.

Written on June 11th, 2018

This tour was a remarkable and unforgettable. started with the knowledge that the management stand obliged to issue the tour for only 2 people. This and more, s…

Read more

Greek Adventure commented on this review

Dear Isaac, thanks you for your comment! It was a great pleasure having you with us! All of our guides are well educated and they truly know how to make your trip unique! I hope you enjoyed your hiking experience in Greece and it would be great to see you again!
Contact our Travel Experts
+1 844 311 8331
24/7 Support
Our team of experienced tour specialists have travelled to hundreds of countries around the globe and have decades of first-hand travel experience to share. Contact us now to have all of your tour-related questions answered!