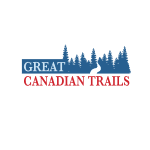 Number of tours

26
Age Range

18-75
Number of reviews

14
Rating

4.7

/5
Response rate

88%
Response time

within 3 days
Written on June 26th, 2022

Jamie was organised & on top of everything, prepared & willing to help. Places to stay were good, some more than others but overall good.

Written on June 19th, 2022

The people involved, food and accommodations were excellent. We found the trails much more difficult than expected. In some areas the trails were poorly maintai…

Read more

Written on July 17th, 2021

The Hut to Hut Tour in Wells-Gray Park was amazing! Besides our group, there was no one there… it was so great to be the only people in such a vast space and ou…

Read more

Great Canadian Trails commented on this review

Thanks Heather for the review. We are pleased to read that you enjoyed your hike. The team @ Great Canadian Trails

Written on October 4th, 2019

We enjoyed the Halifax to Lunenburg bike tour very much. It was almost perfect! Our bikes from Bike and Bean were excellent and Bike and Bean is the best bike s…

Read more

Written on August 8th, 2019

All the breakfasts were very good. The supper at Provincialart was exceptional. The one at Le Baril Roulant was horrible. One of our bicycle tires was not in go…

Read more

Written on June 8th, 2019

It's a fantastische adventure. Rebecca and Ian are experienced guides. I totales recommend it!

Great Canadian Trails commented on this review

Hi Justus, Thank you for your kind words, we are pleased to read that you have enjoyed your adventure in Newfoundland.

Dafne

Canadian Rocky Mountain Hikes

Written on October 20th, 2018

It was amazing, the best trip ever. I'm really happy to choose Great Canadian Trails.

Juan

Canadian Rocky Mountain Hikes

Written on September 2nd, 2018

Fantastic! Anne and Sharon are great

Written on January 6th, 2018

The winter adventure was an amazing experience! The transportation, however, could have been arranged better. We were expecting to be driven from the cabin to t…

Read more

Written on September 13th, 2017

Excellent variety in choice of trails, giving a good flavour of different terrains from the Coastal Mountains to the Rockies. Hikes from easy to moderate. Lots …

Read more
Great Canadian Trails Tours
Great Canadian Trails Videos
COVID-19 Updates
Your Well Being is our Priority

We are closely monitoring the rapidly changing situation. With the easing of some travel restrictions around the COVID-19 pandemic, our travellers are looking forward to hitting the trails. At present, our Canada-USA border remains closed to non-essential travel up until July 21st, 2020, and inter-provincial travel is still limited. We are reviewing our trips six weeks before the scheduled departure, and we will contact all of our affected travellers. For trips beyond that period, we recommend that our Canadian travellers hold off on making a decision at this time. We invite our international travellers to contact their travel consultant if you would like to postpone your 2020 tour due to the coronavirus pandemic. 
The ongoing safety of our travellers is our top priority. Our style of travel is naturally already adhering to social distancing guidelines. However, new measures are being adopted by our accommodation providers, transfer services and government policies regarding public transport. Individual provinces and territories, in conjunction with health authorities, have set policies based on ensuring everyone's safety. Our partners will be strictly adhering to these policies and, in many instances going beyond to provide hygienic and safe environments.  
Examples of what our travellers may expect when joining a cycling or walking holiday in the coming weeks (subject to change without notice depending on current health advice):
Joining the trip:
Completion of a health declaration form prior to joining a trip. 
1. General hygiene in the hotel
a. Where it is not possible to maintain a 2 metres distance between people, we ask that you wear a mask. Some will require you and the crew to wear a mask in common areas except when seated for dining. 
b. You will be encouraged to regularly handwash / sanitize throughout your stay. 
c. High touch areas will be cleaned / disinfected regularly through the day with a log kept. 
d. Rooms will be thoroughly sanitized between guests. Unless you request it, your room will not be cleaned every day. For longer stays when staff enter your room, they will wear a mask and take all precautions to maintain strict hygiene practices. This includes the disposal of cleaning wipes and gloves after each room has been cleaned, hand sanitizing between cleans etc. to avoid cross contamination. 
e. Standing areas in bars will not be available. 
f. Drinks and snacks will be individual and not shared. 
2. Meals
a. These will be served to you and not provided as a buffet. 
b. Two sittings may be required in the dining room in order to ensure social distancing is maintained. 
c. There will be no shared items such as table spices or butter pots. 
3. Bike Handovers
 a. All bikes will be provided with disinfected seats and handles. 
 b. Staff handing over bikes will wear face masks and gloves. 
4. Public Transport
a. Many provinces & territories and cities are requiring people to wear face masks on public and private transports. 
b. As capacity may be limited on buses and trains you will need to allow plenty of time to travel to your destination. 
c. Bookings are required on longer journeys (outside urban areas). 
5. Visiting Tourist Sites
a. Most tourist sites will require advance purchase tickets for a set date and time. 
b. As numbers are limited it is advisable to book well in advance.
6. Eating out
a. Seating will be limited in order to comply with local social distancing guidelines
General
The above information represents examples of what procedures are likely to be in place for your trip while the virus remains. These will be dependent on the region of travel, local health authority advice and current conditions and may be adapted and changed over the weeks depending on these factors. You will receive additional information specific to your trip before your departure.
As a traveller, we recommend you also take your own precautions at this time, including using a face mask when social distancing is difficult, regular handwashing of at least 20 seconds, avoiding touching your face and ensuring that you respect social distancing requirements. Such precautions are likely familiar already if you are out and about in your neighbourhood, visiting shopping centres and/or taking public transport.
We appreciate that some of these new procedures may seem overwhelming; however, it is important to remember that for the majority of the time, as you are walking or cycling during the day, the pleasures of active travel and exploring will not be compromised. There will also be some silver linings, including reduced crowding of tourist sites and genuine warmth from locals happy to see travellers returning.
Contact our Travel Experts
+1 844 311 8331
24/7 Support
Our team of experienced tour specialists have travelled to hundreds of countries around the globe and have decades of first-hand travel experience to share. Contact us now to have all of your tour-related questions answered!