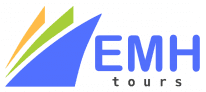 EMH Tours and Travel Group
Headquarters in Sydney, Australia
View all tours
Number of tours

12
Age Range

12-90
Number of reviews

88
Rating

4.7

/5
Response rate

100%
Response time

within 2 days
EMH Tours and Travel Group Tours
EMH Tours and Travel Group Destinations
Health & Safety Guidelines
A Safe and Responsible Return to Travel

As we start planning our return to running trips, the health and well-being of our guests and team has always been, and always will be, our primary concern and our return to operations will be done in a safe and responsible way.
In this new, fast changing COVID-19 era, we are doing all we can to adapt to new requirements and expectations. To give you the needed peace of mind during your travels in these new times, here are some important new steps and procedures that we have implemented to enhance hygiene protocols, to comply with physical distancing requirements by relevant government authorities and the World Health Organisation.
Stringent on the Trip Protocols
Hand Hygiene: All our guests are asked to follow hygiene practices recommended by the World Health Organisation including the thorough and regular washing of hands and sanitising when required. Hand sanitiser is freely available onboard for our guests to use throughout the day.
Face Masks: Please bring your own washable face mask and gloves with you, as these are required to be worn in public in some countries. Deposable face masks are freely available on board for our guests to use throughout the day.
Accommodation: We are very selective in who we work with and choose to only use hotels and accommodations that take the health and well-being of our guests as seriously as we do and agree to meet expected guidelines and specifications. We only work with establishments that we are confident will consistently adhere to our standards.
Transport: All our coaches, mini buses, transfers are sanitised before the start of your trip and have always been kept to very high standards.
Restaurants: We choose to only use restaurants which follow local regulations on table spacing and guest seating in restaurants. The restaurants must be thoroughly cleaned at the end of each day, and tables and chairs must be disinfected after each guest use.
Activities: All equipment must be thoroughly cleaned and disinfected between guests.
Removal of customers, leaders, crew: If customers, leaders or crew show symptoms of COVID-19 and are either unable to or unwilling to be tested, EMH reserves the right to remove them from our trips to prevent any risk to others.
Support during a COVID-19 incident: Customers and leaders/crew on our trips with confirmed or suspected COVID-19 will be assisted to access appropriate medical care as quickly as possible. We will help contact family and friends. Customers will be supported with translation services if required at hospitals or medical centres and in contacting insurance companies, travel agents and airlines to make arrangements to return home.
Smaller Groups, More Personal Space
Thanks to our perfect-sized smaller groups and customised coaches with fewer seats, you not only enjoy twice the legroom of a standard coach but also more personal space on board. Smaller groups also mean less queuing whilst embarking and disembarking, as well as at hotels and attractions, so it's easier to maintain a comfortable physical distance. We also have the capability to offer some tours on a Private basis as this is a way to ensure minimal cross-contamination with passengers.
Personal Responsibility
An inherent risk of exposure to COVID-19 exists in any public place where people are present. COVID-19 is an extremely contagious disease that can lead to severe illness and death. According to the World Health Organisation and government health bodies, senior citizens and guests with underlying medical conditions are especially vulnerable.
We ask that you please take personal responsibility for your well-being. This begins with packing any personal protective equipment and sanitisers you require. Please adopt physical distancing and hygiene practises throughout your pre-trip travel arrangements and follow all health instruction whether physical signage, or requests from our professional staff once you are vacationing with us.
Questions & Answers
Is a single supplement compulsory on your tours?

Generally, a single supplement is compulsory on the tours if you are travelling solo however it is always worth checking with our team of Travel Experts if there is another solo traveller of the same gender travelling as you may be able to share a room with then to minimise the single supplement cost.

Do the tours include airport transfers?

As long you as advise your flight details at the time of booking EMH Tours and Travel Group should be able to organise return airport transfers for you as they are on a request basis.

Is it possible to customise a tour?

It is generally not a problem to customise a tour if you are taking part in a private tour, to see what options are available for you please contact our team of Travel Experts for further information.

Is there a past traveller discount?

If you have travelled with EMH Tours and Travel Group before make sure you contact our team of Travel Experts to see what discount you are eligible for.

Are the tour guides local?

All the tour guides you will meet are locals who are all too happy to share their beautiful culture and incredible sights with you. On meeting them you will see their passion for their country is obvious and you will learn so much from them.

What types of travellers go on your tours?

All travellers are welcomed on the tours from backpackers to families with children or experienced travel seniors. EMH Tours and Travel Group has a mission to ensure their travellers are amongst the happiest on the most affordable tours.

When did your company start?

EMH Tours and Travel was founded on 14 May 2014, the EMH tours are operated by Enjoy Myanmar Holiday (EMH) Tours and Travel Group.
Contact our Travel Experts
+1 844 311 8331
24/7 Support
Our team of experienced tour specialists have travelled to hundreds of countries around the globe and have decades of first-hand travel experience to share. Contact us now to have all of your tour-related questions answered!