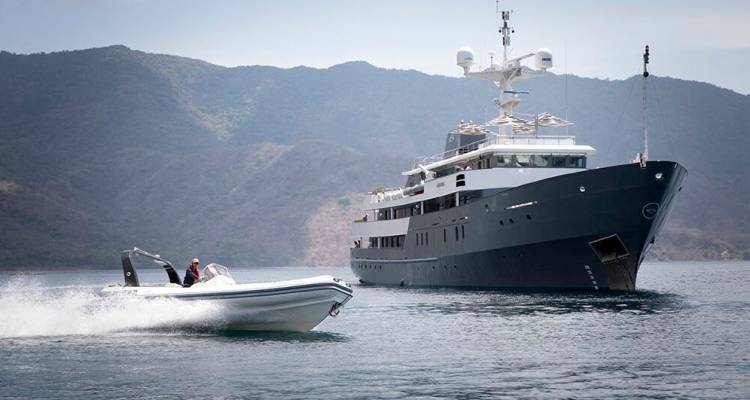 Built

1968 and converted in 2006 (Refurbished in 2019)

Guests

30
Crew

25 members, including a cruise director, dive inst

Length

60 m / 198 ft
Suites

15

Registry

Indonesia
Electricity

220V, 110V

Beam

11.4 m / 37' 05'' ft
Cruising Speed

10-12 kn

Generators

2 x Volvo Penta 225kW, 1 x Volvo Penta 80kW (backu
Engines

4 x 660hp Lister Blackstone

Draft

4.2 m / 13 ft
Islands
Ship Overview
Settle into modern yachting refinement and comfort of the highest calibre
Each of the 15 individually-designed suites aboard the Aqua Blu is an oasis on the vast East Indonesian seas. Conceptualized with modern luxury and ultimate comfort in mind by renowned Dutch yacht designer Cor D. Rover, these private sanctuaries lend a luxurious sense of home to every journey on the Aqua Blu cruise ship.
Sun Deck
The iconic sun deck of Aqua Blu is the perfect setting for sunset cocktails and canapes as well as evening get-togethers under the stars, with a wraparound lounge sofa and outdoor seating.
Bridge Deck
The bridge deck features CAT I and CAT II accommodation, and key amenities such as the outdoor jacuzzi and lounge beds, as well as an indoor spa and outdoor work out zone.
Forecastle Deck
An ideal place for a retreat any time of day, the forecastle deck features the Sky Lounge Bar, ideal for kicking back with a cocktail or your drink of choice, as well as a cosy library and TV room. Meals may be served in the spacious al fresco dining and seating area. The forecastle deck also carries CAT I and CAT II accommodation.
Main Deck
The main deck welcomes all embarking guests, and also features Aqua Blu's dining room and salon. CAT I, II and III suites are situated on this deck.
Lower Deck
The Lower Deck is a private space that features CAT I and CAT III suites.
Sun Deck
Indoor and outdoor dining area
Indoor and outdoor bar
Lobby lounge and bar
Observation deck
Outdoor plunge pool with lounge day beds
Library
Gym
Spa
Staterooms / Suites
Suite Bridge Deck (I) (150 ft²)
Suite Forecastle Deck (I)
Suite Main Deck (II) (150 ft²)
Suite Main Deck (III) (130 ft²)
Suite Lower Deck (III) (150 ft²)
Suite Bridge Deck (II) (150 ft²)
Suite Forecastle Deck (II)
Suite Main Deck (I) (150 ft²)
Suite Lower Deck (I) (150 ft²)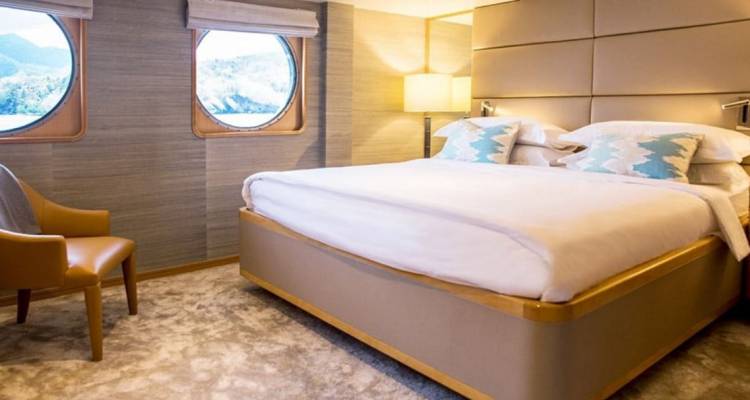 Features
Ensuite Bathroom
Air-conditioning
Large windows
Double bed
Twin beds
In-room safe
Toiletries
Storage space
Reading lamp
Writing desk
Shower
Sofa
Lounge area
Amazing view
Power Outlets
Dining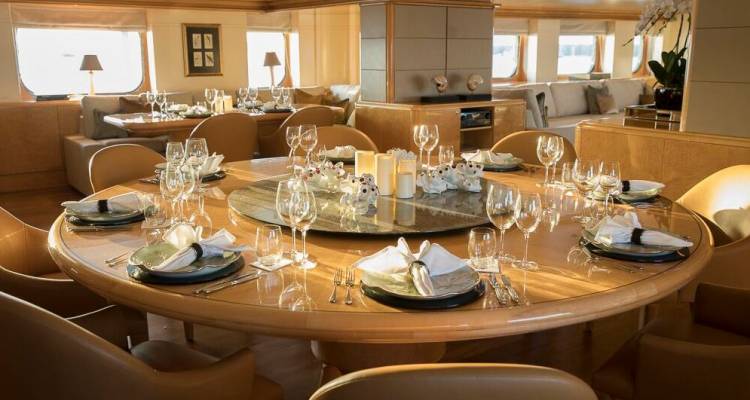 Central to every Aqua Expeditions cruise is the element of five-star dining with a menu created and overseen by a renowned chef. On board the Aqua Mekong, exclusive dishes created by Michelin-starred chef David Thompson showcase the best local recipes and flavours, complementing the cultural journey across Cambodia and Vietnam. In Peru, we are proud of our longstanding partnership of one of Peru's culinary leading lights, Pedro Miguel Schiaffino, who masterfully incorporates Amazonian ingredients in his mod-Peruvian cuisine aboard Aria Amazon and the upcoming Aqua Nera.
On the Aqua Blu, stay tuned for our unveiling of our Consulting Chef, a renowned culinarian who will be orchestrating a uniquely Indonesian-inspired five-star dining experience.
The Aqua Blu experience will additionally showcase the freshest, sustainably-sourced seafood that the pristine waters of East Indonesia has to offer. Guests can look forward to refined plated dishes as well as convivial communal barbecues and relaxed outdoor dining. Exquisite and scrumptious cuisine, set amidst dramatic coastal landscapes, will undoubtedly be the highlight of all Aqua Blu itineraries.
Alfresco Dining Area
Located on the Forecastle Deck, the alfresco dining area is the ideal spot to enjoy freshly prepared meals. Choose to mingle with other guests, or retain a sense of privacy while enjoying the fresh breeze and stunning sea views.