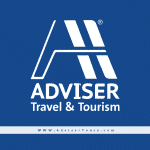 Number of tours

3
Age Range

14-99
Number of reviews

4
Rating

3.9

/5
Response rate

92%
Response time

within 1 day
Sandeep

Bedouins

Written on December 18th, 2019

Tour was okay. In Petra, the hotel made trouble and asked me to leave the room at midnight and forced me to stay with others even though I paid single supplemen…

Read more

Adviser Travel & Tourism commented on this review

Dear Sandeep, thank you for your feedback, we wish you had informed us at the destination to react with the hotel, posting on your booking page, actually we do not know why the hotel did such thing, we will pass your comments to the hotel and once we have his reply we will let you know. have a nice day, kindest regards

Magical Jordan - 8 days

Written on November 13th, 2019

The tour operator charged me for 3 transfers and I only had 2. He refuses to talk to you. It is a tour without anyone in charge. He only wants your money and do…

Read more

Adviser Travel & Tourism commented on this review

Dear Client, in response to your comments we are kindly requesting Tourradar C.C Service to public all the emails correspondence that we had with you in order to show that you did not have clear what you paid for. and that we always attend your doubts, but unfortionatly you were instesting to meet someone to talk with in person. On the other hand, please note that you have bought an online package so all communications between you and the providers shall be online and monitored. based on what we mentioned above, we kindly ask Tourradar Team to give us the permission to post all the emails correspondance in order to ratify all the mentioned above and to insist that you paid the informed suppl. for the extra transfer in. kindest regards

Written on April 29th, 2019

Great guides, locations and a fantastic well paced, interesting trip.

Ancient Jordan - 6 Days

Written on March 20th, 2019

Really enjoyed this tour.
Adviser Travel & Tourism Tours
Contact our Travel Experts
+1 844 311 8331
24/7 Support
Our team of experienced tour specialists have travelled to hundreds of countries around the globe and have decades of first-hand travel experience to share. Contact us now to have all of your tour-related questions answered!