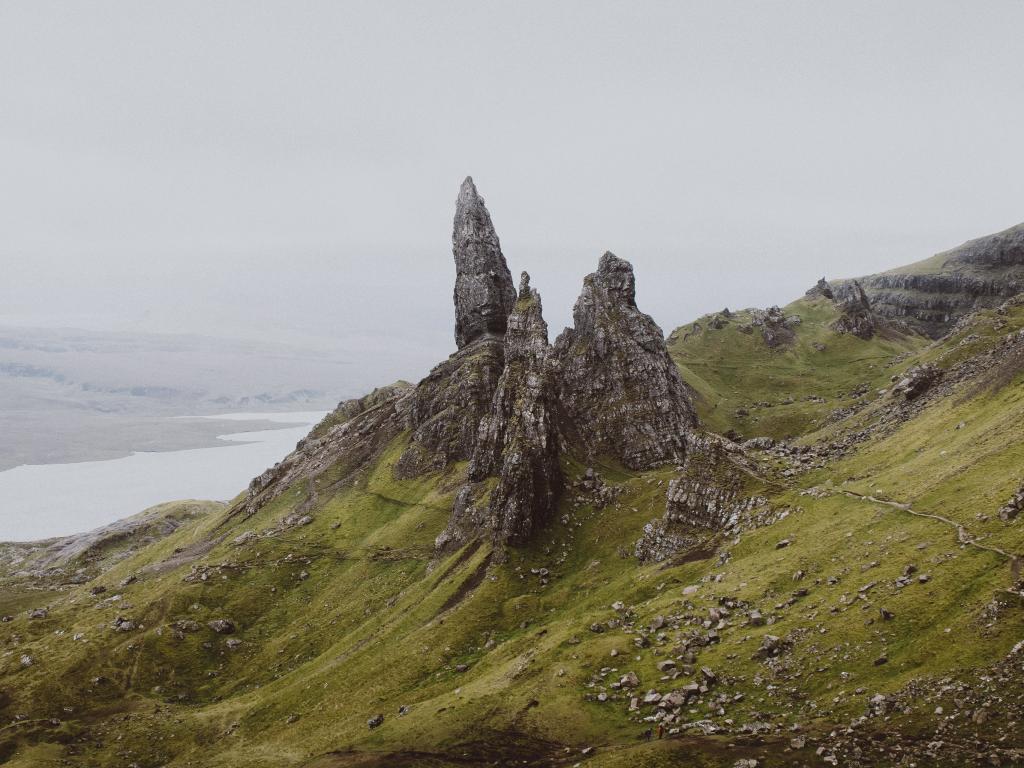 West Highland Way
Stretching for 154 kilometres (96 miles), starting just outside Glasgow in the town of Milngavie and concluding in Fort William, the West Highland Way route is Scotland's darling. This long-distance route utilizes ancient roads and traverses wildly beautiful land like Rannoch Moor and Glen Coe. Passing through some of the country's best landmarks like Ben Nevis, the West Highland Way offers its walkers a crash course of Scotland. For this reason, it's one of the UK's most popular treks, with a few thousand folks completing it in its entirety.

Trekking the trail from south to north is typical practice, as the stretch from Milngavie to Inverarnan is easier and gives travellers a chance to warm up before taking on the more challenging stretch from Inverarnan to Fort William. As its many elevation changes (at one point even rising about 1,8000 ft) don't make it a simple undertaking, it's also usually completed in 6-8 days with around 5-7 hours of hiking each day. Don't let that put you off, though: the West Highland Way is easily one of Scotland's most rewarding hikes.

The location: 

The West Highland Way is located in the southwestern section of the Scottish Highlands, starting just north of Glasgow in Milngavie before crossing the Highland Boundary Fault into the Highlands. The journey ends in the foothills of Ben Nevis in Fort William.

Highest point: 

The Devil's Staircase near Kingshouse at 1,800 feet (550 metres)

Duration: 

6 nights/7 days, 154 kilometres (96 miles) 

Trail conditions:

As one of Scotland's great long-distance trails, the West Highland Way is a well-maintained, waymarked route with its share of rocky and narrow sections. However, it can disappear in the wintertime when the northern stretch is covered in snow. The most challenging part of this trail, really, is its constant ascents and descents.
West Highland Way difficulty rating & trekking requirements
Difficulty rating:

Moderate. You should be in relatively good shape and able to walk for 5-7 hours at a time. There is no physical preperation required for this journey, but the fitter you are, the more you'll enjoy the experience.

Trekking requirements:

No special trekking requirements are needed to hike the length of the West Highland Way. However, make sure you have the typical backpacking gear, like hiking poles, a reliable pair of hiking boots, hiking sandals, a head torch, a First Aid kit, and daily provisions. A 65 to 75-litre backpack is recommended if you're planning on sleeping under the stars.
West Highland Way tips
Wild camping is legal in Scotland, and the West Highland Way has its share of camping spots. Some of these are permit areas so acquire a camping permit before your trip.
If you're travelling from June to August, make sure to pack proper protection from midges and ticks. A midge head net, midge repellent, fine-tipped tweezers, long-sleeved shirts and long pants are your best bets to ward them off.
Be sure to pack a decent raincoat, especially when hiking during the rainy season.
Bed and breakfasts are popular in Scotland. Many offer a lunch service and are a great way to meet locals.
Make sure to pack plenty of snacks and drinks, as some days you might be a little ways off from civilization.
Start training a few months before the trip, and include some hilly terrain in your training.
Utilizing a baggage transfer service might be an excellent idea if you don't want to be burdened with a heavy load during your hike.
Seasonality and Climbing Requirements
The Scottish Highlands routes
West Highland Way. Distance: 154 km, average duration: 6-8 days
Great Glen Way. Distance: 126 km, average duration: 5-6 days
Southern Upland Way. Distance: 341 km, average duration: 10-20 days
Great Trossachs Path. Distance: 48 km, average duration: 1-3 days
Three Lochs Way. Distance: 55 km, average duration: 3-4 days
Cowal Way. Distance: 92 km, average duration: 3-5 days 
The Great Glen Canoe Trail. Distance: 96 km, average duration: 3-5 days 
Scottish Highlands tours & reviews
A TRAVEL MAGAZINE BY TOURRADAR