About
If you want to take part in one of the world's most happening and passionate New Year's celebrations, then Hogmanay Festival in Edinburgh, Scotland is the place to be. The three day extravaganza brings together amazing music, incredible events, and attendees from all over the world.
They say that the Hogmanay festivities were first brought to Scotland by the invading Vikings in the early 8th and 9th centuries. The event celebrated the passing of the shortest day of the year, otherwise known as Winter Solstice, and featured some intense partying even then.
The Hogmanay Festival evolved as an informal street party which began to be formally organized in 1993. At one point in the event's history, over 400,000 attendees were welcomed.The number of participants has since been restricted for safety reasons. In 2015, over 145,000 revellers joined in the festivities.
Hogmanay is packed with loads of events over the three day period from concerts, to parades and lively parties. The most difficult part of Hogmanay will be deciding which of all the many magnificent events you want to partake in! While there are so many to choose from, the prime event remains the Street Party bash on New Year's Eve..
Events
Torchlight Procession
December 30th 7 pm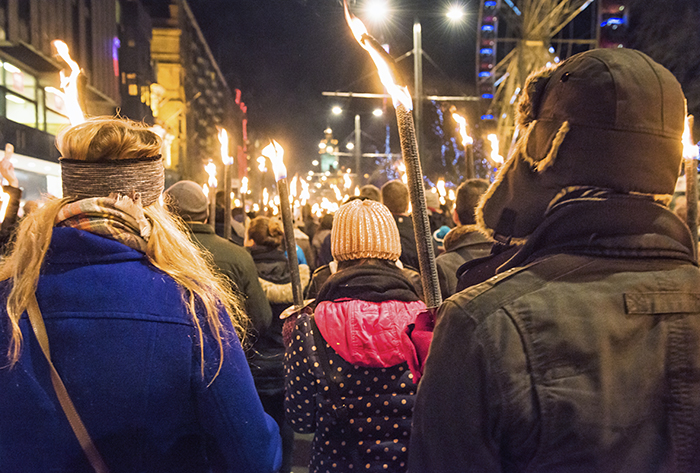 The spectacular Torchlight Procession kicks off the festival each year. Illuminate the city with tens of thousands of fellow torch carriers as you make your way from the city center to the firework finale. Purchase a torch voucher in advance to guarantee your very own torch! But hurry, they sell out quickly each year. Your voucher can be exchanged for a torch on the afternoon prior to the procession at West Parliament Square. This event is outdoors and the torches are wax-based. It is important to take care and dress appropriately.
Candlelit Concert & St. Giles' Cathedral
December 31st 6 pm (opens 5:30 pm)
Have a hankering for traditional Baroque music? Then start your New Year's Eve off at the St. Giles' Cathedral's Candlelit Concert for a celebration of Baroque music. Last year's marvelous concert featured works from Vivaldi and Bach. Stay tuned for this year's program.
Street Party
December 31st 9 pm - 1 am (opens at 7 pm)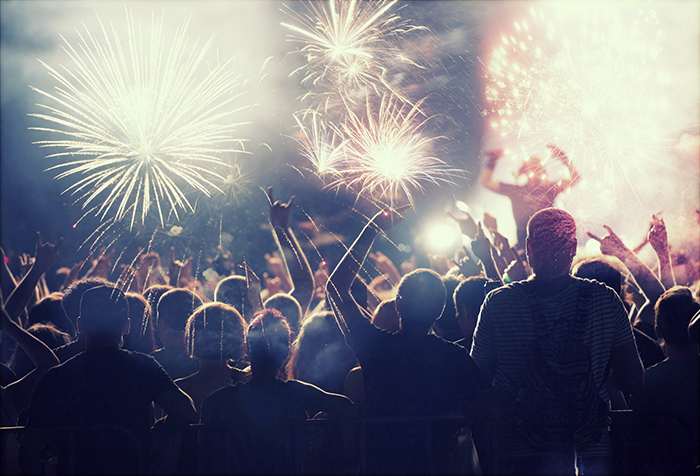 Join the Hogmanay world renowned Street Party, where hundreds of thousands of party goers gather on Prince Street in the city center to ring in the New Year. The Street Party is booming with DJs, live bands and glee. The event's four stages have something for every musical taste, from traditional to alternative music. Prepare for your breath to be taken away by the stunning Edinburgh Castle which serves as the party's backdrop. Firework displays illuminate the skies over the castle every hour beginning at 9 pm, leading up to the finale display at the stroke of midnight. This is followed by Scotland's most famous song—Auld Lang Syne.
When the Street Party ends, this doesn't mean the party stops! Join your new friends and hit up the nearby local pubs and clubs and enjoy the Scottish hospitality.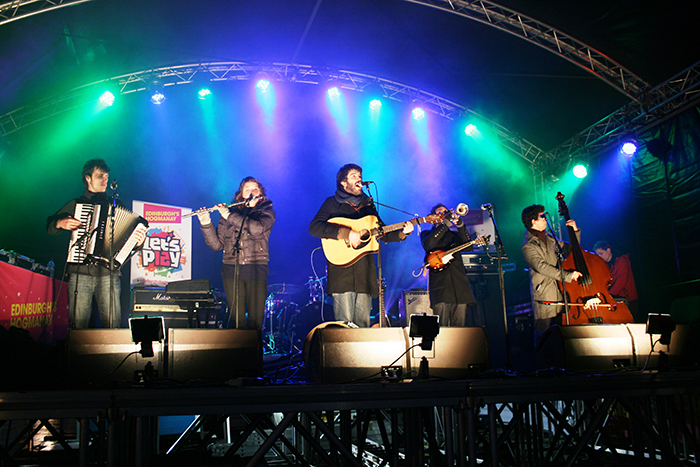 Concert in the Gardens
December 31st 9 pm - 1 am (opens at 7 pm)
Concert in the Gardens is yet another way to ring in the New Year at Hogmanay, by enjoying incredible live music at the West Princes Street Gardens. This is also an excellent venue to feast your eyes on the firework display over the Edinburgh Castle. Last year's concert was a knock-out, sell-out performance by Scotland's very own Biffy Clyro.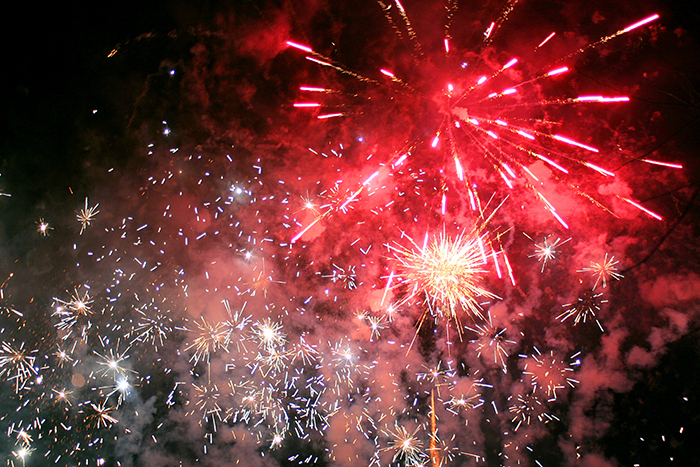 Old Town Ceilidh
December 31st 9 pm to 1 am (opens at 8 pm)
If you want to get a little more traditional and done your favorite kilt, join the Old Town Ceilidh for traditional ceilidh dancing, music, food and drinks. This event takes place in Edinburgh's Old Town at the corner of High Street and Parliament Square.
The Loony Dook
January 1st, check in 12 pm to 2 pm, parade at 2:30 pm, Loony Dook Dip 2:45 pm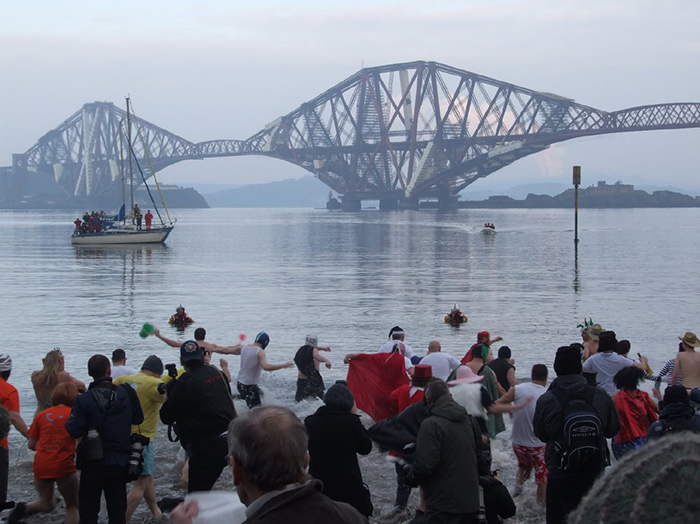 If you're looking to thoroughly refresh after a night of partying, participate in the annual Loony Dook where thousands of loonatics take a dip in the freezing River Forth on New Year's Day to raise tens of thousands of pounds for UK charities. To fully get into the spirit, join the Dooker Parade through High Street right before dunking in the river! After taking the plunge, warm up with some delicious eats, and get your paparazzi on at the fancy dress photo stage.
The Final Fling
January 1st 5 pm to 6:30 pm
Hogmanay isn't complete without attending the final festival fling in the Grand Hall of the National Museum of Scotland. Enjoy fabulous music and the calling of the dancing. Tickets are free but capacity is limited, so book early!
Useful Information
How to Get There
Plane - The Edinburgh Airport is a short 12km away from the city center which is easily accessible by tram, bus, car or taxi. Airlink runs between the airport and city center 24/7 and Edinburgh Trams run from 6:15 am to 10:45 pm.
Train - Virgin Trains East Coast links Edinburgh Waverley Station with Europe and London. Other train services include Network Rail and ScotRail.
Car - If you want the freedom of having a car, the festival recommends Arnold Clark Rental for all of your car rental needs. If you're travelling to Edinburgh with your own vehicle, consider helping out the environment with ridesharing services National Car Share or Go Car Share. Park & Ride facilities can be found throughout the city.
Bus - CityLink operates Street Party Buses after the Hogmanay events to ensure you get home safe and sound. Buses depart after Street Party from Edinburgh Bus Station to many destinations. Pre-booking is required.
Where to Stay
We recommend finding accommodations that are located in the city center near Prince Street where the main events, including the infamous Street Party, take place. Edinburgh's Hogmanay Travel Office has put together a comprehensive list of 3, 4 and 5 start hotel recommendations. The list also includes suggestions for apartment stays for large groups and families.
Photos courtesy of Matt Norris, Paul Williams, John Haslam, and Kristian Dela Cour.