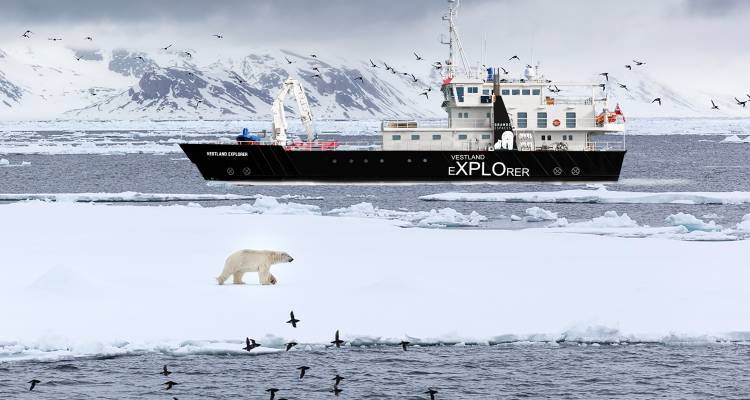 Built

1994 refitted in 2021

Length

46.5 meters
Width

10.5 meters

Cruising Speed

12 knots
Engines

1700 CV

Draft

2.9 meters
Country Region
Ship Overview
Built in 1994 on behalf of the Danish State, it was used for oceanographic work and for setting up coastal beacons in Greenland. She was completely refitted in 2020 at the Gdansk shipyard by a Norwegian shipowner. The work was carried out in close collaboration between the Italian architect Marco Coppola and Christian Kempf, scientist and pioneer of expedition cruises, founding president of Grands Espaces, head of expeditions and who has the broadest experience of expedition cruise ships.
With a length of 46.5 meters and an exceptional width of 10.5 meters, she is a robust, stable vessel, adapted to high seas and ice. Shallow draft (2.9m), reinforced hull for beaching and the most modern sonar and communications equipment make it operational in all seas.
Its diesel-electric engines developing a power of 1700 CV give it a cruising speed of 12 knots.
On board, everything is thought through to ensure a cruise that combines elegance and exploration: a relax-library lounge, a conference lounge, a restaurant, a lounge bar, a sauna and jacuzzi directly on the deck, together in an exceptional panoramic space of more than 72m2 decorated with its deep-sea aquarium.
Staterooms / Suites
(Cabin Double draft)
(Cabin lounge)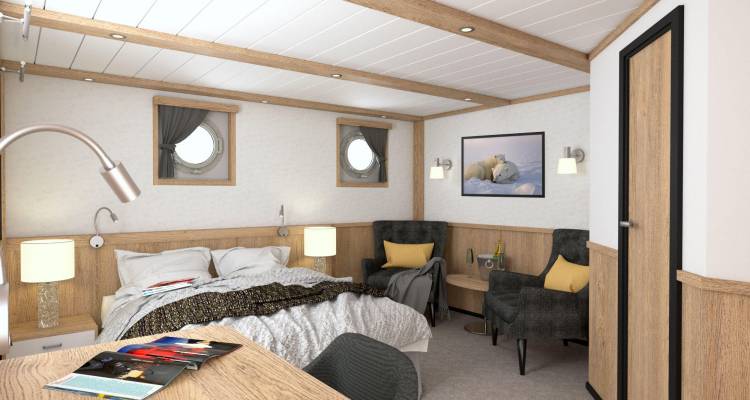 Features
The 14 to 20 square meter cabins are available as individual suites, suites with French balconies and cabins and suites with twin or double beds.