Response rate

92%

Response time

12 h
See all tours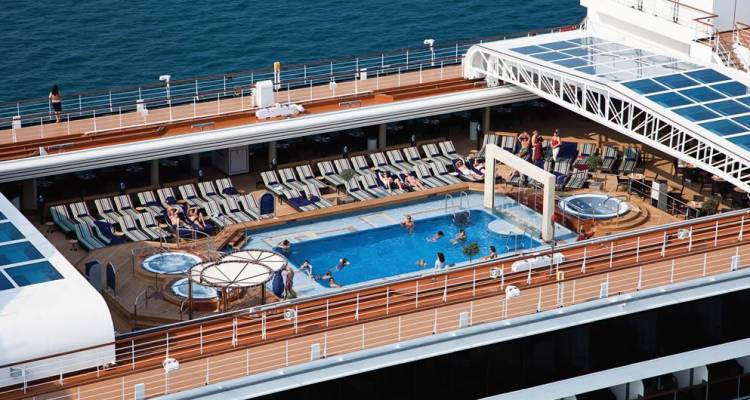 Built

2010 (refurbished in 2018)

Guests

2106
Crew

929

Length

285 m / 935 ft
Width

105.8

Staterooms

1053
Gross Tonnage

86273 gt

Beam

32 m / 105 ft
Cruising Speed

24 kn / 44 kph / 28 mph
Ship Overview
Delivered in 2010, the 86,000-ton Nieuw Amsterdam was built at Italian shipbuilder Fincantieri's Marghera shipyard and its interior design and art collection reflects the glamour and history of New York City, formerly called Nieuw Amsterdam.
Nieuw Amsterdam, joined the Eurodam to further define and expand the Holland America Line premium brand with new concepts such as the innovative pan-Asian Tamarind restaurant and Silk Den lounge surrounded by panoramic views overlooking the ocean expanse and the Lido pool. Other additions include an Explorer's Lounge Bar, a premium wine-tasting lounge, an elegant luxury jewelry boutique, new atrium bar area, enhanced and reconfigured show lounge, and a photographic and imaging center.
The ship continues several much-admired Holland America Line features, including outside-view, glass elevators at midship; the Explorations Cafe - a cyber-coffee house powered by The New York Times; the Pinnacle Grill and Pinnacle Bar; the innovative Culinary Arts Center presented by Food & Wine Magazine, where culinary experts provide cooking demonstrations and intimate classes in a state-of-the-art onboard show kitchens; an expanded Greenhouse Spa and Salon with thermal suites and hydro-pool, the largest gymnasium ever built for Holland America Line; and a youth facility that includes the teens-only Loft. In addition the ship features the family-style Canaletto's Italian restaurant.
Atrium (3-deck high midship open-floor area with live performances)
The Showroom at Sea (890-seat theater/main show lounge; also serves Holland America's enrichment program (via partnership with BBC Earth)
Piano Bar; Sports Bar; Pinnacle Bar (36-seat wine bar); Ocean Bar (Atrium bar and lounge, with dance floor and stage for live performances)
Northern Lights Disco & Nightclub
Queen's Lounge & Culinary Arts Centre (166-seat, with live band entertainment, cooking shows, culinary classes; via partnership with "Food & Wine Magazine")
Explorer's Lounge & Bar (lounge with bar; classical concert performances); Silk Den Lounge
King's Room (complimentary workshops, Internet computers room, by partnership with Microsoft)
Photo Gallery & Shop; Art Gallery
Casino (served by Casino Bar and Sports Bar)
Screening Room (36-seat indoor cinema)
Atrium Shops (boutiques for duty-free tobaccos and liquor, perfumes, watches, clothing, HAL logo merchandise, souvenirs); Marabella Luxury Shop
Explorations Cafe (specialty coffee bar and patisserie; also serves as ship's Library and Online Centre/Internet computers room)
Neptune Lounge (club venue for Deluxe Suite and Pinnacle guests only)
Fitness Center (gym with separate Aerobics Room); 7 jacuzzis
Greenhouse Spa & Salon; Lido Pool area, served by Lido Bar and Terrace Grill; Sea View Pool area served by Sea View Bar; Cabana Club (adults-only)
Crow's Nest (observation lounge; bar and dance floor; becomes disco at night)
Sport Court (basketball, volleyball, soccer); Promenade Deck, Walking Track
Club HAL (kids lounge, complimentary youth programming)
The Loft (teens club lounge area, with Video Games Arcade, computers, PlayStations; teen disco)
Staterooms / Suites
Pinnacle Suite (1357 ft²)
Neptune Suite (506 ft²)
Signature Suite (273 ft²)
Neptune Suite with Spa (506 ft²)
Stateroom with Veranda (213 ft²)
Stateroom with Veranda; with Spa (213 ft²)
Stateroom Ocean View (169 ft²)
Stateroom Ocean View; with Spa (169 ft²)
with Fully Obstructed View (169 ft²)
Interior Stateroom (141 ft²)
Interior Stateroom with Spa (141 ft²)
Standard Stateroom Interior (141 ft²)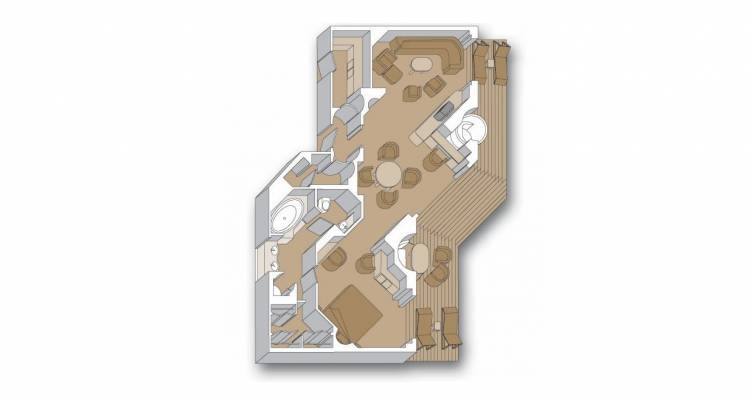 Features
Ensuite Bathroom
Television
Large windows
In-room phone
Double bed
In-room safe
Hair dryer
Storage space
Dressing area
Shower
Mini-fridge
Balcony
Lounge area
Bath tub
Entertainment system
Sofa bed
Power Outlets
Hot tub
Microwave
Deck Plans

Deck Plan

Deck 1 - Main

Deck 2 - Lower Promenade

Deck 3 - Promenade

Deck 4 - Upper Promenade

Deck 5 - Verandah

Deck 6 - Upper Verandah

Deck 7 - Rotterdam

Deck 8 - Navigation

Deck 9 - Lido

Deck 10 - Panorama

Deck 11 - Observation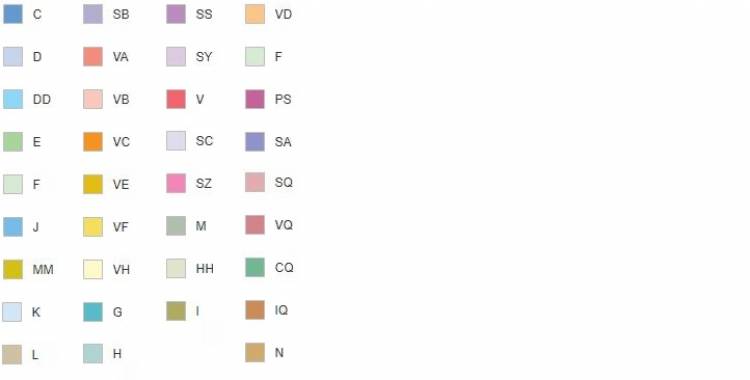 Categories
Dining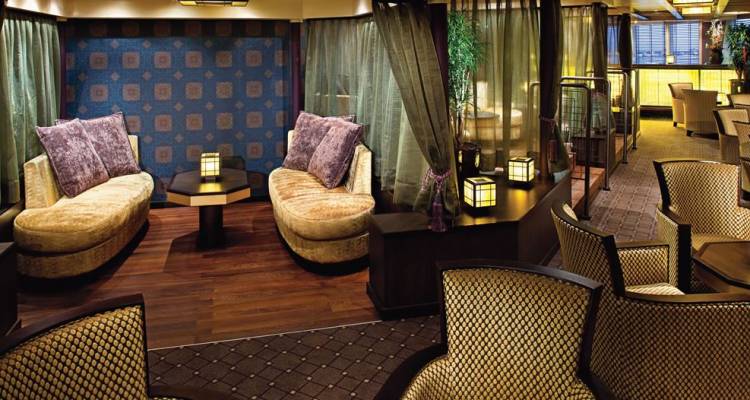 MS Nieuw Amsterdam boasts more dining options than any other ship in the fleet of Holland America besides her sister ms Eurodam. With the addition of the Master Chef's Table, that serves an awesome tasting dinner in its own classy room, Nieuw Amsterdam cruise ship is now offering 4 distinct gourmet menus, which include those found at the Pinnacle Grill, Tamarind and the weekly Le Cirque presentation. When mixed with great-dining experiences in the other dining venues, cruisers might count on a diversity of choices for longer cruises in Europe and back-to-back sailings in the winter season to the Eastern and Western Caribbean. The Rembrandt Restaurant is ship's 2-deck Main Dining Room, and it's open daily for open seating breakfast and occasionally for open seating lunch. At breakfast, there are a lot of choices, from yogurt, fruit and granola, to corned beef hash, pancakes and eggs prepared in many ways. When lunch is served in the Rembrandt, the choice of options is perfect and includes salads, starters, soups, entrees and desserts. It's a relaxing and civilized alternative to the Lido buffet.
Pinnacle Grill (112-seat reservations-only seafood/steakhouse restaurant with fine wines selection; free for passengers under 12 yo). The venue transforms into "An Evening at le Cirque" once per cruise via partnership with NYC "Le Cirque" French restaurant
Master Chef's Room (Pinnacle Grill annex; reservations only)
Manhattan Restaurant (1114-seat, aft Dining Room; features open seating Breakfast and Lunch, two Dinner options – 2 fixed seatings or "Any Time" dining between 5:15 p.m. - 9 p.m.
Terrace Grill (46-seat fast food pool bar; complimentary)
Lido Restaurant (470-seat complimentary buffet restaurant; offers self-service Breakfast 6:00 a.m. -11 a.m., Lunch 11:30 p.m. - 2 p.m., Afternoon Tea, and Dinner 5:30 p.m. - 8 p.m.)
Canaletto Restaurant (Lido Restaurant annex; operates as Italian restaurant for Dinner, reservations required)
Tamarind (142-seat Asian specialty restaurant; reservations-only)
Slice (complimentary Pizzeria, poolside)