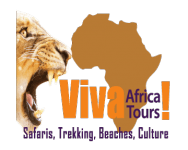 Viva Africa Tours
Headquarters in Moshi, Tanzania
OVERALL RATING
4.4/5 - Excellent
See all tours
Highlights
Different adventures, everyday, for you!
Guided small group travels
11 routes different up Kilimanjaro
Safari, Trekking, Beaches & Culture
12 Viva Africa Tours Reviews
Excellent

67%

Good

33%

Average

0%

Rather Poor

0%

Bad

0%
Accommodation

4.5 / 5

Transportation

4 / 5

Meals

4.5 / 5

Value for money

4.5 / 5

Guide

4.5 / 5
Write a review
Looking for a specific tour?
16 Viva Africa Tours tours
Check it out
About Viva Africa Tours
We're Viva Africa Tours. We're a Tanzanian tour operator based on the slopes of majestic Kilimanjaro and this is what makes us happy: A different adventure every day. For you. You might love the thrill of climbing an ancient volcano like Kilimanjaro or the freedom of hiking a new trail in the Usambara Mountains; you might want to experience a Serengeti safari buzzing with the wildlife you've only ever seen on the TV. You might want to photograph the color and bustle of everyday Zanzibar life; you might want to laze on white sand tropical beaches under cloudless skies. We understand that everyone wants a different adventure, and our dream is to make your dreams come true. Ok, that sounds a bit cheesy, but it's real and it's why we get up in the morning. Because having adventures every day is what makes all of us feel alive – hence our name, Viva Africa Tours. (OK, technically we should be Viva Tanzania Tours but we'd already printed the flyers.) We believe that the joy of life is in having adventures, big and small, and that's why Alfred Michael started the company : "I'm a mountain and safari guide and I want to help people do the things I've done and see the things I've seen – the last rays of the African sunset, a delicious stew after a hard day's climbing, or the roar of a lioness in the Tanzania grasslands. It's the small things in life that make big adventures. My team are here to find you your adventure." So, whatever your dream and whatever your budget, give the team a call. The adventure starts now.
Viva Africa Tours video
Viva Africa Tours Photos

Popular for Viva Africa Tours
Questions & Answers
Here we have collected and answered the most frequently asked questions.
How does Viva Africa Tours choose lodges and tented camps on safari?

Viva Africa Tours matches the type of experience you desire with the most appropriate lodge arrangements. Available lodging ranges from private luxury tented lodges to adventure camping. There are both mid and high-end private lodges so we can accommodate any budget.

Can I request special diet for safari?

Yes, you can. For people with special diet (vegetarian, gluten free etc.) please let us know in advance.

Do I need to bring a water filter?

During safari we provide bottled water and on Kilimanjaro trips, we filter all drinking water. A water filter is therefore not necessary.

What is a typical menu on a camping safari?

During Viva Africa Tours' camping safaris our chef will provide you with three meals (breakfast, packed lunch and dinner). Our food includes everything to make your nutrition varied and healthy. If you need special diary (e.g. vegetarian or gluten free) please inform us with your booking.

What are the Big Five?

The Big Five are term that originates with hunters. The Big Five were the hardest to hunt and also it was believed they hunted humans. They include rhino, elephant, lion, leopard and buffalo. Now-a-days it is a marketing term used by safari companies. Tanzania is home to the Big 5 and on safari with us you can experience them up close and in wild.

What is a game walk?

A game walk is a walking safari inside or near a national park. These walks require an armed guard. One of the national parks, where you can do a game walk is at Arusha National Park.

How should I physically prepare for my climb?

Kilimanjaro is considered by many to be the easiest high mountain to climb. However, the altitude of 5,895 meters (19,340 feet) is still extremely high and proper preparation is essential. It is helpful to engage in aerobic exercise a few times a week for two months prior to the climb. Also, it is absolutely essential that you understand the causes and symptoms of altitude sickness before beginning the trek.

How much experience do Viva Africa Tours' guides have?

Each one of our guides has several years of experience on Kilmanjaro. Our most experienced guide has climbed Kilimanjaro more than 200 times (18 years) while our most junior guide has climbed about 50 times (5 years). Be sure to listen to your guide's advice while on the mountain and remember to go slowly. If you hike slowly, you increase your chances of reaching the top as your body has more chance to acclimatize.

Do Viva Africa Tours' guides carry first aid kits?

Our guides carry first aid kits that contain bandages, over the counter medicines, and some emergency supplies. Viva Africa Tours does not carry any prescription medicines so you will have to bring your own.

What will the porters carry and what will I carry on the climb to Kilimanjaro?

Porters will carry most of your luggage. You will carry a small day pack that contains your drinking water, rain gear, camera and lunch.