Vagabond Small Group Tours Of Ireland
Headquarters in Newtown Mount Kennedy, Ireland
OVERALL RATING
4.7/5 - Excellent
See all tours
41 Vagabond Small Group Tours Of Ireland Reviews
Excellent

93%

Good

5%

Average

0%

Rather Poor

0%

Bad

2%
Accommodation

4.5 / 5

Transportation

5 / 5

Meals

4.5 / 5

Value for money

4.5 / 5

Guide

5 / 5
Write a review
No active tours were found
0 Vagabond Small Group Tours Of Ireland tours
8 day Wild Irish Rover Tour

Written on September 30, 2017

What a wonderful time in Ireland. Vagabond made the trip. Sam, our guide was SAFE, knowledgeable in the land, …

Read more

Tim

12 Day Giant Irish Adventure

Written on September 28, 2017

The Vagabond 12 day tour was incredible. We had horrible weather for the first 7…

Read more

JoanMitchell

7 Day Treasure Ireland Tour

Written on September 1, 2017

Our trip with the Vagabond small group tours was out standing, well planned, well organized . …

Read more

Manuela

12 Day Giant Irish Adventure

Written on August 21, 2017

Sean did an amazing job! I highly recommend to do this tour, if you wanna see the countryside of Ireland. I wish we would have seen the cities (Galway + Cork) a…

Read more

7 Day World Tour of Ireland (9 destinations)

Written on August 3, 2017

overall it was a good trip. we liked the guides, the places we were taken to. However accomodations need to be better in many cases. Very small room with only t…

Read more

11 Day Driftwood 'discover Ireland' Tour

A very good tour, most of the accommodations excellent except for a couple.Our driver was excellent, a safe driver and new a lot of history.

11 Day Driftwood 'discover Ireland' Tour

We thoroughly enjoyed our 11 day Driftwood Tour around Ireland. Our tour guide, Bebhinn O'Malley, was knowledgeable, patient and passionate about her country. S…

Read more

7 Day World Tour of Ireland (9 destinations)

Our Vagabond 7 Day World Tour of Ireland exceeded our expectations! The trip wa…

Read more

7 Day Treasure Ireland Tour

Written on September 28, 2016

A wonderful small group tour that includes loads of history, laughs and stories. A trip of a lifetime. Go to places you would not find on your own and learn a…

Read more

11 Day Driftwood 'discover Ireland' Tour

Written on August 23, 2016

Our 11 day Driftwood tour was even better than expected. Our guide, Tom, was a wealth of knowledge helping us to connect the historical and political dots from…

Read more
Vagabond Small Group Tours Of Ireland Tours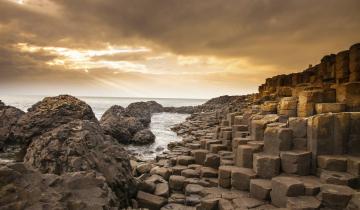 About Vagabond Small Group Tours Of Ireland
Vagabond tours was established in February 2002, the brain child of Rob Rankin who had been travelling in Southern Africa with his wife, Amy. While there, they saw the safari and 'overland' tours that were so popular and realised that a more adventurous way of seeing Ireland would be a fantastic experience for visitors. Ireland may not have the lions, elephants and deserts of Africa, but it certainly has plenty of great scenery, fascinating history and a few wild creatures running loose. Just what you need for a good safari. Since 2002 Vagabond has grown steadily year on year, building an excellent reputation within the Irish Tourism industry and with customers abroad. We have won several awards and been featured in numerous articles in publications around the world. The tours are constantly evolving, we put a lot of store in customer feedback and each year our trips have developed accordingly.    
Vagabond Small Group Tours Of Ireland videos
Top Ten Things to do in Ireland
Explore Traditional Irish Craft & Design with Driftwood Tours
Off the Beaten Track with Vagabond Tours
Vagabond Tours of Ireland
The Company and our Tours
Vagabond tours is the perfect small-group vacation for people who don't want a large group coach tour but still want to fully experience the grand country they are visiting. We have two distinct types of tours, the Vagabond Adventure tours and Driftwood Journeys of Discovery. Below we have some information on both types of tours and also the benefit of small group tours and the history of Vagabond tours
Popular for Vagabond Small Group Tours Of Ireland
About Vagabond Adventure Tours
The Vagabond Adventure tours range from 7 to 12 days in length and combine an imaginative mixture of breath-taking scenery, relaxing exercise, local culture and history and of course cosy accommodation. Instead of normal buses or minibuses, Vagabond uses custom-built 4X4 Land Rovers and Mercedes vehicles (a.k.a. Vagatrons), so our group sizes are smaller and more flexible. This lets us explore areas far beyond the reach of normal tours. On occasion you'll leave the road behind and drive along beaches, through rivers or up muddy tracks. Our 'Vagatrons' will bring you to remote places where you can: Walk in the mountains, kayak in secluded bays, ride a horse on a remote beach, clamber over ancient ruins, learn about pirate queens, retrace the steps of pilgrims or search for your ancestors and more. And at the end of the day you'll retreat to one of our cosy guest houses or small hotels. Where a roaring fire, some music, great food and a pint awaits.
About Driftwood Journeys of Discovery
In 2010, with years of experience running the hugely successful Vagabond Tours we felt it time to expand our touring options for our passengers. Customer feedback over the years has told us that some of you discerning travellers would prefer to put more emphasis on the scenery, culture and history and not partake in as many outdoor pursuits. So that's exactly what we are offering you with Driftwood tours. You will leave Ireland relaxed, knowledgeable and mesmerized by its beauty. Our Driftwood tours are the perfect small-group holiday for people who don't want a large coach tour but still want to fully experience the grand country they are visiting. Our range (6 to 11 days) of fully guided vacations combine an imaginative mixtures of breath-taking scenery, historical sites, local culture and cosy accommodation. Instead of large coaches we use smaller 16 seater mini coaches, so our group sizes are smaller and more flexible and more personal.
Questions & Answers
Here we have collected and answered the most frequently asked questions.
When is the best time to come to Ireland?

Anytime between April and September is a good time to visit Ireland. July and August are the traditional summer months but quite often we get better weather in May, June and September – though if there is one thing in Ireland that you cannot rely upon – its the the weather.

What is the tipping policy in Ireland?

Tipping is not generally expected in Ireland but it is always appreciated. Drivers/guides on tour buses are usually tipped at the end of a trip, sometimes with a communal tip collected from all of those on the tour.

What is the policy as to use of alcohol by the guides prior to and during the time they are "on duty" and driving the mini coaches?

Our policy on alcohol for drivers is very strict, if any of them were found to be drinking during a tour or turned up for work under the influence of alcohol then it would be instant dismissal. Our drivers are very professional and we have never had a cause to doubt them.

Who guides the tours?

The cornerstone of any good tour is the guide and Vagabond is fortunate to be able to attract the very best in the business. There is no doubt that they are some of the most passionate, talented, and professional guides in Ireland and as you travel through the country, through wild and rugged landscapes, to hidden historical sites, castles and legendary battlefields our team will keep you informed and entertained and also provide you with an insight into life in Ireland today.

How can passengers get in contact with families etc?

Passengers can buy cards to phone home but it tends to be expensive from hotel rooms. If passengers are bringing a laptop or iphone then they can always Skype home when in a wireless internet hotspot. Also some people buy pay-as you go cell phones or sim cards when they are here and that also gives people back home a way to contact you.

Is internet access available on the tours?

Most of the overnight stops now have free wi-fi internet available. Some have it in the rooms, in some places its just in public areas. There are also lots of stops along the way (pubs, café's etc) which also offer wifi access. If you bring a laptop they can also buy a pay-as-you-go internet 'dongle' which provide internet access through the cell phone network here.

Are there any laundry facilities along the way for the longer tours?

Laundry facilities can be accessed during the two night stay in Dingle.

Is there an option of where to eat each night or do passenger have to eat in the place where they are staying?

Yes, passengers will usually have a choice of places to eat at each overnight stop, apart from the night spent in Gougane Barra due to its remote, yet stunning, location.

Do passengers always eat together in the evenings or can they do their own thing?

That varies from tour to tour depending on what the group wishes to do. Usually the guide will discuss this with the group and should they all want to dine together, group reservations can be made.

If a passenger has special dietary requirements (vegan, gluten intolerance etc), can they be catered for easily?

Most places in Ireland now cater for specialised dietary requirements so that should be no problem.