Tucan Travel
Headquarters in London, England
OVERALL RATING
4.2/5 - Excellent
See all tours
Highlights
Authentic travel experiences
60% of travellers are solo passengers
Established for 30 years
Travelling with like minded people
Awards & Recognitions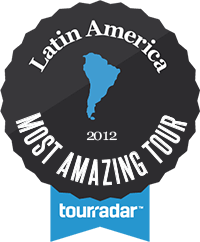 Tucan Travel Guides



228 Tucan Travel Reviews
Excellent

59%

Good

24%

Average

11%

Rather Poor

5%

Bad

2%
Accommodation

4 / 5

Transportation

4 / 5

Meals

4 / 5

Value for money

4 / 5

Guide

4.5 / 5
Write a review
Looking for a specific tour?
249 Tucan Travel tours
Check it out
About Tucan Travel
Tucan Travel is an adventure tour company which offers group travel across the world. Originally starting in 1987, they were one of the first South American tour companies, with the company name taken from the well known South American bird, the Tucan. Tucan Travel offers different different types of travel, their own custom built trucks for overland trips, and guaranteed departures on certain dates. It is this combination of factors, as well as being started by some adventurous people, that allows travelers a deeper understanding of the world, and gives those travelers an opportunity to see and experience places outside of the norm.
Tucan Travel videos
The Road to Rio Carnival Day 3
The Road to Rio Carnival Day 1
The Road to Rio Carnival Day 2
The Road to Rio Carnival Day 4
The Road to Rio Carnival Day 5
Show more...
Main Page Video
Cusco, Lima
Machu Picchu
On The Road with Tucan Travel, Africa
Iceland: The Ultimate Travel Guide
Borneo Adventure
Lake Titicaca
The Amazon Jungle from Peru
Sri Lanka
Antarctica
Japan: The Ultimate Travel Guide
Ultimate Travel Guide: Canada
Colombia Encompassed
Why Tucan Travel?
Travel Experience
Tucan Travel have the experience and the variety of tours to accommodate travellers from all over the globe. By offering different styles of travel, as well as a great balance between quality and value, Tucan Travel are famous for the trips they take their travelers on.
Modular, Flexible Itineraries
Their modular itineraries mean that there is flexibility for doing all or part of the tours, and the trips are run by their expert tour leaders, with all the local knowledge to make your trip memorable.
Tucan Travel Benefits
Over 4000 Guaranteed Departures
Tucan Travel offers guaranteed departures, meaning that the trip will definitely go ahead on the date that it is scheduled to. These guaranteed departures will never be cancelled for lack of participation, and all guaranteed departures will run unless there is a natural disaster, operational issue or other similar event that is beyond Tucan Travels power. Tucan Travel has listened to their customers, and that is why they have made the guaranteed departures so important. They understand that the guaranteed departures mean that there is more confidence when booking a tour, and so they offer over 4000 guaranteed departures across a variety of tours.
Group Travel
Tucan Travel has a huge range of group tours meaning you can see the world with other like-minded people. Over 60% of bookings are solo passengers, and they do not offer a compulsory single supplement on the majority of these group tours. Many trips include excursions to the region's highlights, however there is also some free time built in for people who want their own flexibility when exploring destinations.
Custom Trucks on Overland Tours
On overland tours in Africa and in some parts of South America, Tucan Travel's range of overland trucks have been custom-built to get passengers from A to B comfortably. They cover vast distances and are ideal for passengers wanting to see regions where public transport cannot access. All trucks include plenty of storage, power sockets, front-facing seats and even a games and book library.
Awards & Recognitions
Tucan Travel Guides
Tucan Travel Story & History
Established in 1987 as one of the first ever South America adventure tour companies, Tucan Travel are experts in adventure travel. They now operate group tours in Latin America, Africa, Asia, Europe and Antarctica with over 400 itineraries online. Passengers who book with Tucan Travel can be confident that the itinerary has been designed with adventure travel in mind. Whether they are travelling on public transport or onboard their custom overland trucks, each tour is committed in offering passengers a genuine travel experience.
Questions & Answers
Here we have collected and answered the most frequently asked questions.
What transport will be used?

Tucan Travel's tours use a variety of transport. On most of their tours you will be using a combination of different public transport styles. This includes public buses, trains, overnight transport, tuk-tuks and taxis. Please be aware that as you will be taking public transport, then the baggage you bring must be easily able to carry whilst travelling.

On Africa tours and some South America tours you will be travelling on their custom-built overland trucks. They feature forward facing coach seats, safety belts, and plenty of leg room. The trucks are equipped with powerful engines and long range fuel tanks as well as ample storage and power sockets .

What is the best way to carry money while on the tour?

In most destinations (except for Europe and Cuba), all currency should be in US dollars. ATMs are the easiest way to withdraw money BUT you should never rely solely on them and always have a back-up of cash. Tucan Travel recommend travellers to bring as much US dollars cash (in small denomination bills with no rips, writing or other damage) or euro cash (depending on the destination) as you feel comfortable carrying.

Are meals included on the tour?

Meals vary from itinerary to itinerary. In many cases breakfasts are included, as well as meals whilst camping, such as on the Inca Trek. On tours that do not have meals included, Tucan Travel's tour leaders will be able to recommend local restaurants for clients who want to try the region's cuisine on their adventure.

How about the crime rate in each destinations?

Please read the travel safety notices issued by your government, purchase comprehensive travel insurance and take heed of your tour leader's advice when you arrive.

When will the travellers meet the tour leader?

On most group tours the tour leader will be at the joining hotel and will hold a pre-departure meeting in the late afternoon/early evening of day 1. On some shorter trips, you will not meet your tour leader until day 2, as these trips are parts of longer adventure travel tours.

Does Tucan Travel offer airport transfers?

In most cities, Tucan Travel offer arrival transfer services which can be booked for an additional charge. It is also easy to take a taxi to the joining hotel. Most airports have reliable pre-paid fixed priced taxi booths in the arrivals terminal. Please enquire if you would like to know if the tour you are interested in has a transfer included.

What things do I need to bring?

It depends entirely on each destination, the season and the activites you'll participate in. Some tours require sleeping bags, comfortable, hardy, waterproof shoes and waterproof clothing for outdoor activities, e.g. trekking. Bring long, light clothing for hot destinations and countries where you'll encounter conservative attitudes to dress.

What kind of luggage is recommended?

Tucan Travel recommends that travellers bring a soft frameless backpack or sports type bag. Wheeled luggage and suitcases are not recommended on Tucan Travel's tours as these are not suitable for storage on the trucks or public transport. Travellers will need to carry their own luggage and should make sure to bring a comfortable bag that is light enough to carry. For tours travelling on our expedition or if you are travelling on a tour with internal flights, the luggage should not exceed 20 kilograms.

When is the arrival and departure on the tour?

Day 1 of all our group tours is simply a joining day and the last day is the official departure day so travellers can arrive/depart at any time on these days. In general the tour departs early on day 2 and returns in the afternoon/evening of the second to last day. Day 1 of our Expedition Cruises is often the departure day, unless it is packaged with pre cruise accommodation.

Why is a local payment required?

For travellers on the Adventures for 20s and 30s Tour, a local payment to the tour leader on day 1 in US dollars is required. In the rare event that there is a short fall in the local payment, travellers will be required to make an extra contribution.