Trek America
Headquarters in London, England
OVERALL RATING
4.0/5 - Good
See all tours
Highlights
Original Adventures since "72"
Voted best small holiday company to the USA
North Americas ONLY small group specialist for 18-38s!
Local tour leaders
Awards & Recognitions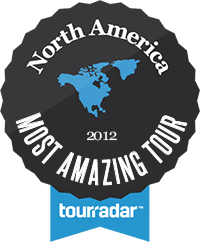 52 Trek America Reviews
Excellent

58%

Good

16%

Average

14%

Rather Poor

8%

Bad

4%
Accommodation

4 / 5

Transportation

4 / 5

Meals

4 / 5

Value for money

4 / 5

Guide

4 / 5
Write a review
Looking for a specific tour?
93 Trek America tours
Check it out
Sam

Canadian Road Trip From New York

Written on September 19, 2017

This tour was everything I was hoping it would be. I was able to see Canada the best way possible with a fantastic guide Phil. Well worth doing.

Western Wonder From San Francisco

Written on September 10, 2017

This Western Wonder trip was truly amazing. So much was fitted into the 7 days. I could not recommend this trip highly enough. Breathtaking.

Atlantic Blt From New York

Written on August 20, 2017

Fantastic trip - the itinerary was great, the tour leader was kind and competent and the other trekkers were excellent company.

Mountain Trail

Written on August 2, 2017

The best time of my life, great people, great food and accommodation i loved the amount of freedom we got and choices we had and i got a chance to do things th…

Read more

Glaciers And Grizzlies Plus

My first warning about the trip is to be aware that a huge amount of time is spent travelling. The primary role of the guide appears to be driving you to destin…

Read more

Westerner 2

Would never do this again and trust me I have done a lot of tours with other tour companies. Bad accommodation, basically they are riping you off, negative ener…

Read more

Trailblazer From Los Angeles

…9. i have also done the Westerner trek. I cant speak highly enough of Trek AMERICA everyone should do one of theses trips growing up, its the best…

Read more

Russell

Western Blt From San Francisco

Written on March 16, 2017

Absolutely awesome trip! Can't recommend it highly enough. So much fun and so many awesome sights. What made our trip so great was our tour guide Tim. He often …

Read more

Southern Blt From Los Angeles

Written on December 8, 2016

I went on the Deep South BLT with amazing guide Sarah K. It was one of the best tours i went on. Sarah was amazingly organized, helpful with any kind of informa…

Read more
About Trek America
In 1972, Trek America started allowing young, independent travellers a different option to the typical "package" holidays. Trek America offered these travelers an active, exciting small group environment to explore and adventure. Trek America is North Americas 18 - 38s tour specialist, offering adventure travel away from the main tourist routes. Operating for over 40 years, the knowledge and expertise they have accumulated over that time has meant they are able to share this with other travelers who take their trips - whether its old favourites or a few new secret spots, Trek America have got you covered. They specialise in the path less traveled, allowing the travelers the excitement of the open road, while staying true to their matra of "fun, freedom and flexibility". They aim to invite the unknown, welcome the unexpected, and create memories that will last a lifetime.
Trek America videos
Southern Sun Trekkers Video
North American Q&A with Trek America
Q&A: Trek America Oct 2014
Trek America: The Legend
Trek America - 100% America, 100% Adventure!
Show more...
Trek America: Best of the East
TrekAmerica: iTrekTo...
Trek America: Adventures in North, Central and South America
California Calling
Big City Life
A Day in the Life of a Trekker
Why Travel with TrekAmerica?
Ultimate Travel Guide: Canada
Trek America Benefits
Small Groups
By traveling with Trek America, it means you will be in a small group, of approximately 10-12 people - so no lining up waiting for 50 others to grab a coffee or have a shower. The group is big enough that you will still get to make friends, but small enough that you can really take advantage of the flexibility that a smaller group offers.
Unique Itineraries
Trek America operates its own tours, which means their itineraries are carefully constructed using the network of support facilities and suppliers they have, stretching from Alaska all the way to Mexico.
True American Tour Leaders
The Tour Leaders that Trek America uses are home-grown, experienced and knowledgable folks who want you to see and experience the real Americas! Only the most motivated, committed and un loving people are chosen to show our travelers around our country, and we make sure they are fully equipped with extensive training, to ensure the tour runs smoothly.
Why Trek America
Award Winning Tours
Trek America is an award winning tour company, having won 2 awards at the prestigious Britsh Travel Awards, including the award for the 'Best Small Holiday Company to Canada' and 'Best Small Holiday Company for Customer Service'. The British Travel Awards are acknowledged as the largest independent arbiter of public opinion on tour operator performance and is one of the most coveted prizes in the travel industry.
Like Minded Groups
Trek America knows that for young, international travellers aged 18-38, they need to operate some pretty special tours, and with the right people too - that's why you're guaranteed to be travelling with people of a similar age. generally people on a Trek America tour have a sense of fun, as well as a keen sense of adventure! If you're travelling alone, that is no problem - you'll soon be with like minded travelers, some also traveling alone, some with their friends - but surely you will make friendships to last a lifetime.
Inclusive Pricing
Included in the cost of your tour is all transport and accommodation, so all you have to pay for are your food and drinks, and optional activities.
Awards & Recognitions
Trek America Photos

Trek America Story & History
Starting with their first tour in 1972, it makes Trek America the oldest, longest running, and most experienced small group adventure tour company in North America! They know the places so well, whether it's the beaches in California or the best place to grab a bite to eat in New Orleans, the experience that trek America has is a huge reason behind their success. It's all of these little hints, tips and tricks that you may not find if traveling alone, that make Trek America special.
Questions & Answers
Here we have collected and answered the most frequently asked questions.
Does TrekAmerica include the transfers to the tour joining point?

No, TrekAmerica don't arrange or include transfers from the airport to the gateway hotels since there are quick, easy and more cost effective transfer options available directly from the airport to the gateway hotels.

Where is the joining point of the tour?

Most of the tours start in the lobby of the departure hotel at 7.30am The departure hotels serve as the Trek's start and end points. For booking inquries and other tour information, please contact us and we can definitely assist you.

Is it possible to visit Alcatraz on the tour?

If you want to visit Alcatraz on your visit to San Francisco, you can do this on your free day (Day 2 in San Francisco). It is recommended to book tickets in advance as they may otherwise sell out. Please contact us for more infomation.

Is it necessary to pre-book optional activities?

Your tour leader will run through all the options with you during your trip and you can decide what you'd like to do and pay as you go along for these so you don't need to pre-book any of the optional activities.

Is tipping necessary?

It is normal and expected in North America to tip waiters, bar staff and taxi drivers or any type of guide. A minimum of 15-18% is standard in restaurants. If your tour leader's performance meets or exceeds your expectations, TrekAmerica recommends you consider a tip of US$5-7 per person, per day, in appreciation of the service you receive.

How is it possible to get cash while on tour?

Throughout the Americas, ATM's and cash machines are readily available and major credit cards are widely accepted. Travellers Cheques are generally accepted and can be a safe way to take your funds but aren't always the most practical, as foreign money exchange facilities, especially in Central America, can be limited. Credit cards are not accepted for the Food Kitty and many optional activities. Pre-paid credit cards can be a cost effective and safe way to take funds overseas. TrekAmerica suggests you bring US $150 with you in cash to start the tour with.

What is the recommended amount of money to bring on the tour?

A budget of at least an average of US$25/CAN$25 per day for meals and general spending is recommended for camping trips. This includes US$10/CAN$10 per day for your food kitty which covers all of your meals while camping plus at least US$15/CAN$15 per day for snacks, drinks, tips and general spending. For BLT Tours the recommend budget is an average of US$50 per day to cover all meals, snacks, drinks, tips and general spending. It is customary to tip waiters, bar staff, taxi drivers, local guides and any person who provides a service for you. Your tour leader will work long and hard for you during your tour and there is a recommended discretionary tip of US$5-7 per passenger per day if the leader's performance meets or exceeds your expectations. These amounts are recommendations only, how much you want to spend is dependent on your personal choice.

What footwear is recommended on the trips?

Comfortable shoes are recommended and walking shoes or boots that will provide a more sturdy grip as well as good ankle support. A comfortable pair trainers will be ok, but be prepared for these to get dirty and make sure they do offer some grip.

Are hair straighteners and hairdryers allowed on the trip?

Yes, hairdryers and hair straighteners are allowed, but make sure you bring plug adaptors and check the voltage as they can vary meaning your appliances won't work exactly the same as they do at home.

Are camping mats needed on the trip?

A foam sleeping mat is provided however you may prefer to bring your own inflatable sleeping mat for extra comfort. You may also like to bring a pillow.