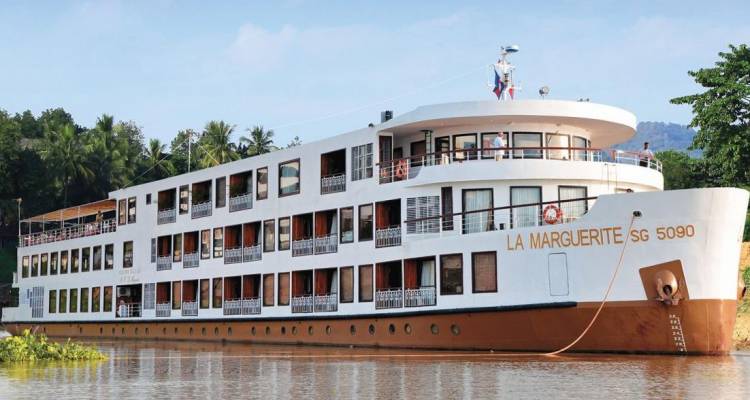 Built

2009

Guests

92
Crew

43

Length

71.6m
Staterooms

46
Ship Overview
Discover the alluring destinations of Vietnam and Cambodia as you cruise along the Mekong River aboard the luxurious RV La Marguerite.
Sail beside stunning scenery aboard the luxurious RV La Marguerite. Visit remote villages that line the banks of the Mekong River. Your luxurious ship offers superior service and accommodation, combining colonial era with a contemporary edge.
With a guest to staff ratio of 2:1, the service you'll receive on board is exceptional. Each crew member has extensive training and is always delighted to help.
Each Deluxe Suite is designed with your absolute convenience and comfort in mind. Featuring French Colonial-inspired decor and state-of-the-art appointments, every suite offers the feel of a luxury retreat.
Following it's soft refurb during 2018 season break, the RV La Marguerite now features new soft furnishings, sundeck furniture, blinds and outside paint work.
Onboard Entertainment
Unwind with Tai Chi classes on the Sun deck and learn about Cambodian and Vietnamese culture and history with lectures from local guides. There's a fruit-carving demonstration by the executive chef who will also reveal the secret to making delicious Vietnamese Spring Rolls. Enjoy musical performances on select evenings including a night of Khmer song and dance.
Dedicated Staff
We take care of everything. Our Cruise and Tour Directors are known as being the very best in Vietnam and Cambodia. Always available to provide personalised information and suggestions, they ensure you enjoy a holiday experience you simply could not have on your own. A high staff-to-guest ration onboard each ship guarantees you'll be well looked after while on the Mekong River.
Air-conditioned lounges
Sun Deck
Wi-Fi
Spa
Fitness centre
Swimming pool
Reclining lounges
Staterooms / Suites
Standard Suite 226 ft²/ 21 m² Cat. C
Deluxe Balcony Suite 226 ft²/ 21 m² Cat. B&A
Sadec Balcony Suite 284 ft²/ 26.4 m²
Indochina Suite 443 ft²/ 41.6 m²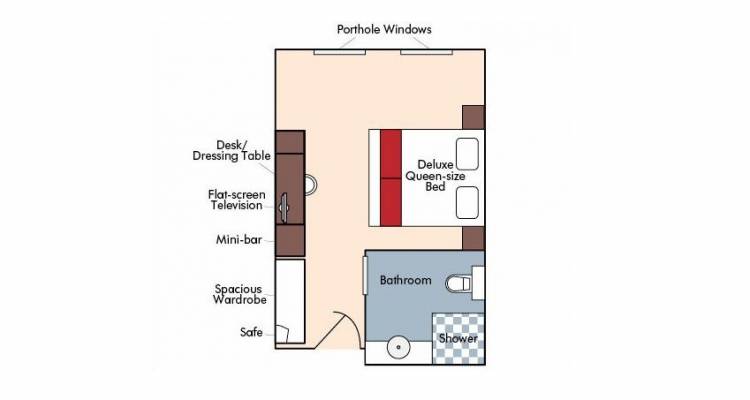 Features
Mekong (Lower Deck)
Queen-size bed
Ensuite with shower and toilet
Personal safe and mini-bar
Spacious wardrobe and desk/dressing table
Flat-screen TV
Dining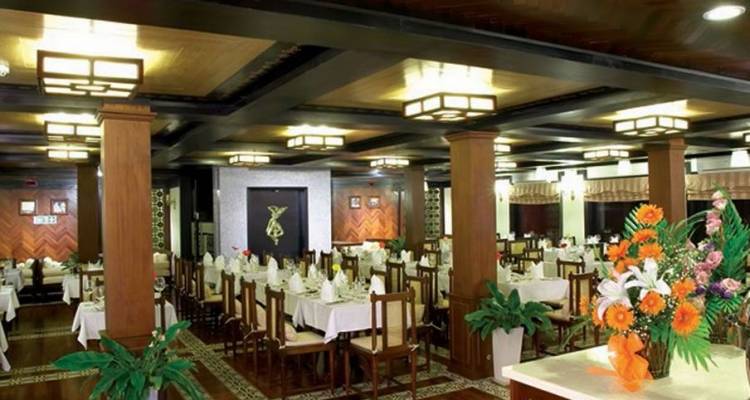 Enjoy a superb dining experience each day in the air-conditioned Mekong Restaurant. Dine on exotic Asian fare prepared by your onboard chefs each day from the freshest ingredients. Western favourites are also available. Local beer, spirits and soft drink are included during lunch and dinner on board.