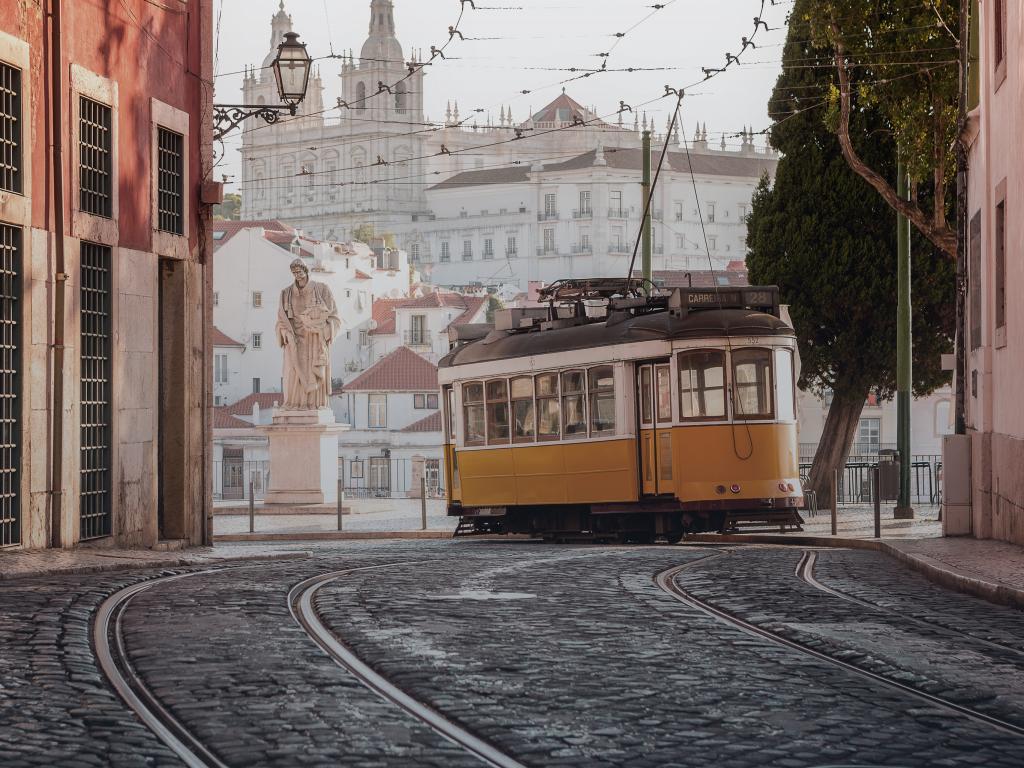 Portugal Travel Guide
Portugal is a land of glittering contrasts. From the rolling hills that line the Douro Valley to Roman ruins and medieval cobblestone streets in Porto, to the vibrant cosmopolitan spirit of Lisbon, it's no wonder this European gem has piqued the interest of travellers from around the world. This year, the spotlight is well and truly on Portugal – and this dynamic destination will not disappoint.
The Highlights


Lisbon

It's hard to deny the allure that Lisbon possesses. With iconic neighbourhoods such as Belém to the steep, cobblestoned streets of Alfama, Lisbon has no shortage of trendy neighbourhoods and districts to keep you entertained. Make sure you visit iconic buildings such as the Castelo de São Jorge, Praça do Comércio and the São Roque Church for an exquisite showcase of Baroque architecture.

Sintra

There is no excuse not to visit Sintra, as it is just a short train journey from Lisbon. Sintra is much like a fairytale village and is dotted with turreted palaces set amongst verdant mountains. When in Sintra, visitors simply must visit the 19th-century Pena Palace, extravagantly furnished in late Victorian style and architecture, and is adorned porcelain statues and oil paintings.

Porto

This humble little coastal city is filled with enough with art and culture to satisfy your inner-explorer and provides unrivalled opportunities to tick off notable landmarks on the riverside promenade, including the Porto Cathedral in all its Romanesque splendour, the San Francisco Church and the Bolsa Palace. If you find yourself in Porto on the weekend, a visit to Mercado Bolhao is a must-do.
Madeira

Just a stone's throw away from the mainland, the archipelago of Madeira is home to staggeringly beautiful cliffs, pristine beaches and a food scene to rival other cities across the world. Charlie Chaplin and Winston Churchill were both said to have frequently visited this unique island, so best to walk in their footsteps and find out what makes this island so enthralling.

The Algarve

Boasting some of the best beaches in Portugal (or Europe, for that matter), the Algarve is the southernmost region in Portugal and a must-see for beach-lovers. From the likes of Lagos to the sleepy town of Tavira, there are experiences aplenty within the Algarve. Make sure you sit down for a seafood feast in Albufeira, a former fishing village where the produce is as fresh as you can get.

Óbidos

Majestic. Historic. Enchanting. This must mean we're looking at the only fortified town of Óbidos – a medieval getaway. Here, you can expect to find colourful clusters of houses framed with traditional architecture and lined with bright flowers, and while you're there, you can explore the nearby fishing village of Peniche.
The Basics
The Location

Portugal is located in Europe on the Iberian Peninsula, bordering Spain. From Dubai, a non-stop flight is 8h 45m, and from London, it is roughly 2h 20m direct.

Capital City

Lisbon is the capital city of Portugal and is the largest city and due to its central location, it became the capital city in 1255.

Main Airport

Humberto Delgado Airport, also known as Lisbon Airport is the hub for international and domestic flights and can be found just 7 kilometres from the city centre of Lisbon.

Code

LIS

Closest City

Lisbon

Language Spoken

The official language of Portugal is Portuguese, however, English is commonly spoken across the country and in popular tourist destinations.

Currency

Portugal uses the Euro. The currency code is EUR. ATMs are found across the country and are easily accessible. Before you travel, make sure you check with your bank with regards to foreign fees.

Visas

Portugal is part of the Schengen area, and visitors from Australia, the US, UK and Canada can travel for up to six months visa-free. Before you travel, check your local embassy as entry requirements are always subject to change.

Electricity

Portugal has 220-volt electricity and the cycles (Hz) are 50 per second. Depending on where you travel from, you may need a converter or transformer if your appliances are 110 volts.

Vaccinations

It is recommended that travellers are covered for diphtheria, tetanus, measles, mumps, rubella and polio, however, these are not compulsory to visit Portugal. Before you travel, best to visit a travel doctor at least six weeks before departure.

Emergency Calls

The phone numbers to call in case of emergency (fire, police or ambulance) is 112.
When to Visit
Portugal Tours
FAQs about Portugal
Do you tip in Portugal?

It is recommended to leave a tip of 5% to 10% in a restaurant when in Portugal. In hotels, it is suggested to tip €1-2 for bellhops who carry your luggage up to the room, and for taxi drivers, it is always recommended to round your bill up from €7 to €10 and will always be appreciated.

What is the internet access like?

Internet connection is great across Portugal, and you should have no problem with day-to-day tasks like emailing or surfing the web. WiFi is available in many hostels and hotels for free.

Is the tap water safe to drink?

Yes, the tap water in Portugal is safe to drink and there is no issue with water.

Can I use my credit cards?

Yes, of course. ATMs are widely available and are the best source of accessing money, except in the smallest villages. Credit cards accepted in hotels and larger cafes across the country. Keep in mind that the ATM limit is €200 per withdrawal, and many banks charge a foreign transaction fee.

What are the public holidays?

Along with common public holidays such as New Year's Day, Christmas and Good Friday, Portugal has Freedom Day on April 25, May Day on May 1, Portugal National Day on June 10. Other holidays may vary between regions, so check your itinerary before you travel.

is it safe to travel in Portugal?

Absolutely! As a popular destination for travellers from across the world, Portugal is most certainly safe. Simple precautions such as avoiding walking home late at night and keeping an eye on your belongings will help to keep you out of trouble.
A TRAVEL MAGAZINE BY TOURRADAR