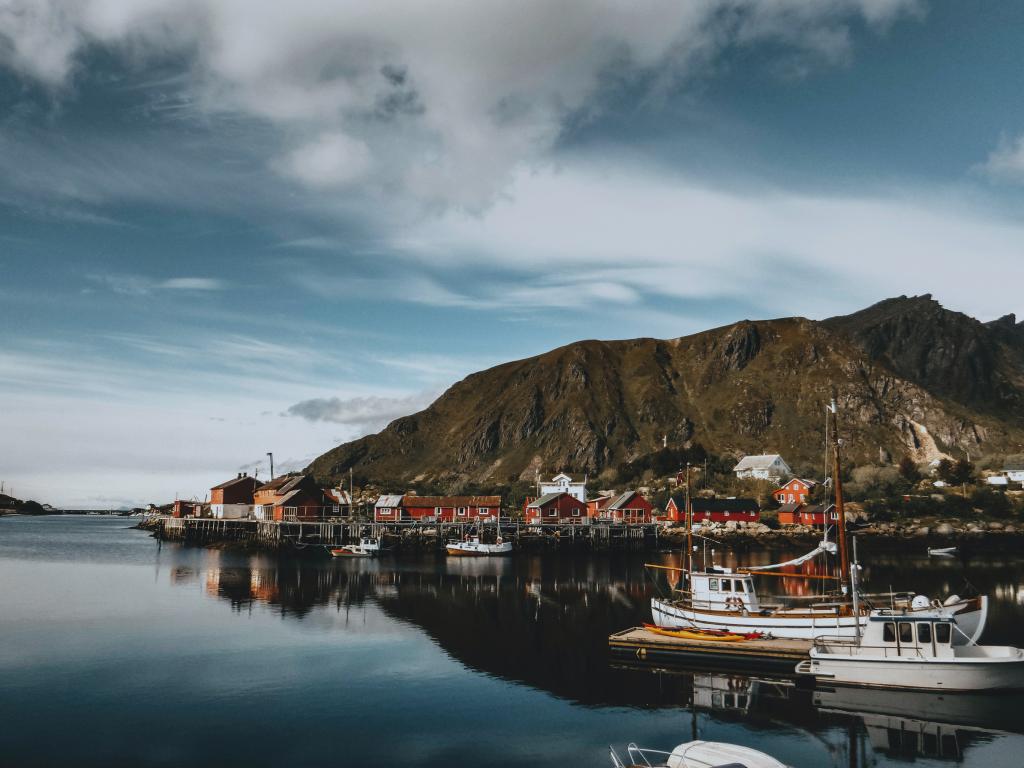 Norway Travel Guide
In Norway, over 1,000 grand fjords grace the western coast. Idyllic towns out of a fairytale set against impressive valleys pepper the eastern side. And in the Arctic Circle, the epic northern lights illuminate the night sky for a once-in-a-lifetime experience. As one of the most beautiful countries on earth, Norway most certainly deserves your time and attention.
The Highlights


Oslo

Oslo's atmosphere is so cultured that it's contagious. The city has, after all, mastered the art of mixing business with pleasure, innovations with outdoor exploits, and modern architecture with breathtaking natural wonders. There are only a few places in the world where you can kayak down a fjord in the morning, visit a grand historic place at lunch, and see an opera at night.

Trondheim

You don't have to be a foodie, history buff or a cyclist to enjoy Trondheim, though if you are, then this town is for you. This colourful little city and old Viking capital is charming and energetic at the same time and is also a paradise for culture hounds and beer lovers. Carve your own trail based on your appetite – this is, after all, your adventure.

Jotunheimen National Park

With towering peaks dotted with picturesque lakes and lush valleys, the Jotunheimen National Park in the heart of southern Norway hardly needs a sales pitch. But if we must, then we'll just say that it's simply the ideal venue for unforgettable outdoor adventures. Hike, fish, bike, camp, climb, sled, see its myriad wildlife, whatever else you can think of. The entire national park is your oyster.
Tromsø

You might find yourself in Tromsø chasing the Northern Lights, but you'll stay for the city itself. Start your visit right and slumber in an ice dome. Then, during the daytime, there are many activities on hand including dog sledding and whale watching, or warm up with a couple of drinks at Aurora Spirit, indulge in a delicious feast and shop for local wares. You'll never want to leave.

Heddal Stave Church

There's something about grand old churches that are simply appealing, and in Norway, they're no different. If you were to follow this trail, then do it right by putting Heddal Stave Church at the top of the list. This early 13th-century church, Norway's largest, boasts a triple nave and beautiful wooden interiors. It's the stuff fairytales are made of.

Låtefossen

It might be hard to narrow down Norway's long list of attractions, but your list is incomplete without the unique twin waterfalls of Låtefossen. The spectacular beauty tucked outside the town of Odda is picture-perfect as it pours from Lake Låtefossen past a stone arch bridge into the anticipating stream below. Come in the late afternoon when a warm light casts a soft glow, making for great shots.
The Basics
The Location

Norway is set on the eastern side of Norwegian Sea less than 1,500 kilometres from Iceland. It borders Sweden in the east and neighbours Denmark from the north. From London, it's a quick, two-hour flight. From New York, it's about seven hours.

Capital City

Oslo, Norway's most populous city, is the country's capital. It is also the centre for economics, politics and culture.

Main Airport

Oslo Airport, Gardermoen, located 47 kilometres north of Oslo, is Norway's biggest hub and services more than 200 destinations.

Code

OSL

Closest City

Oslo

Language Spoken

The official languages of Norway are Norwegian and Sami, though English is widely spoken.

Currency

Norway uses the Norwegian krone. The currency code is NOK. Bring some cash when out and about during your visit, but credit and debit cards are accepted at most businesses and establishments.

Visas

Citizens of EU countries as well Canadian, US, UK, and Australian citizens can stay for 90 days visa-free. Always check the entry requirements before you travel, as these are subject to change.

Electricity

The standard voltage and frequency in Norway are 230V and 50hz while the standard socket is Type F, which fits plugs C, E and F. If you're coming from a country that uses Type A and B plugs, bring an adapter. If your country uses 110V, pack a converter.

Vaccinations

Recommended vaccinations for travellers visiting Norway include hepatitis A, hepatitis B, rabies and influenza.

Emergency Calls

In case of fire and major accidents, call 110. For ambulance and medical emergencies, 113 is the best number to call. For police and rescue, call 112.
When to Visit
Norway Tours
FAQs about Norway
Do you tip in Norway?

While not mandatory, tipping in Norway is customary. A tip of 5% to 10% of your total bill – 20% if the service is exceptional – at restaurants is the norm, as is the rounding up of your cab fare. Tipping to hotel staff and tour guides is not necessary.

What is the internet access like?

It's great! WiFi is easily accessible and even free in a lot of places including hotels, cafes, restaurants, trains and even some buses.

Is the tap water safe to drink?

Absolutely! Norway has excellent tap water so unless otherwise stated, drink to your heart's content.

Can I use my credit cards?

Most businesses in Norway accept Visa, Mastercard, American Express and even Diners Club. Keep some cash or at least your ATM card handy as there are still some that might not like gas stations and supermarkets.

What are the public holidays?

Maudy Thursday, Good Friday and Easter Monday are celebrated public holidays in Norway, as are Constitution Day (May 17), Ascension Day (39 days after Easter), Pentecost (49 days after Easter), Whit Monday (the day after Pentecost) and St. Stephen's Day (December 26).

What are the toilets like?

Toilets in Norway are modern; however public toilets are not as common. Establishments like restaurants, museums and attractions will have toilets for their patrons while a small few like shopping malls might charge a small amount for use of theirs.

How do I get around Norway?

Because of its unique topography, you'll most likely end up using several means of transportation. Hiring a rental car is best, as Norway is great for road trips; and ferries are reliable for getting around in the fjordlands as long as you check the schedule.

Can I travel to Norway on a budget?

It's true that Norway is an expensive country. However, if you plan right – keep your eating out to a minimum, find cheaper accommodations and travel during the low season, for example – you'll do just fine on a budget.
A TRAVEL MAGAZINE BY TOURRADAR