Highlights
Award winning global product range
Passionate and knowledgeable crew
Balance of social and free time
Locally-inspired cuisine
Awards & Recognitions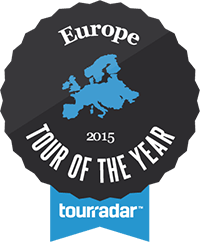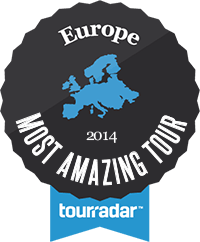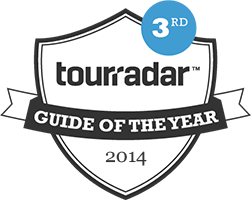 +3
Topdeck Guides



+55
2,565 Topdeck Reviews
Excellent

82%

Good

16%

Average

2%

Rather Poor

1%

Bad

0%
Accommodation

4.5 / 5

Transportation

5 / 5

Meals

4.5 / 5

Value for money

4.5 / 5

Guide

5 / 5
Write a review
About Topdeck
Topdeck provides awesome tours to 18-39 year old travellers in Europe, Egypt, Morocco, Australia, New Zealand, Africa and Asia. Festivals and city breaks, extended tours around Europe, sailing tours and much more! Topdeck offers excellent value trips at affordable prices, with their passion to provide unforgettable travel adventures across the globe. Topdeck understands that some roads aren't meant to be travelled alone, and you generally have more fun with friends! With Topdeck you will explore, enjoy, and share the experience with other travelers. #Topdecker
Topdeck videos
Topdeck European Pioneer
Q&A with Topdeck Trip Leader
Australia: See Australia with Topdeck
Europe: Experience the Magic of Europe
Africa: Why you should go to Africa
Show more...
USA: What happens on a Topdeck USA trip?
Iceland: The Ultimate Travel Guide
New Zealand: Why New Zealand?
Japan: The Ultimate Travel Guide
Ultimate Travel Guide: Canada
Western Europe Travel Guide
Ultime Travel Guide: New Zealand
Why Topdeck
40 Years Experiences
Topdeck has used their 40 years experience put together the itinerary of each tour with the traveler in mind. When on tour, you will be with other similarly aged, like minded travelers - and your new friends will be there with you to share the excitement and experience new places!
Free Time to Explore
Topdeck knows how important time is, and that is why they give you as much free time as possible, so you can go and explore at your own pace. The expert staff at Topdeck are enthusiastic about travel, and they know their stuff. You can rely on them to ensure you get the best out of your trip, and they will do everything to make sure that happens.
Topdeck Benefits
Experienced Staff
The best bit about having motivated, knowledgeable staff is that they take care of all the boring stuff, and you enjoy the fun parts of travelling. They will make sure there is no overbooked trains, accommodation fully booked, or language problems... they are there to make life easy for you!
Details Organised
Topdeck organise all accommodation, transport, food, local guided tours and they even have some 'Totally Topdeck' experiences. What is included in your tour is clearly marked, so that you can budget for the other important things; like shopping and having a good time. When traveling, the Topdeck staff are there to assist - whether it's the guides in Europe, the drivers in Australia, or a local guide in Egypt - they are there to make sure you can get the most out of your experience with local knowledge, tips and tricks, or local specialties.
Topdeck Guides
"Work hard, play hard, be kind, travel, travel, travel some more.....oh and always try the local food…"

"Two summer seasons completed for Topdeck Europe and loving the continent's vibes more than ever! I'm…"
Topdeck Story & History
Started by friends in 1973 who shared a passion for adventure, Topdeck Travel has a long history of delivering authentic and fun group travel. Originally transport was provided by double decker buses, which gave way to the name Topdeck. From 1974 onwards, and even into the 1990s, these 'deckers' (double decker buses) travelled throughout Europe and even further afield in to Morocco, the Middle East, and sometimes making the extended trip between London and Kathmandu.
During the 1980s, the company decided it would move further afield into the United States of America, where it started operations. The company even ran trips from Sydney to London from 1980 onwards, with the last leg using a converted Sydney double decker to stay in theme. Later on it was decided to introduce coaches, and then this happened in the mid 1980's, it was primarily for the winter ski holidays. This marked the end of the old double deckers, with the 1990's marking the start of retirement for them in great numbers.
Once this happened, the focus shifted towards camping trips, staying in various campsites across Europe. After this, Topdeck started to take shape as the company we know it today, offering camping, hostel based trips, and even trips with hotel accommodation. one of the original Topdeck double decker buses can still be seen to this day at the Isle of Wight Bus Museum, which is near Newport, Isle of Wight.
Questions & Answers
Here we have collected and answered the most frequently asked questions.
How much cash do I need to bring?

You will have easy access to local currency from ATMs in all major cities. It is also recommended to bring some cash on arrival (US$ or GBP), in addition to your local payment amount. Tipping is expected for quite a few things (carrying your luggage etc.) but you only need to give a small amount and your Trip Leader will advise you what is appropriate.

What clothes do I need to bring for the African trip?

The climate in each African country varies. Most countries range between hot days and mild nights in the summer months to warm days and cool nights in the winter. Some countries can get very hot in summer, so lightweight cottons and linens are recommended along with clothing to cover your head and neck and high factor sunblock. If visiting in winter you will need to bring some warmer clothing for the cool evenings.

Is it possible to extend my stay?

Please contact us to enquire about the cost of pre and post tour accommodation which can be added to your booking for an additional cost.

What is the age range on the trip?

Topdeck's safari trips are run exclusively for travellers aged 18 to 30-something.

For African tours, what is the group size on the trip?

The group have a maximum size of 24 and usually average around 16 travellers.

What kinds of food are served on the trip in Africa?

All of Topdeck's trips include a variety of appetising meals. Please contact us for details on the trip or if you have any questions regarding dietary requirements.

What are the accommodations on the trips through Africa?

During the evenings, you will stay in a two-person dome tents kitted out with insect screens and foam mats. In certain locations Topdeck trips feature included hostel upgrades and they also use comfortable hotel accommodation on Zanzibar.

What are the kinds of transportation that Topdeck use?

Topdeck uses state of the art overland safari vehicles. It keeps food and drinks fresh (in the on-board drinks cooler), your belongings safely stowed (in secure lockers big enough for your entire luggage) and it comes with power points so you can charge up laptops, cameras and mp3 players so you can plug in and chill out when you need to.

Is travel insurance needed for the trip?

Yes, comprehensive travel insurance is compulsory on all Topdeck trips and should be taken out at the time of booking. Please contact us for more information or visit this page www.tourradar.com/travel-insurance for a free quote with our insurance partners, World Nomads.

What are not included on the trip price?

The following are not included on the trip price: Sleeping bag, personal travel and medical insurance, items of a personal nature, optional excursions and restaurant meals and drinks.