Western Wonder From San Francisco
Member-Only Savings
ends on 21 Jul 2018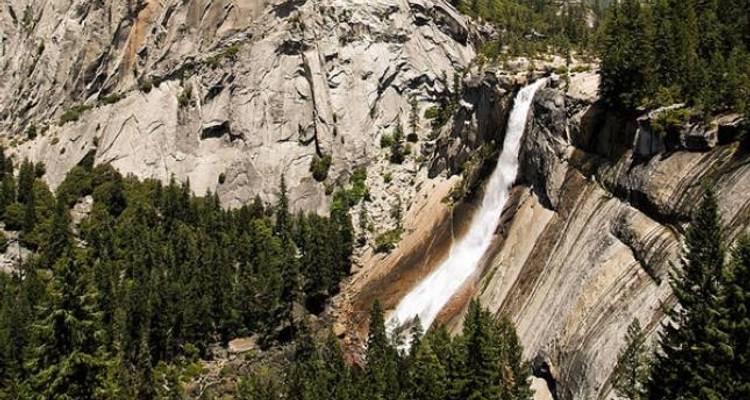 Gary
"This was one of the best tours I have ever done. Whilst it might seem like quite a short trip, the amount of stuff that you do makes the trip seem very, very long (and totally worth taking a long flight for just 7 days). Check out my trip video that gives a bit more detail on what we got up to: https://www.youtube.com/watch?v=GtmCpA-uo3Y Food, accommodation, tour leader, activities and people we..."
Excellent

12 reviews
Starts

San Francisco

+4 Destinations

Ends

Los Angeles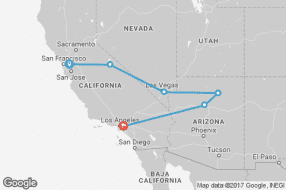 Highlights
Age range

18 to 38 year olds

Accommodation

Hotel, Camping

Max Group Size

13

Transportation

Private Vehicle

Travel style
12 Reviews
Excellent

60%

Good

40%

Average

0%

Rather Poor

0%

Bad

0%
Write a review
Written on September 10, 2017

This Western Wonder trip was truly amazing. So much was fitted into the 7 days. I could not recommend this trip highly enough. Breathtaking.

Show detailed ratings

Christina

Written on October 18, 2016

The trip was well organized, very informative and covered beautiful places. The food bought with the food kitty was excellent (even though at times it didn`t appear to be enough). The group consisted of a lot of very young people who had done Camp America and covered around 7 nationalities. Due to the limited time of the trip and the very young age of some (around 18) the group didn`t really bond before the end of the trip. What I didn`t like was the accommodation in Las Vegas which was far off the strip and in a very unpleasant area. You would think that by collecting around one thousand Dollars by each of the 13 travellers, Trek America could have booked a more fancy directly hotel on the Strip. Also, on the information sheet on Trek America`s website it said that the price "includes the services of a tour guide". Nevertheless, right at the start of the Trek we were informed in a different information sheet that it is compulsory to give the tour guide a 50 Dollar tip- something which the majority of the travellers was not happy about. What I feel like mentioning: Even though I gave the suggested tip, the Trek leader Mari did not consider it necessary to answer my E-mail and text when I forgot my new sneakers in the Van after the trip - something which I found very disappointing, considering that I think she did a good job apart from that.

Show detailed ratings

Lok

Gary

Written on May 16, 2015

This was one of the best tours I have ever done. Whilst it might seem like quite a short trip, the amount of stuff that you do makes the trip seem very, very long (and totally worth taking a long flight for just 7 days). Check out my trip video that gives a bit more detail on what we got up to: https://www.youtube.com/watch?v=GtmCpA-uo3Y Food, accommodation, tour leader, activities and people were all fantastic! Highly recommended.

Show detailed ratings

Written on August 4, 2013

This was my first time traveling by myself, and my first trip with trek america. What an amazing trip it was! It was a full group with 13 people, including myself. The van was a little cramped, but it wasn't unbearable. It was fun getting to meet so many people from all different parts of the world, and everyone got along great. Our leader was amazing! He was fun, enthusiastic and had lots of great tips for each of our stops. The only drawback is the sleeping pads they give you when camping. They are pretty thin and not very comfortable, so if you have your own small sleeping pad, I would definitely bring it. Also, the gateway hotels are very disappointing. For the price you pay, they are not very nice. A few people in my group stayed at a hotel across the street from the starting point of our tour, and I will definitely do that next time. Overall, it was a fantastic experience and I would recommend trek america to anyone. It has only been 2 weeks since my trip ended, and I'm already planning my next trek.

Written on December 6, 2012

I(together with a friend) booked this Trek because we didn't have much time in America, but this trip would take us to a good part of the places we wanted to see - an even through it was bloody expensive (550 punds or 880 US Dollars) we booked it because it looked good in the flyer and on their website - an our travel agentcy had done trips like this with no problems. So we got os a not-so-pleasent- surprise doing the "Trek". To make it a little easier I will sum up all the bad things in points: 1) We drove around in a 15 persons minivan and there was not a seat to spare - This is bad even when you stop every 2-3 hours because you don't really want to get inside the bus again (And you should not feel that was on holiday!). 2) We drove rounghly 7-10 hours a day (which we did not expect. Some might say that that was my own fault, but people from the most parts of Europe (myself included) do not understand how big America really is. So even through I knew that there were going to be some driving I had not i my wildest dream (nightmares) thought it would be that much! And when you are sitting so long time in a full bus a day every hour feels like 3 hours. It would ha been nice to know that we were going to be driving for that many hours a day so that we were prepared for it - or could have choosen a different firm so that we somehow had gotten around that. 3) On my trek some people did not understand that they had to be by the van on time. And the driver did absolut NOTHING to get them to be on time. And because they were late we had to wait for them (because we could not just drive without them) - sometimes it was 5 minutes other times 40 minutes - and those minutes can really matter when you are driving for a long time and when you have to set up a tent (and all the other equipment) BEFORE it gets dark. We had approximately ½-1 hour to do this because the sun started setting at 6 PM and we often got there at 5-5.30 PM. 4) When you get to the places really late in the afternoon and have to drive to the next place the day after it does not leave much time for trekking which is a real shame because it was book with TREK America. We only had from about 7AM to 10.45 Am to Trek the Grand Canyon which means we only got to see a very little part of it and could not go were far down into it because we had to be by the bus at 11 AM. 5) Some of us slept in the Grand Canyon in minus 12 degrees centigrade which was cold. We of course choose this ourselves because we could have slept in the hostel with the rest of the group, but to be honest I was really tired of paying extra to stay in a hostel and not sleep outside in the open. I actually brought a sleeping bag just for this porpose. To avoid this it would have been good if there in our advertising stood some of the things you could experience eg. really heavy rain fall (there was a girl on my trip who did not have a propper jacket with her and while this probably is her own fault it would be really good to know the average weather in the places we wwould be seeing.) I knew that it couldbe could in the Grand Canyon, but I had no idea that it would that cold! A little heads up would have been nice. Maybe this camping trip should have stopped in September so that you can still camp without freezing while wearing clothes and 2 sleepingbags. 6) In the flyer it says that you will be "checking out the iconic Golden Gate Bridge" but all we did was drive over it and take a few photos afterwards. Luckily I had been in San Francisco a coulpe of days so I had seen it, but not everyone on the bus had that, so some was rather disappointed. 7) Lastly: Lake Havasu. We stayed there the last night and there were nothing to see but a campingground and a main road. I do not understand why you would want to stop there instead of just driving the rest of the way to Los Angeles. It is kinda sad that you have a trip where you only see a glimse of what to travelled to see. I would have taken a longer trip if I had had the time (but I did not) but in hindsight I should have made the time or waited until I had it. The only reason I have given them a star is because of the sights.

Written on December 6, 2012

On our trip we were a few girls who thought the same things regarding the review, so I have chosen to use some words from one of these girls. I could not have said it any better my self: 1) Timings- The "trek" was meant to start at 07.30, however because people on the tour were late we didn't get on the bus until about 09.30am. Then the San francisco part of the tour was just a drive over the golden gate bridge. Luckily I had seen the city with my cousin on the saturday otherwise I would have missed it. This is not experiencing the city. 2) Camping- Of the tour 4 days were meant to be camping. I had packed everything which were on the list you provided and more (I also packed skiing thermals and socks. The temperatures were -8oC in the grand canyon and had we camped (most asked to stay in hostels), we would have been freezing. Your company should know how cold these places can get and therefore at the latter end of the season should not be attepting to camp in these conditions. It was a disorganised mess when we got to places and they were too cold. 3) People being late- There was a person/people in our group who kept being late on many occasions, sometimes 10 minues, sometimes 25 minutes. At not one point did the tour leader Joe stop this from happening he just let it continue and said nothing. After 4 days it got to the point where people (myself included) were having to shout about it on a bus. This is not good and certainly not what I expected on a holiday. 4)Time on the bus during the day- On everage I worked out we spend an average of 7 hours on the cramped bus during the day. You call this a trek and yet there were only 2 opporunities to have a decent walk, one at Yosamite park and another on the free day in Vegas. We had 3 hours at the grand canyon and we were back on the bus again. 5) Arrival on evenings- Because we were on the bus in most of the daylight hours when we arrived at the desination on evenings this was not good. For example we drove for 6.5 hours from grand canyon to lake hasaru 11am-5.30pm then had i hour before it got dark where there was nothing but a main road to walk along. This was a pointless stop to camp just to get up and back on the dreaded bus in the morning at 7am. 6) Distance/time on bus- At not any point when I booked this tour was it mentioned to me that I would be spending an everage of 7 hours per day during the day on a bus and that we would drive 1500 miles. Had I know this I wouldn't have booked as bar the one day in Yosamite Park and 1 day free in Vegas it was a glorified bus ride where you could move your legs at all. In summary I spent the best part of £700 with your company for which the majority of the time in daylight hours was spent on a cramped bus. The places you mention your customers bearly get to experince properly within the time (more just drive through them), whilst also the tour guide having no control over people consistenly making the bus late. I see you do this same tour over a 2 week period which makes more sense, but to run a 6 day tour most of which is spent on a bus is unacceptable and I don't believe you should be selling it as a "trek" type holiday.

Written on December 6, 2012

This trip is amazing. This trip offers you great nature like Yosemite Park and the Grand Canyon, but also great cities like San Francisco, Los Angeles and Las Vegas. We had a great tourleader and a very nice and diverse group. The only downside was that the trip was too short!

Written on December 6, 2012

Absolutely fantastic trip. I luckily had a great group who all took part in things. Tour leader was great and really enthusiastic. My favourite part was Yosemite, though I originally went for the Grand Canyon (which wasn't a let down either!) but it has amazing scenery, camping was great fun and even enjoyed the hiking! Wasn't really bothered about Vegas when I booked it but had great fun there too. There's a lot to do in San Francisco and I would recommend taking the hop on hop off bus tour which was worth its money and means you can see all the highlights in as much it as little time as you like. May was a great time of year to go as the temperature was nice but not too hot and waterfalls in Yosemite were in full flow.
Itinerary
Download PDF Brochure
Introduction

Expand all
Days 1-2: San Francisco, Yosemite National Park
Days 3-4: Las Vegas
Day 5: Grand Canyon National Park
Day 6: Route 66, Colorado River
Day 7: Los Angeles
What's included
Expand all
Accommodation

Rated Excellent by past passengers

Guide

Rated Excellent by past passengers

Transport

Rated Excellent by past passengers

Additional Services
Flights

Insurance

Meals

Additional Services

Optional Extras
Download PDF Brochure
Videos
Q&A: Trek America Oct 2014
Trek America: Adventures in North, Central and South America
A Day in the Life of a Trekker
Questions & Answers
Here we have collected and answered the most frequently asked questions about this tour.
Can you send me a brochure for this tour?

TourRadar works with over 300 different tour operators worldwide as an online touring specialist, but I am afraid we do not offer a postal service for brochures.

Will this tour include to the skywalk in grand canyon?

This does not include the Skywalk of the Grand Canyon as this is on the Western Rim, whereas Trek America will take you to the Southern Rim and they offer other optionial excursions instead.

Can travellers under 18 years old join this tour?

The operator will require anyone under 18 years of age to have a legal guardian travelling with them, otherwise they won't be allowed to join the tour.
Ask a question
What are people saying about TourRadar?
Availability
NO CREDIT CARD FEES
Western Wonder From San Francisco
Select Departure Month
Upcoming departures
July 2018
August 2018
September 2018
October 2018
April 2019
May 2019
June 2019
July 2019
August 2019
September 2019
October 2019
START
END
SEATS LEFT
SAVE NOW
PRICE
Monday

Jul 23, 2018

from San Francisco

Sunday

Jul 29, 2018

to Los Angeles

0

seats left

$31

+ $70 Kitty

Monday

Jul 30, 2018

from San Francisco

Sunday

Aug 5, 2018

to Los Angeles

4

seats left

$33

+ $70 Kitty

Monday

Aug 6, 2018

from San Francisco

Sunday

Aug 12, 2018

to Los Angeles

$33

+ $70 Kitty

Monday

Aug 13, 2018

from San Francisco

Sunday

Aug 19, 2018

to Los Angeles

$33

+ $70 Kitty

Monday

Aug 20, 2018

from San Francisco

Sunday

Aug 26, 2018

to Los Angeles

0

seats left

$33

+ $70 Kitty

Friday

Aug 24, 2018

from San Francisco

Thursday

Aug 30, 2018

to Los Angeles

5

seats left

$192

+ $70 Kitty

Monday

Sep 3, 2018

from San Francisco

Sunday

Sep 9, 2018

to Los Angeles

0

seats left

$31

+ $70 Kitty

Sunday

Sep 9, 2018

from San Francisco

Saturday

Sep 15, 2018

to Los Angeles

5

seats left

$31

+ $70 Kitty

Saturday

Sep 15, 2018

from San Francisco

Friday

Sep 21, 2018

to Los Angeles

$31

+ $70 Kitty

Monday

Sep 24, 2018

from San Francisco

Sunday

Sep 30, 2018

to Los Angeles

5

seats left

$31

+ $70 Kitty
Monthly price comparison
About the countries
Useful things to know before you go
---
Currencies
---
Plugs & Adapters
---
Visa
Here is an indication for which countries you might need a visa. Please contact the local embassy for help applying for visas to these places.
---
Policies
Location

San Francisco is the starting point and Los Angeles is the endpoint.

Hold my space

TourRadar can request Trek America to hold spaces for you for up to 48 hours without any credit card details.

Deposit

TourRadar only requires a deposit of 10% to confirm this Trek America booking. The remaining balance is then payable 56 days prior to the departure date. For any tour departing before 11 September 2018 the full payment of $829 is necessary.

Cancellation policy

No additional cancellation fees! You can cancel the tour up to 56 days prior to the departure date and you will not need to pay the full amount of $829 for Western Wonder From San Francisco, but the deposit of 10% is non-refundable.

Credit Cards

The following cards are accepted for Trek America tours: Visa - Master Card - American Express
Destinations
Covering a total distance of approx 1,592 km.
San Francisco (USA)
258 km
Yosemite NP (USA)
424 km
Las Vegas (USA)
285 km
Grand Canyon (USA)
114 km
Seligman (USA)
511 km
Los Angeles (USA)
Why book with TourRadar
Best Price Guarantee

If you book with TourRadar and within 24 hours you find a better price than $829 for the same tour, TourRadar will pay you the difference

Safely book online

All your details are safely protected by a secure connection

1,733 tours in North America

covered by 68 different operators in North America

No Cancellation Fee

TourRadar does not charge any additional cancellation fees. You can cancel the tour up to 56 days prior to the departure date.

5 Genuine Reviews

All reviews are verified from travellers who went on Western Wonder From San Francisco