Road Trip USA (ex. Los Angeles)

Save up to 70% -
Get early access
Average

3 reviews
Starts

Los Angeles

+20 Destinations

Ends

New York City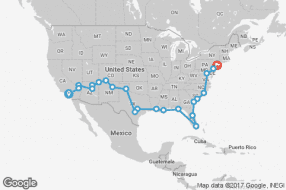 Highlights
Travel towards the Grand Canyon area.
A two-night stay in the live music capital of the world.
Trip to NASA's Kennedy Space Center.
Ghost tour of one of America's most haunted cities.
US Capitol Building, Reflecting Pool and War Memorials in National Mall.
Age range

18 to 39 year olds

Accommodation

Hostel, Hotel, Lodge, Motel

Max Group Size

50

Transportation

Coach / Bus
Start in
Los Angeles
and end in New York City! With the
coach/bus
tour Road Trip USA (ex. Los Angeles), you have a
26 day
tour package taking you
from Los Angeles to New York City
and through Los Angeles, USA and 21 other destinations in USA. Road Trip USA (ex. Los Angeles) includes accommodation in a hotel as well as an expert guide, meals, transport and more.
3 Reviews
Excellent

0%

Good

0%

Average

100%

Rather Poor

0%

Bad

0%
Write a review
Kret

Written on December 29, 2015

Excellent coach driver and route, Accommodation and included activities were just alright nothing special but Tour manager was not so great. Had little to no knowledge at all about the general trip.

Show detailed ratings

Written on July 8, 2015

The tour was was all about drinking and consuming it in loads, With the amount of money that I paid when I believed Topdeck's advertisement with showing things like this would be an amazing trip that it would be and having a trip of a life time although none of which happened. I think Topdrunk tours is the proper name, The whole group was full of people who got intoxicated every night and had hangovers on the bus. The guide who was an arrogant fellow who made the trip quite unpleasant for me.I found it hard to believe he was even employed by Topdeck to be a guide. He always just talked about pubs and drinking in the next town or state every time we where on the bus, Only giving a small amount of time talking about landmarks. Never will I go with Topdeck again.

Show detailed ratings

Written on April 28, 2015

A road trip across the United States is an incredible idea just not with TopDeck America. I've heard and read wonderful things about the TopDeck organisation in Europe, but the newly established American part of the company isn't worth the money. Pay the extra money and travel with Contiki. When you log onto the website and check the itinerary it reads like a once in a lifetime trip and I did meet some incredible people and see some amazing places, but TopDeck contributed very little to my overall enjoyment and I know that if I had of boarded a bus with the Contiki logo and the same passengers, this would have been the trip of a lifetime TopDeck promised, but failed to deliver. I chose TopDeck over Contiki for the itinerary, it included more destinations than Contiki and the cheaper price was a bonus. Prior to the trip I had visited the US on three separate occasions, but I'd always flown from city to city and the idea of jumping on a bus in NYC and going all the way to LA was weirdly appealing. Where do I start? You're not off to a good start when your tour leader… wait I can't refer to her as a tour leader! She was more the front seat occupier that let us all know when we could hop up and use the restroom! Anyway she mentioned TopDeck was planning an alternate tour.. Woohoo I was on board the crappy tour they were no longer doing! Below are the 'Totally TopDeck' experiences offered on my trip! Grand Canyon National Park - I chose not to go on the helicopter ride. those I spoke to who did go on the helicopter had a blast. They didn't get much time to walk around the rim, but the helicopter ride was a hit, but it wasn't included and had nothing to do with TopDeck so we'll move on. Sunset at the Grand Canyon (insert laugh here). I spent the day getting my junior park ranger badge and those I spoke to throughout the day politely informed us the meeting point TopDeck had arranged for our totally TopDeck experience wasn't a great place to go. That can't be right, TopDeck bring their buses through here all the time, surely they know where to go… Nope! The sun set behind us and our front seat occupier loaded the bus up and had us on our merry way before it even had a chance to set. Las Vegas Party Bus - Las Vegas is an amazing place and the party bus is a great idea, but it was done with a very cheap company. Can't criticise this too much! I love Las Vegas!! Navajo-guided jeep tour in Monument Valley - This was the highlight of my trip and the highlight for many others as well. Having a local Navajo leader drive you around was amazing and something I will always remember fondly, but I'm not going to lie, a part of me was just relieved I had a tour leader that wasn't the front seat occupier for a couple of hours. Tour of Graceland - hahahahahaha I can only look back and laugh. Graceland was closed when our bus arrived. Our front seat occupier insisted she had called and checked, but every brochure I'd seen in Memphis clearly mentioned the mansion was closed. No refund or alternate activity was offered. The Civil Rights Museum was also closed when we were in Memphis, making that two very American tourist attractions closed when we arrived in Memphis. Luckily I had some awesome people to entertain me and make my time in Memphis enjoyable. Washington DC night illumination tour - It was an incredibly cold night and our front seat occupier banned us from mentioning it was cold and then reminded us we had booked a winter tour. Not one person on the bus was complaining about the weather. It was very cold and we were all incredibly eager to see the city. Annoying comments by the front seat occupier weren't taken well on day one of this 21 day tour! Anyway Washington DC is an incredible place and I highly recommend it. Tubing in San Marcos River, Texas - Didn't hear a thing about the Tubing, don't think we even saw the San Marcos River. Totally get it's not an appropriate winter activity, but they should take off the activities that aren't offered in Winter and offer alternatives. Which brings me to the next totally TopDeck experience. Riverboat ride in New Orleans - CLOSED. Doesn't operate in Winter. Offer an alternative! Tabasco Factory in Lafayette - Not one person on the tour had anything good to say about this waste of time, that was also an unnecessary detour. OUR TOUR LEADER! From what I could gather TopDeck America is designed and ran by a small group of people and looking back this is a big part of their problem. Feedback was ignored and when a friend from the tour was asked by her travel agent how her tour was, she responded with constructive feedback. The travel agent then forwarded the information onto a TopDeck rep that eventually responded with a bunch of rubbish. Which has led to this review. I searched every website I could think of for reviews pre trip and could find very little information before booking. I wish a review like this existed prior to me booking, I could have saved myself a lot of money. At the end of the trip you are given a feedback sheet, myself and a number of other people on the tour left feedback on these sheets. I even wrote please respond! The TopDeck rep wrote back and said no feedback forms ticked please respond. From memory there was no spot to tick for a response, that's why I clearly wrote please respond. Usually I wouldn't care but I think it's unfair that a company asks their travellers to pay $3500 to board a bus, but then fail to deliver on a number of promises. The feedback was meant to be constructive to help future travellers and improve future TopDeck trips, but I'm pretty sure all constructive feedback wasn't delivered to the appropriate people. Anyway back to our front seat occupier. She played movie after movie and was asked a number of times to initiate games. Travellers that had been on other tours had mentioned this was done with other tour companies and made the drive days a lot easier. When our front seat occupier was asked if this could be done she replied it was too hard. She was asked by several travellers, all were denied. Travellers even considered buying games and running themselves, but this was also not an option. When you're spending hours on the road everyday movies can be incredibly draining! Anyway for 21 days she sat at the front of the bus with her computer and seemed to be the only one on the bus with internet access. She had an enjoyable time while we all watched movie after movie, all chosen by her. The front seat occupier did not like input. She knew best! The included city tours were drive by's! Basically on the way to the hotel we were staying at she'd close her computer or get off her phone for a minute and point out some landmarks. If you wanted extra information there was a sheet that was passed around, but we weren't allowed a copy. One copy for 48 people. Very little information was given that wasn't known. Not many people travel without looking into the places they are going to. We don't need to hear about the famous places, we wanted the front seat occupier to offer information we didn't know. We wanted her to point out the hidden gems and share information that wasn't as available to travellers. This never happened!! Calling them city tours is misleading, don't expect a city tour if you travel with TopDeck. Basically the front seat occupier was not the bubbly tour leader myself and many expected! There were a number of people on the bus that had their first conversation with her at the end of the trip. The bus was 95% Australian which isn't necessarily a bad thing. It would be nice to meet people from other parts of the world, but it's also convenient making friends with people that live near by. Anyway our front seat occupier wasn't a fan of Australians and I found her comments about Australia insulting. She had the wrong idea about us and on a number of occasions made statements that were inaccurate and offensive to the Australians on board. I've travelled a lot so I'm aware Australians are often misunderstood, but I found it bizarre that a tour leader would make insulting comments about another country especially when 95% of the cliental were from that country. Lucky I bought some cool headphones and some great tunes to rescue me when she grabbed that microphone. Other things that were annoying. Apparently it's too hard to stop at the Hoover Dam. The bus flew right by the Hoover Dam, which is a well known landmark. If you were on the other side of the bus you couldn't even see it. Don't blink on your TopDeck tour or you'll miss this incredible American attraction. Same thing happened with the NASCAR track. Luckily Mike (the driver) reminded our front seat occupier we'd driven by it, so we could quickly rotate our necks and watch it vanish into the distance. Maps were not supplied and on a number occasions guides at parks and information desks weren't impressed when 50 people quickly appeared and asked for the last of their maps. I gave up getting a map. A map is something that should be supplied to passengers in cities they are not familiar with. Food recommendations weren't great. Always ask a local for advice on where to go. I asked our front seat occupier if our timing worked with any basketball or hockey games and she said no. Myself and some other passengers googled anyway and there was a hockey game in San Antonio. She didn't believe us at first, but then when asked by others not sitting with us she pretended she knew and deliberately didn't mention it because there weren't enough tickets. So first she wasn't aware and then she was. The stadium wasn't even at half capacity. Another lie! The majority of the group booked and went without her. Another example of her doing the bare minimum on my trip. Okay I should probably include some positives I met some incredible people and the places we visited were memorable. There were some places that we could of skipped, but there were a lot of great moments on this trip. I honestly believe TopDeck offered very little to the experience I had on this trip. They got me from A to B, but the front seat occupier never went above and beyond to ensure this was a once in a lifetime trip. The days I loved were the free days when myself and my new friends were left to explore on our own. The nights out were always a blast! IN CONCLUSION I give the itinerary a 7/10. There's room for improvement, but there a new company in the USA so I'll be nice. I give our front seat occupier Sage a 1/10. She didn't make an effort with the majority of people on board, had her favourites and was lazy. She's the main reason I wouldn't travel with TopDeck America again. Mike the driver 8/10. He was a man of few words, but his job wasn't to entertain and inform us. He was friendly whenever we spoke and I felt safe when he was behind the wheel. He did mention Sage was his favourite front seat occupier, so that scares me a little. Overall trip 6/10. I was going to write 4 but I met some awesome people and saw some great things, so it can't be lower than a 6. After all I did complete a trip I'd always wanted to do, I just wish I had of done it with Contiki or Trek America! TIP - When doing USA trips leave from the east and travel to the west. Time zone changes work better

Topdeck commented on this review

Hi, thanks for letting us know about your Topdeck North America trip. We are sorry to hear you had some problems with your trip last year. We will pass this information onto our management team and take your feedback on board. If you wish to provide any additional feedback feel free to email us at feedback@topdecktravel.co.uk Thanks Topdeck.

Show detailed ratings
Itinerary
Download PDF Brochure
Introduction

Expand all
Day 1: Los Angeles, California to Las Vegas, Nevada
Day 2: Las Vegas
Day 3: Las Vegas to Grand Canyon region, Arizona
Day 4: Grand Canyon to Durango, Colorado (via Monument Valley)
Day 5: Durango
Day 6: Durango to Albuquerque, New Mexico (via Santa Fe)
Day 7: Albuquerque to Amarillo, Texas
Day 8: Amarillo to Dallas/Fort Worth
Day 9: Dallas/Fort Worth to Austin
Day 10: Austin
Day 11: Austin to Lake Charles, Louisiana (via Houston Space Center)
Day 12: Lake Charles to New Orleans (via Baton Rouge)
Day 13: New Orleans
Day 14: New Orleans
Day 15: New Orleans to Panama City Beach, Florida
Day 16: Panama City Beach to Florida Gulf Coast
Day 17: Florida Gulf Coast to Miami
Day 18: Miami
Day 19: Miami to Orlando
Day 20: Orlando
Day 21: Orlando to Savannah, Georgia
Day 22: Savannah
Day 23: Savannah to Wilmington, North Carolina via Charleston, South Carolina
Day 24: Wilmington to Washington, District of Columbia
Day 25: Washington, D.C.
Day 26: Washington, D.C. to New York City, via Philadelphia, Pennsylvania
What's included
Expand all
Accommodation

Rated Average by past passengers

Guide

Rated Bad by past passengers

Meals

Rated Average by past passengers

Transport

Rated Good by past passengers

Additional Services
Download PDF Brochure
Video
Questions & Answers
Here we have collected and answered the most frequently asked questions about this tour.
February 1, 2016

Where can I find more detailed information about this tour?

A trip note - which contains essential information about your trip will be given to you. Information such as the daily itinerary, where to meet on the first day, what time the trip starts, how to get to the joining point hotel, included activities, visa information, etc will be mentioned in there. Please contact us for this.
Ask a question
Who's going
What are people saying about TourRadar?
Gim Yang, 33 years old

26th February 2017
Availability
NO CREDIT CARD FEES
Road Trip USA (ex. Los Angeles)

Save up to 70% -
Get early access
Select Departure Month
Upcoming departures
December 2017
January 2018
April 2018
May 2018
June 2018
July 2018
August 2018
September 2018
October 2018
November 2018
December 2018
January 2019
START
END
SEATS LEFT
SAVE NOW
PRICE
Monday

Dec 4, 2017

from Los Angeles

Friday

Dec 29, 2017

to New York City

0

seats left

$112

Wednesday

Jan 3, 2018

from Los Angeles

Sunday

Jan 28, 2018

to New York City

10+

seats left

$986

Wednesday

Apr 11, 2018

from Los Angeles

Sunday

May 6, 2018

to New York City

10+

seats left

$117

Wednesday

May 9, 2018

from Los Angeles

Sunday

Jun 3, 2018

to New York City

10+

seats left

$117

Wednesday

Jun 6, 2018

from Los Angeles

Sunday

Jul 1, 2018

to New York City

10+

seats left

$125

Wednesday

Jul 4, 2018

from Los Angeles

Sunday

Jul 29, 2018

to New York City

10+

seats left

$125

Wednesday

Aug 1, 2018

from Los Angeles

Sunday

Aug 26, 2018

to New York City

10+

seats left

$125

Wednesday

Aug 29, 2018

from Los Angeles

Sunday

Sep 23, 2018

to New York City

10+

seats left

$125

Wednesday

Sep 19, 2018

from Los Angeles

Sunday

Oct 14, 2018

to New York City

10+

seats left

$125

Wednesday

Oct 17, 2018

from Los Angeles

Sunday

Nov 11, 2018

to New York City

10+

seats left

$125
Monthly price comparison
About the countries
Useful things to know before you go
---
Currencies
---
Plugs & Adapters
---
Visa
Here is an indication for which countries you might need a visa. Please contact the local embassy for help applying for visas to these places.
---
Policies
Location

Los Angeles is the starting point and New York City is the endpoint.

Hold my space

TourRadar can request Topdeck to hold spaces for you for up to 48 hours without any credit card details.

Deposit

TourRadar only requires a deposit of $200 to confirm this Topdeck booking. The remaining balance is then payable 47 days prior to the departure date. For any tour departing before 9 January 2018 the full payment of $3,494 is necessary.

Cancellation policy

No additional cancellation fees! You can cancel the tour up to 47 days prior to the departure date and you will not need to pay the full amount of $3494 for Road Trip USA (ex. Los Angeles), but the deposit of $200 is non-refundable.

Credit Cards

The following cards are accepted for Topdeck tours: Visa - Master Card - American Express
Destinations
Covering a total distance of approx 6,508 km.
Los Angeles (USA)
287 km
Mojave Desert (USA)
86 km
Las Vegas (USA)
335 km
Flagstaff (USA)
101 km
Grand Canyon (USA)
199 km
Monument Valley (USA)
199 km
Durango (USA)
248 km
Santa Fe (USA)
376 km
Amarillo (USA)
717 km
San Antonio (USA)
Show all destinations
Why book with TourRadar
Best Price Guarantee

If you book with TourRadar and within 24 hours you find a better price than $3,494 for the same tour, TourRadar will pay you the difference

Safely book online

All your details are safely protected by a secure connection

1,247 tours in North America

covered by 49 different operators in North America

No Cancellation Fee

TourRadar does not charge any additional cancellation fees. You can cancel the tour up to 47 days prior to the departure date.

69 travellers have already met

before they left for Road Trip USA (ex. Los Angeles) tour
Download TourRadar Meet App

3 Genuine Reviews

All reviews are verified from travellers who went on Road Trip USA (ex. Los Angeles)