Member-Only Savings
ends on 21 Jul 2018
Good

16 reviews
Starts

Keflavik

+18 Destinations

Ends

Keflavik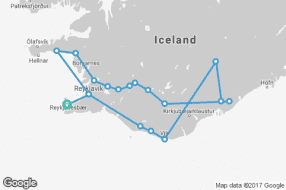 Highlights
Explore fishing villages and lava flows
Experience healing hot springs
Walk the volcanic crater of Eldborg
Visit the beautiful Haifoss Waterfall
Age range

16 to 80 year olds

Accommodation

Hotel

Max Group Size

16

Transportation

Private Vehicle

Travel style
16 Reviews
Write a review
Anonymous

Written on August 26, 2012

A well thought-out way to get a good look at Iceland in a short space of time. It would be hard to see this many wonders and get this much insight under your own steam.  What was the most inspirational moment of your trip?Standing on the edge of the world in the Vik area, both on the clifftops at Dyrholaey and the volcanic beaches at Reynisfjara, as the North Atlantic flung some bracing weather our way. Or getting immersed in the primal forces of waterfalls like Skogarfoss ( http://www.flickr.com/photos/25546241@N03/7837779092/in/photostream ).What did you think of your group leader?Gudmunder (Gummi) Bjornson (apologies for spelling) can't be recommended too highly. Insightful, resourceful, hard-working and very sociable. Magnus the driver was friendly, safe and highly efficient. Great picks!Do you have any advice for potential travellers?You'll get the most out of this trip if you're willing and able to do some walking and scrambling - otherwise you'll either limit the itinerary or find yourself left out. Also be aware that Iceland is tiny, demographically speaking, and while the food is usually very good, the accommodation can be spartan compared to more populous European countries. Smooth, straight roads become rarer the further you get from Reykjavik, so take precautions if you're prone to travel-sickness. Is there anything else you would like to add?We had some misgivings about the transport - a strengthened Sprinter mini-bus with trailer did open up destinations that might have been closed to a larger vehicle, but the interior just wasn't rooomy enough - it would have been a real problem had every seat been taken - as it was, many struggled to stow their boots and day-gear in the absence of overhead luggage racks, and the windows weren't exactly panoramic - at 6'7", I was lucky to have most of the back seat to myself, but would have struggled otherwise - a hard issue to fix, given the terrain, bur the old, compact, off-road coach we had on the day the Sprinter broke down was a much better bet. Overall, a great 'scouting' trip that will inspire us to return to Iceland on a more adventurous basis.

Anonymous

Written on August 26, 2012

A well thought-out way to get a good look at Iceland in a short space of time. It would be hard to see this many wonders and get this much insight under your own steam.  What was the most inspirational moment of your trip?Standing on the edge of the world in the Vik area, both on the clifftops at Dyrholaey and the volcanic beaches at Reynisfjara, as the North Atlantic flung some bracing weather our way. Or getting immersed in the primal forces of waterfalls like Skogarfoss ( http://www.flickr.com/photos/25546241@N03/7837779092/in/photostream ).What did you think of your group leader?Gudmunder (Gummi) Bjornson (apologies for spelling) can't be recommended too highly. Insightful, resourceful, hard-working and very sociable. Magnus the driver was friendly, safe and highly efficient. Great picks!Do you have any advice for potential travellers?You'll get the most out of this trip if you're willing and able to do some walking and scrambling - otherwise you'll either limit the itinerary or find yourself left out. Also be aware that Iceland is tiny, demographically speaking, and while the food is usually very good, the accommodation can be spartan compared to more populous European countries. Smooth, straight roads become rarer the further you get from Reykjavik, so take precautions if you're prone to travel-sickness. Is there anything else you would like to add?We had some misgivings about the transport - a strengthened Sprinter mini-bus with trailer did open up destinations that might have been closed to a larger vehicle, but the interior just wasn't rooomy enough - it would have been a real problem had every seat been taken - as it was, many struggled to stow their boots and day-gear in the absence of overhead luggage racks, and the windows weren't exactly panoramic - at 6'7", I was lucky to have most of the back seat to myself, but would have struggled otherwise - a hard issue to fix, given the terrain, bur the old, compact, off-road coach we had on the day the Sprinter broke down was a much better bet. Overall, a great 'scouting' trip that will inspire us to return to Iceland on a more adventurous basis.

Anonymous

Written on September 6, 2011

If you like scenery then this is the holiday for you. As well as including the Golden Circle which all weekend trippers to Reykjavik have to do, you see parts of the country without having to queue behind other tour buses. You do however have to get out of the bus and use your legs!What was the most inspirational moment of your trip?The Bassalt columns near VikThe drive over the mountain pass.The walk on Snaefellnaes pennisular.What did you think of your group leader?Walti was my kind of leader. He kept the tour going without being in your face - leading from the back. Super chilled out, very knowledgable with plenty of 'true' stories.Do you have any advice for potential travellers?Be prepared to get out of the bus. If you want to eat out in Reykjavik then bring plenty of cash. Even at current exchange rates it ain't cheap.

Anonymous

Written on September 6, 2011

If you like scenery then this is the holiday for you. As well as including the Golden Circle which all weekend trippers to Reykjavik have to do, you see parts of the country without having to queue behind other tour buses. You do however have to get out of the bus and use your legs!What was the most inspirational moment of your trip?The Bassalt columns near VikThe drive over the mountain pass.The walk on Snaefellnaes pennisular.What did you think of your group leader?Walti was my kind of leader. He kept the tour going without being in your face - leading from the back. Super chilled out, very knowledgable with plenty of 'true' stories.Do you have any advice for potential travellers?Be prepared to get out of the bus. If you want to eat out in Reykjavik then bring plenty of cash. Even at current exchange rates it ain't cheap.

Anonymous

Written on August 23, 2011

I CANNOT PRAISE THE TOUR GUIDE, DRIVER AND LOCAL OPERATOR FOR A WONDERFUL TRIP.IT HOWEVER WAS RUINED BY A ANOTHER TOUR GUIDE FROM THE PARENT COMPANY ON THE SAME TRIP.What was the most inspirational moment of your trip?FILLETING ICELANDIC COD AT LANGAHOLT.What did you think of your group leader?I HAVE SEEN 52 COUNTRIES AND BY FAR THE BEST I HAVE HAD AND WENT BEYOND WHAT THEY WERE REQUIRED TO DO. THIS TITLE SHOULD INCLUDE THE DRIVER AS WELL.Do you have any advice for potential travellers?MAKE SURE YOU ARE ADVISED OR ASK IF THERE ARE ANY OTHER TOUR GUIDES ON THE TRIP.Is there anything else you would like to add?THANKS TO THE EXODUS CREW IN LONDON FOR LISTENING TO MY CONCERNS

Anonymous

Written on August 23, 2011

I CANNOT PRAISE THE TOUR GUIDE, DRIVER AND LOCAL OPERATOR FOR A WONDERFUL TRIP.IT HOWEVER WAS RUINED BY A ANOTHER TOUR GUIDE FROM THE PARENT COMPANY ON THE SAME TRIP.What was the most inspirational moment of your trip?FILLETING ICELANDIC COD AT LANGAHOLT.What did you think of your group leader?I HAVE SEEN 52 COUNTRIES AND BY FAR THE BEST I HAVE HAD AND WENT BEYOND WHAT THEY WERE REQUIRED TO DO. THIS TITLE SHOULD INCLUDE THE DRIVER AS WELL.Do you have any advice for potential travellers?MAKE SURE YOU ARE ADVISED OR ASK IF THERE ARE ANY OTHER TOUR GUIDES ON THE TRIP.Is there anything else you would like to add?THANKS TO THE EXODUS CREW IN LONDON FOR LISTENING TO MY CONCERNS

Anonymous

Written on September 21, 2010

This is a fantastic introduction to Iceland, a beautiful and amazing country.  The trip is billed as relaxing and is not strenuous, other than a bit of a steep climb at to get to the top of the volcano on the first day.   The days are quite long but you pack loads in and make the most of your time there. What was the most inspirational moment of your trip?Iceland itself was a total inspiration. The landscape is breathtaking from the glaciers to the coastal areas to the moonscapes and waterfalls.  The people are really friendly and welcoming too.What did you think of your group leader?Our guide was Pétur Gunnersen and driver was Hannis Snorri.  They worked well as a team and we were surprised to discover on our last day that it was the first trip they had done together. Pétur was a great guide, very knowledgeable about his country and passionate about geology. Hannis was a great driver and very good company. Do you have any advice for potential travellers?The trip notes state the accommodation is basic. The notes say you may have to share bathrooms. I had to share 4 nights out of 7.  Don't let this put you off but be prepared for a variety of experiences. On our trip we had good and bad.  The Venus has terrible rooms on the upper level and the bathroom (shared by quite a few people including campers) was not the cleanest.  Although, even here the staff were lovely. They gave me an extra pillow and fixed a bin liner to my curtain-less window!  The food was good throughout; our group seemed particularly partial to the pancakes at the Langaholt.  The Aurora Guesthouse in Reykjavik is in a great location.Is there anything else you would like to add?If you want to see a lot of Iceland in a short space of time and you are on a budget then what are you waiting for? This guided tour is a great taster.

Anonymous

Written on September 21, 2010

This is a fantastic introduction to Iceland, a beautiful and amazing country.  The trip is billed as relaxing and is not strenuous, other than a bit of a steep climb at to get to the top of the volcano on the first day.   The days are quite long but you pack loads in and make the most of your time there. What was the most inspirational moment of your trip?Iceland itself was a total inspiration. The landscape is breathtaking from the glaciers to the coastal areas to the moonscapes and waterfalls.  The people are really friendly and welcoming too.What did you think of your group leader?Our guide was Pétur Gunnersen and driver was Hannis Snorri.  They worked well as a team and we were surprised to discover on our last day that it was the first trip they had done together. Pétur was a great guide, very knowledgeable about his country and passionate about geology. Hannis was a great driver and very good company. Do you have any advice for potential travellers?The trip notes state the accommodation is basic. The notes say you may have to share bathrooms. I had to share 4 nights out of 7.  Don't let this put you off but be prepared for a variety of experiences. On our trip we had good and bad.  The Venus has terrible rooms on the upper level and the bathroom (shared by quite a few people including campers) was not the cleanest.  Although, even here the staff were lovely. They gave me an extra pillow and fixed a bin liner to my curtain-less window!  The food was good throughout; our group seemed particularly partial to the pancakes at the Langaholt.  The Aurora Guesthouse in Reykjavik is in a great location.Is there anything else you would like to add?If you want to see a lot of Iceland in a short space of time and you are on a budget then what are you waiting for? This guided tour is a great taster.

Anonymous

Written on August 27, 2010

Peter was the best tour guide ever came across. His knowledge of everything was second to none.What was the most inspirational moment of your trip?Walk to cratorWhat did you think of your group leader?Lovely man, couldn't have been nices.Hanas the bus driver was exceptional too. Really included himself in the group and explained lots to usDo you have any advice for potential travellers?Bring clothes for all weather types

Anonymous

Written on August 27, 2010

Peter was the best tour guide ever came across. His knowledge of everything was second to none.What was the most inspirational moment of your trip?Walk to cratorWhat did you think of your group leader?Lovely man, couldn't have been nices.Hanas the bus driver was exceptional too. Really included himself in the group and explained lots to usDo you have any advice for potential travellers?Bring clothes for all weather types
Itinerary
Download PDF Brochure
Introduction

Expand all
Day 1: Start Reykjavik.
Day 2: Drive north to mountainous Snaefellsnes Peninsula, explore the Snaefellsjokull Ice Cap; fishing villages, lava flows and birdlife.
Day 3: Walk to extinct crater of Eldborg, continue to Hvalfjordur fjord and on to visit Thingvellir N.P.; transfer to Laugarvatn
Day 4: Visit waterspouts at Geysir, on to Gullfoss Waterfall; continue to Thorsardalur Valley and on to Gjain canyon; finally see Haifoss Waterfall.
Day 5: Drive across lunar-like landscape of Fjallabak nature reserve; optional swim in hot pools and walk to hot springs; walk to Ofaerufoss Waterfall; on Mt Oraefajokull.
Day 6: To Vatnajokull NP. visit Skaftafell and walk to Svartifoss waterfall; to the Glacial lagoon, optional boat ride on the lagoon.
Day 7: Visit Vik; on to basalt columns of Reynisfjara and visit a nesting area for thousands of puffins, plus the rock arch at the southernmost tip of Iceland. Transfer to Reykjavik.
Day 8: End Reykjavik.
What's included
Expand all
Accommodation

Guide

Meals

Transport
Insurance

Additional Services
Download PDF Brochure
Videos
Exodus People - Kristjan's Story
Iceland: The Ultimate Travel Guide
Western Europe Travel Guide
Questions & Answers
Here we have collected and answered the most frequently asked questions about this tour.
Are the Northern Lights guaranteed on this trip?

The Northern Lights or Aurora Borealis as they are also referred to are one of the many natural wonders of the world and are a natural phenomenon

As a naturally occurring phenomenon, the appearance of the Northern Lights is notoriously difficult to predict any further in advance than about two hours before it happens. So much is dependent on solar activity, we can accurately predict neither when they will occur nor how frequently.

Every endeavour will be made on this trip to see the Northern Lights, if it is the correct time of year to see the lights however this is not guaranteed.

Is there a single supplement available on this tour?

Yes. Please take note that there will be an extra charge for a single supplement room. Please contact us to arrange this.
Ask a question
What are people saying about TourRadar?
Availability
NO CREDIT CARD FEES
Discover Iceland
START
END
SEATS LEFT
SAVE NOW
PRICE
Sunday

Sep 9, 2018

from Keflavik

Sunday

Sep 16, 2018

to Keflavik

4

seats left
Monthly price comparison
About the countries
Useful things to know before you go
---
Currencies
---
Plugs & Adapters
---
Visa
Here is an indication for which countries you might need a visa. Please contact the local embassy for help applying for visas to these places.
---
Policies
Location

Start and end in Keflavik.

Hold my space

TourRadar can request Exodus Travels to hold spaces for you for up to 48 hours without any credit card details.

Deposit

TourRadar only requires a deposit of 20% to confirm this Exodus Travels booking. The remaining balance is then payable 60 days prior to the departure date. For any tour departing before 15 September 2018 the full payment of $4,495 is necessary.

Cancellation policy

No additional cancellation fees! You can cancel the tour up to 60 days prior to the departure date and you will not need to pay the full amount of $4495 for Discover Iceland, but the deposit of 20% is non-refundable.

Credit Cards

The following cards are accepted for Exodus Travels tours: Visa - Master Card - American Express
Destinations
Covering a total distance of approx 945 km.
Keflavik (Iceland)
40 km
Reykjavik (Iceland)
94 km
Snaefellsnes (Iceland)
32 km
Eldborg (Iceland)
58 km
Hvalfjordur (Iceland)
29 km
Thingvellir (Iceland)
20 km
Laugarvatn (Iceland)
19 km
Geysir (Iceland)
13 km
Gullfoss Waterfall (Iceland)
25 km
Haifoss (Iceland)
Show all destinations
Why book with TourRadar
Best Price Guarantee

If you book with TourRadar and within 24 hours you find a better price than $4,495 for the same tour, TourRadar will pay you the difference

Safely book online

All your details are safely protected by a secure connection

8,694 tours in Europe

covered by 242 different operators in Europe

No Cancellation Fee

TourRadar does not charge any additional cancellation fees. You can cancel the tour up to 60 days prior to the departure date.

19,016 Genuine Reviews

All reviews are verified from travellers who went on Europe tours
More tours from Exodus Travels
Other Iceland tours departing in
Discover TourRadar