Member-Only Savings
ends on 21 Jul 2018
Excellent

204 reviews
Starts

Dalaman

Destinations

+5

Ends

Dalaman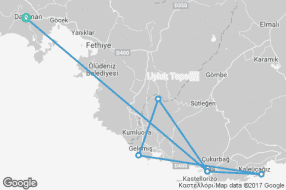 Highlights
Try scuba diving course
Enjoy an impressive Kibris Canyon
Spend a day sea kayaking near Kekova Island
Explore forest and coastal roads by bike
Age range

16 to 80 year olds

Accommodation

Hotel

Max Group Size

16

Transportation

Coach / Bus

Travel style
204 Reviews
Write a review
Anonymous

Written on November 17, 2013

Such a well organised week crammed with great activities in a beautiful setting with plenty of time to relax and enjoy the sunshine and KasWhat was the most inspirational moment of your trip?All of it in its own way. Food was great. The whole week was well organised. Each activity had its own challenges but the canyoning was particularly challenging. All made better by being fortunate to have small friendly group.What did you think of your group leader?Maho - action man himself. A legend. Well organised and knowledgeable. I felt in safe hands all of the time. We had a briefing each evening about the next day - what we were doing and where, what's was expected, what clothes to wear etc.Do you have any advice for potential travellers?Definitely advise some kind of base layer for under the wetsuit when canyoning - there is quite a bit of waiting around at the beginning and it gets a bit cold until you get going again. Hiking boots definitely a good idea but they also have a few spare old boots that can be borrowed but most of them were not in a good way. Just follow the kit list particular to this holiday and listen to what Maho tells you and let him do the organising.Is there anything else you would like to add?An awesome week and such a great opportunity to try new things and meet new people. I will definitely booking a holiday with Exodus again

Anonymous

Written on October 12, 2013

The excitement that built prior to the holiday was far exceeded by the reality. The variety of activities was excellent and the group we were with were all great people.What was the most inspirational moment of your trip?Decisions, Decisions. Scuba diving was out of this world. I thought it would be simply swimming underwater with a tank on my back. Wrong. It is an experience not to be missed and the instructors are to be commended for their patience and expertise. But then there's the canyoning. For someone who was petrified of heights, this was the cure, scary but great fun all at the same time, and then there was Maho's awe inspiring abilities. Once saving a damsel in distress, and then making a zip line in 20 minutes, pure genius. Mountain biking and the meal were awesome, great views and a real test. Fair to say the whole trip was inspirational from the first minute to the last.What did you think of your group leader?There are rave reviews on here about Maho (legend is used a few times) and I thought they must be way over the top. They're not. He is an exceptionally talented man with extreme patience and an amazingly dry sense of humour. If he says it is safe, it's safe. The aforementioned saving of a damsel in distress on the 50 metre abseil was jaw droppingly awe inspiring, like something from an action movie played out for real. His evening briefings were essential listening.Do you have any advice for potential travellers?I am 50 and the oldest member of our group was 68 ( though possibly 37) but a fair level of fitness is required. I know I couldn't have completed this a year ago before I started regular exercise. Cycling gloves would be highly recommended and a waterproof digital camera should be on everyone's list of packing. If you're relatively fit and want a different challenge every day, and plenty of free time too, then don't hesitate.Is there anything else you would like to add?The town of Kas is so friendly and the people amazing. Try the Naturel Turkish Kitchen, especially the lamb stew and lamb curry. Brace yourself for the holiday of a lifetime.

Anonymous

Written on October 12, 2013

The excitement that built prior to the holiday was far exceeded by the reality. The variety of activities was excellent and the group we were with were all great people.What was the most inspirational moment of your trip?Decisions, Decisions. Scuba diving was out of this world. I thought it would be simply swimming underwater with a tank on my back. Wrong. It is an experience not to be missed and the instructors are to be commended for their patience and expertise. But then there's the canyoning. For someone who was petrified of heights, this was the cure, scary but great fun all at the same time, and then there was Maho's awe inspiring abilities. Once saving a damsel in distress, and then making a zip line in 20 minutes, pure genius. Mountain biking and the meal were awesome, great views and a real test. Fair to say the whole trip was inspirational from the first minute to the last.What did you think of your group leader?There are rave reviews on here about Maho (legend is used a few times) and I thought they must be way over the top. They're not. He is an exceptionally talented man with extreme patience and an amazingly dry sense of humour. If he says it is safe, it's safe. The aforementioned saving of a damsel in distress on the 50 metre abseil was jaw droppingly awe inspiring, like something from an action movie played out for real. His evening briefings were essential listening.Do you have any advice for potential travellers?I am 50 and the oldest member of our group was 68 ( though possibly 37) but a fair level of fitness is required. I know I couldn't have completed this a year ago before I started regular exercise. Cycling gloves would be highly recommended and a waterproof digital camera should be on everyone's list of packing. If you're relatively fit and want a different challenge every day, and plenty of free time too, then don't hesitate.Is there anything else you would like to add?The town of Kas is so friendly and the people amazing. Try the Naturel Turkish Kitchen, especially the lamb stew and lamb curry. Brace yourself for the holiday of a lifetime.

Anonymous

Written on October 7, 2013

This is the best trip of it's kind. Something new and exciting every day as well as the chance to meet 15 other likeminded people! I've done it twice.What was the most inspirational moment of your trip?I can't say that there was one inspirational day or moment, it's just generally a thoroughly enjoyable week. At the end of the first day after tubing, gorge walking and hiking, we went to a beach and it was really windy but beautiful. Six of us got straight in the sea and it was an amazing end to the first day.What did you think of your group leader?Oz was organised and helpful but Yasar who was also on the trip all week is my favourite. He was on the trip I did 4 years ago and his super friendly personality couldn't fali to make you smile. He's a pleasure to be around and extremely competent in a canyon, on a bike, in a kayak and just about everything else!Do you have any advice for potential travellers?The Canyoning day is challenging, be prepared to get pretty cold at times, but there's a great sense of achievement at the end. Don't think that because this is an active holiday there's not room for partying, there certainly is! Kas is a great place for a few drinks in the evening, Red Door is opened til 3 a.m.Is there anything else you would like to add?If this is the first holiday you've done on your own, don't think about it any longer, just book it. It was the first solo holiday I ever booked and it was the best decision I ever made, I have been on many since but this was the best. Both times I've met some great people, one of whom is now a very close friend.

Anonymous

Written on October 7, 2013

great group, fun tour guides, different activities everyday but never felt rushed or herdedWhat was the most inspirational moment of your trip?abseiling and paragliding were great. Scuba diving was great once I relaxed. sea kayaking was hard workWhat did you think of your group leader?great- funny and entertaining. Knowledgable and safety conscious all at the same timeDo you have any advice for potential travellers?have fun, try it all and smile the whole wayIs there anything else you would like to add?a little more than I would usually spend on a weeks holiday in the sun but well worth it as the hotel staff were friendly and accommodating. The tour guides worked hard all week to keep us all in check and we had a really great time with outgoing and like minded people

Anonymous

Written on October 7, 2013

This is the best trip of it's kind. Something new and exciting every day as well as the chance to meet 15 other likeminded people! I've done it twice.What was the most inspirational moment of your trip?I can't say that there was one inspirational day or moment, it's just generally a thoroughly enjoyable week. At the end of the first day after tubing, gorge walking and hiking, we went to a beach and it was really windy but beautiful. Six of us got straight in the sea and it was an amazing end to the first day.What did you think of your group leader?Oz was organised and helpful but Yasar who was also on the trip all week is my favourite. He was on the trip I did 4 years ago and his super friendly personality couldn't fali to make you smile. He's a pleasure to be around and extremely competent in a canyon, on a bike, in a kayak and just about everything else!Do you have any advice for potential travellers?The Canyoning day is challenging, be prepared to get pretty cold at times, but there's a great sense of achievement at the end. Don't think that because this is an active holiday there's not room for partying, there certainly is! Kas is a great place for a few drinks in the evening, Red Door is opened til 3 a.m.Is there anything else you would like to add?If this is the first holiday you've done on your own, don't think about it any longer, just book it. It was the first solo holiday I ever booked and it was the best decision I ever made, I have been on many since but this was the best. Both times I've met some great people, one of whom is now a very close friend.

Anonymous

Written on October 7, 2013

great group, fun tour guides, different activities everyday but never felt rushed or herdedWhat was the most inspirational moment of your trip?abseiling and paragliding were great. Scuba diving was great once I relaxed. sea kayaking was hard workWhat did you think of your group leader?great- funny and entertaining. Knowledgable and safety conscious all at the same timeDo you have any advice for potential travellers?have fun, try it all and smile the whole wayIs there anything else you would like to add?a little more than I would usually spend on a weeks holiday in the sun but well worth it as the hotel staff were friendly and accommodating. The tour guides worked hard all week to keep us all in check and we had a really great time with outgoing and like minded people

Anonymous

Written on September 6, 2013

A fantastic week with a good balance between activity and relaxation.What was the most inspirational moment of your trip?Jumping into clear rock pools and actually feeling a bit chilly at times wearing a 6 mm wetsuit in 35 degree heat while canyoning! Paragliding over Kas is a must and the mountain biking was great. Kas is beautiful and the Turkish hospitality extremely friendly.What did you think of your group leader?Maho was energetic and enthusiastic and clearly knew his stuff. He interacted fully with the group and made some great recommendations for dinner. His evening briefings became the stuff of legends...Do you have any advice for potential travellers?Padded shorts!!!Is there anything else you would like to add?A great week with great people and a diverse range of activities. You really can do as little or as much as you like (I recommend the latter)!

Anonymous

Written on September 6, 2013

A fantastic week with a good balance between activity and relaxation.What was the most inspirational moment of your trip?Jumping into clear rock pools and actually feeling a bit chilly at times wearing a 6 mm wetsuit in 35 degree heat while canyoning! Paragliding over Kas is a must and the mountain biking was great. Kas is beautiful and the Turkish hospitality extremely friendly.What did you think of your group leader?Maho was energetic and enthusiastic and clearly knew his stuff. He interacted fully with the group and made some great recommendations for dinner. His evening briefings became the stuff of legends...Do you have any advice for potential travellers?Padded shorts!!!Is there anything else you would like to add?A great week with great people and a diverse range of activities. You really can do as little or as much as you like (I recommend the latter)!

Anonymous

Written on August 6, 2013

Lots of fun trying out new activities.What was the most inspirational moment of your trip?Well, all the activities were excellent, the tubing was great and the kayaking, but even the mountain biking (lots of downhill with a late lunch at the house of a charming Turkish lady) and walking were great and the scuba diving was something I would never have done normally, but enjoyed. My daughters loved the kanyoning the best.What did you think of your group leader?Very well-organized, as is the whole trip!Do you have any advice for potential travellers?Try it! ( but don't go in July and August if you can't take the heat.) A great holiday! Is there anything else you would like to add?It was a perfect holiday for me and my two daughters, as it was an active holiday but nothing too strenuous, apart from perhaps the mountain biking where the support mini-bus was there to give anyone a ride who needed a rest! There was some time to relax by the pool too. Bonding with the group was easy, even though we were all different ages as there was always a new experience to comment on. I didn't do the kanyoning as I'm afraid of heights, but I would have loved to as the rest of the group loved every minute, and the photos show that! Since going on this holiday I'm much more likely to  go kayaking, white water rafting, scuba diving etc again, it's just so much better than simply sitting on a beach!Only downside were the bathrooms where the showers flooded the floor, but views from the balconies were amazing. 
Itinerary
Download PDF Brochure
Introduction

Expand all
Day 1: Start Kas.
Day 2: Explore dramatic Saklikent Canyon with optional tubing; afternoon walk and relaxation on Patara beach.
Day 3: SCUBA diving day; beginners get a 'Try Dive' whilst certified divers have 2 guided dives.
Day 4: Full day canyoning; abseil, swim, climb and jump into pools of cool water in one of the various canyons around Kas.
Day 5: Free day in Kas: optional paragliding, SCUBA diving or relaxation.
Day 6: Full day sea kayaking; find out how the Turquoise Coast earnt its name.
Day 7: Biking day; transfer into the hills and explore the forests and coastal roads with some great descents; night out in Kas.
Day 8: End Kas.
What's included
Expand all
Accommodation

Guide

Meals

Transport
Insurance

Additional Services
Download PDF Brochure
Questions & Answers
We are there for you! If you have any questions about this tour, then please don't hesitate to contact us 24/7 and we will get back to you latest within 2 hours!
Ask a question
What are people saying about TourRadar?
Availability
NO CREDIT CARD FEES
Lycian Activity Week
START
END
SEATS LEFT
SAVE NOW
PRICE
Saturday

Sep 1, 2018

from Dalaman

Saturday

Sep 8, 2018

to Dalaman

0

seats left

Saturday

Sep 22, 2018

from Dalaman

Saturday

Sep 29, 2018

to Dalaman

8

seats left
Monthly price comparison
About the countries
Useful things to know before you go
---
Currencies
---
Plugs & Adapters
---
Visa
Here is an indication for which countries you might need a visa. Please contact the local embassy for help applying for visas to these places.
---
Vaccinations
These are only indications, so please visit your doctor before you travel to be 100% sure.
Typhoid

Recommended for Turkey. Ideally 2 weeks before travel.

Hepatitis A

Recommended for Turkey. Ideally 2 weeks before travel.

Hepatitis B

Recommended for Turkey. Ideally 2 months before travel.
---
Policies
Location

Start and end in Dalaman.

Hold my space

TourRadar can request Exodus Travels to hold spaces for you for up to 48 hours without any credit card details.

Deposit

TourRadar only requires a deposit of 20% to confirm this Exodus Travels booking. The remaining balance is then payable 60 days prior to the departure date. For any tour departing before 15 September 2018 the full payment of $1,055 is necessary.

Cancellation policy

No additional cancellation fees! You can cancel the tour up to 60 days prior to the departure date and you will not need to pay the full amount of $1055 for Lycian Activity Week, but the deposit of 20% is non-refundable.

Credit Cards

The following cards are accepted for Exodus Travels tours: Visa - Master Card - American Express
Destinations
Covering a total distance of approx 331 km.
Dalaman (Turkey)
98 km
Kas (Turkey)
37 km
Saklikent Gorge (Turkey)
25 km
Patara (Turkey)
52 km
Kekova (Turkey)
22 km
Kas (Turkey)
98 km
Dalaman (Turkey)
Why book with TourRadar
Best Price Guarantee

If you book with TourRadar and within 24 hours you find a better price than $1,055 for the same tour, TourRadar will pay you the difference

Safely book online

All your details are safely protected by a secure connection

8,694 tours in Europe

covered by 242 different operators in Europe

No Cancellation Fee

TourRadar does not charge any additional cancellation fees. You can cancel the tour up to 60 days prior to the departure date.

19,016 Genuine Reviews

All reviews are verified from travellers who went on Europe tours