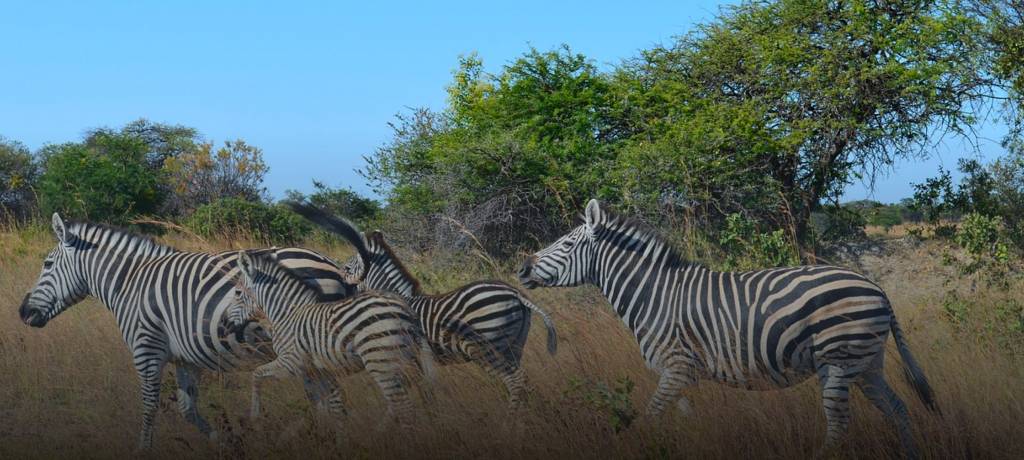 Safari in May
From dusty remote savannahs to dense impenetrable jungles, the world is full of wildlife waiting to be discovered. Venturing to Africa in May offers intimate encounters with some of the most unique and fascinating animals that will leave you with a photo album full of memories. Fall in love with the adventure of a lifetime as we narrow down the best safari destinations in May.
Africa in May: What to expect
Weather & climate

With temperatures cooling down to a sweet 18°C (64°F), Southern Africa is treated with bright blue skies as the clouds head north for the dry season. The minimal rainfall means that wildlife are gathered around watering holes and safari-goers have clear visibility, making animal sightings a true spectacle. The clouds migrate to Central African regions for the wet season, with torrential rains the wildlife flourish in their hydrated havens.

Dry season: Botswana, Zimbabwe, Zambia, Namibia, South Africa

Wet season: Tanzania, Kenya, Rwanda, Uganda
 

Wildlife

If a face-to-face encounter with the Big Five is on your bucket list, then you're in luck. This month the Big Five are quenching their thirst on the plains of Namibia, Botswana and South Africa. The wildebeest herds migrate along the South-Western plains of the Serengeti whilst the migratory birds call Zambia home. The succulent national parks of Uganda are out in bloom providing nutrients for gorillas, chimpanzees and their infants.

Big Five: Namibia, Botswana, South Africa
Great Migration: Serengeti
Bird watching: Zambia
Gorillas & Chimpanzees: Uganda

Peak season

With the green season officially over in many parts of Southern Africa, the crowds start to emerge and the rates start to rise as peak season approaches in Botswana, Zimbabwe, Zambia, Namibia and South Africa. But don't let that deter you, May is a haven for wildlife sightings as the animals are abundant in these regions. The low season in Uganda and Rwanda brings pouring rains, cheaper rates and a challenge to trekking. 

Peak season: Botswana, Zimbabwe, Zambia, Namibia, South Africa

Low season: Uganda, Rwanda
 
Best safari destinations in May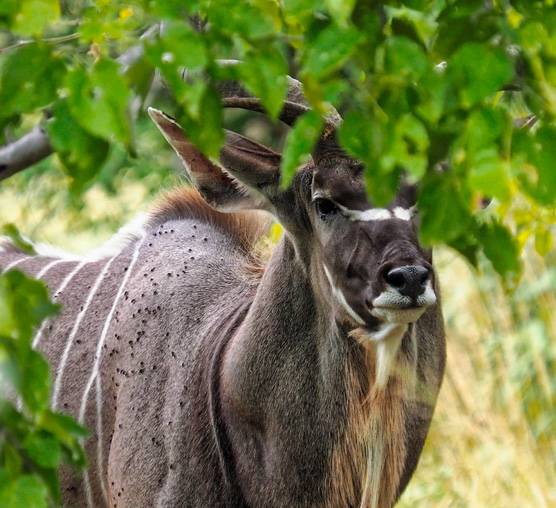 Botswana
A nature-lovers paradise, Botswana's conservation is admirable and the wildlife thrives in this flourishing environment. From the unique waterways and classic desert landscapes to the rich national parks where an abundance of wildlife reside and some of nature's greatest spectacles unfold.
Why in May?
May officially marks the beginning of Botswana's dry season scoring it as the best month to embark on a safari and beat the crowds. Wildlife are already clustering around water sources and a cruise along the flowing waters of the Chobe River offers a front row seat for up-close encounters.
What to see?
Sightings throughout Botswana are spectacular all-year-round, however, the sheer number of wildlife this month is unmissable. Watch prides of lions patrol the plains, elephants assemble in vast herds and leopards lounging to escape the midday sun. The ample wildlife brand Botswana as one of the best safari destinations.
Pro tip
Watching African wild dogs hunting, playing and looking after their young is such an entrancing experience. Make sure you keep your eyes peeled in the
Okavango Delta
, as the short grasses and dry lands make sighting these creatures a picturesque highlight.  
View Safaris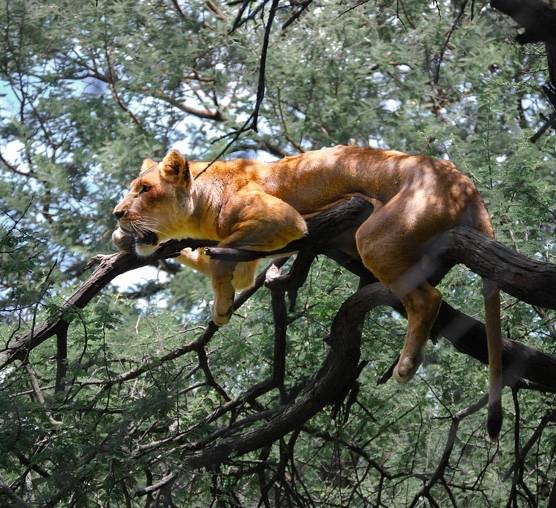 Zimbabwe
With unparalleled safaris, stunning natural beauty, and locals whose kindness make any trip unforgettable, Zimbabwe is an up-and-coming tourism magnet. Whether you're looking for an unbeatable view of Victoria Falls or a true African wilderness experience, this lush country has it all. 
Why in May?
If your heart is set on basking in the magnificence of Victoria Falls, then May is the month for you. With little spray and high water levels, capturing that picturesque view of the gushing waters has never been easier. Along with minimal rain, clear blue skies and shining sun rays, May is the best month to travel to Zimbabwe.
What to see?
Setting your eyes on the black and white rhino after tracking their trails is a surreal experience. Packed with great herds of elephants and game galore, Hwange National Park is home to the Big Five with plains that set the scene for an unbeatable safari adventure.
Pro tip:
If playing peek-a-boo with a sunbathing hippo is more your thing, then why not combine your safari adventure with a trip to
Mana Pools
. The waters are lined with wildlife quenching their thirst and crocodiles taking a dip from the heat of the day.  
View Safaris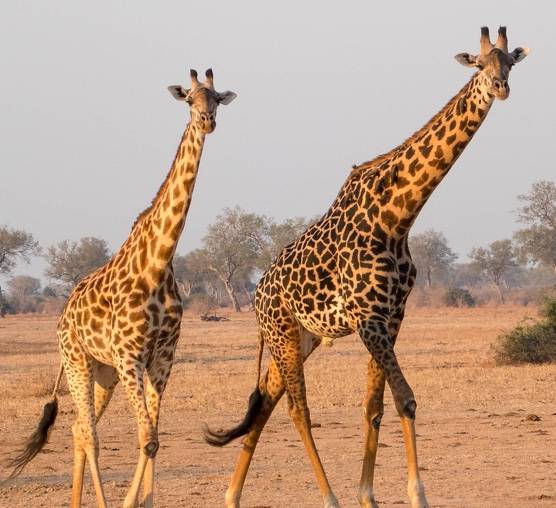 Zambia
Famously known for its thundering falls, Zambia is a country full of adventure and wonder. From cruising down the mighty Zambezi River to wandering the majestic plains of South Luangwa National Park, this lush country is the pure definition of natural beauty.
Why in May?
May brings warm, dry days and lies between the green and dry season creating attractive rates. With minimal tourists, witnessing the powerful flow of water surging off the edge of Victoria Falls has never been so gratifying. Having remote wildlife-rich plains to yourself is the quintessential African experience we have all dreamt of.
What to see?
Home of the walking safari, Zambia offers the ultimate twist on conventional wildlife safari destinations. Experience up-close-and-personal encounters with large herds of elephants and buffalo in the savannahs or hippos and crocodiles on a safari cruise of the Zambezi.
Pro tip:
For those who love a sense of adventure, a
white water rafting
trip down the rushing waters of the Zambezi River is a must-do. Dodging the rapids of the thundering river to the base of Victoria Falls is an unmissable adrenaline-packed, fun-filled experience!  
View Safaris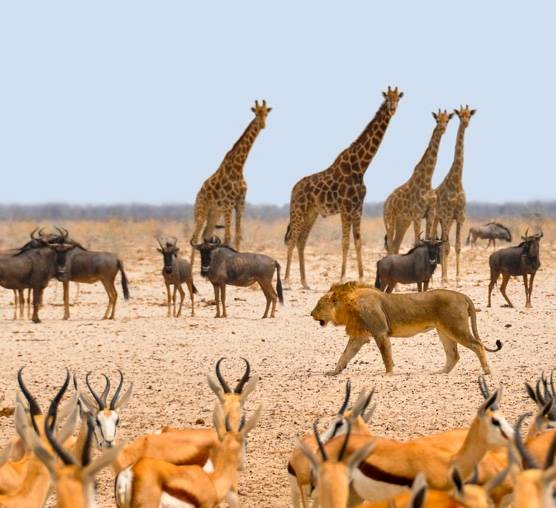 Namibia
When you imagine a desert, a barren wilderness full of large burnt-orange sand dunes probably comes to mind. Namibia is your classic desert. From the giant dunes of Sossusvlei to the vast, acacia-dotted savannahs of Etosha National Park, there's so much to explore in this breathtakingly arid country.
Why in May?
This season is prime for wildlife viewing in Namibia with the dry season alluring wildlife to the remaining water sources. With hardly any clouds in the sky, May presents great conditions for spying a lion through your binoculars or sharing stories around a cosy campfire.
What to see?
Watch cheetahs dart through the plains, zebras weave through bare acacia trees, elephants fill their trunks and giraffes elongate their necks to reach the last leaves of the season. The diminishing vegetation makes wildlife sightings a true highlight this month. 
Pro tip:
Standing in the heart of a sand dune sea can be such a serene experience, so why not get your heart-pulsing with an adrenaline sand boarding experience! Admire the spectacular view before racing down the giant dunes of
Sossusvlei
.   
View Safaris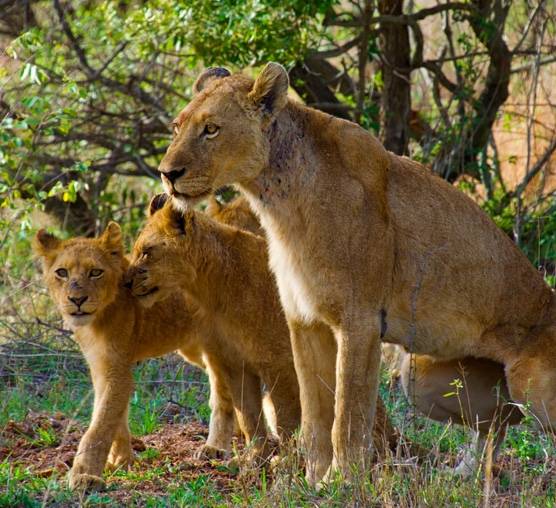 South Africa
With its high mountains, open plains and rugged coastline, South Africa really does have it all. Its vineyards are second to none and the opportunities for wildlife watching are some of the best in the world. A trip to this glorious country is well worth a visit.
Why in May?
With clear blue skies and dancing birds, the sun-drenched plains are a haven for wildlife sightings as they make the most of their dwindling water sources. The cool climate also creates great conditions for trekking the Drakensberg Mountains or venturing through the world-renowned Garden Route.
What to see?
An animal-lovers utopia, Kruger National Park is home to an abundance of wildlife and with the dry grounds, the creatures are easier to spot than ever before. The thrill of photographing the Big Five in their natural habitat is closer than you think.
Pro tip:
In
Saint Lucia
 the wildlife are the locals. With impressive creatures literally on your doorstep, pristine golden beaches and landscapes suited for any outdoor activity, a trip to this coastal town is must-visit hotspot when travelling to South Africa.  
View Safaris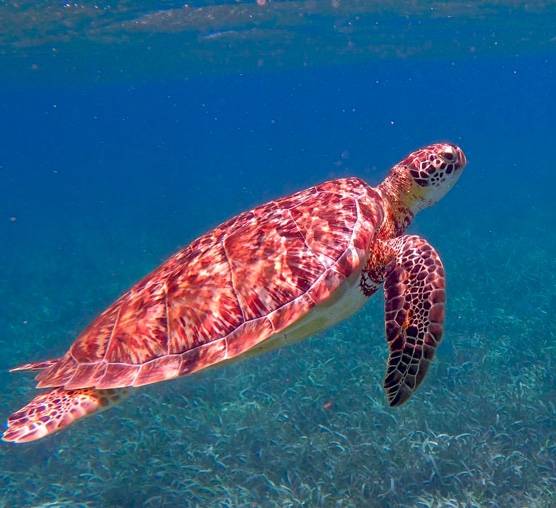 Belize
With a kaleidoscopic barrier reef, ancient Mayan ruins, immaculate beaches and a lavish rainforest, Belize is the epitome of an adventure holiday packed full of colour and culture. With such a diverse landscape to suit every traveller and amazingly preserved natural resources, a trip to Belize is not to be missed.
Why in May?
With warm sunny days and pleasantly cool nights, May is a prime time to visit this diverse country with optimal conditions for any activity. In the midst of the dry season, this month is a great time to swim in the Caribbean Sea, splash under a waterfall or cruise up a flowing jungle river.
What to see?
From elusive big cats wandering through the steamy jungle and psychedelic toucans perched under emerald-green canopies to sharks gliding through crystal-clear waters and turtles greeting divers as they say hello. As such a biodiverse habitat, Belize is home to a multitude of wildlife and an idyllic place for a safari.
Pro tip:
Listed as the most sacred cave in the world by National Geographic, a trip to
Actun Tunichil Muknal
is sure worth a visit. This enchanting cave doubles as an archaeological site as skeletons and ruins can be found here!  
View Safaris
A TRAVEL MAGAZINE BY TOURRADAR