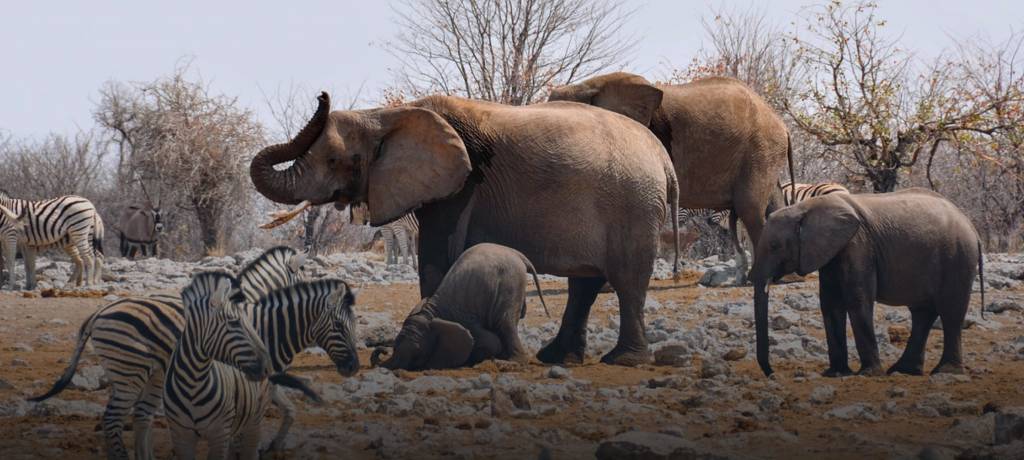 Safari in July
As you gaze out into the cracked, arid plains focusing your lens on a pack of elephants that you have tracked for the past hour, you realise that this is that classic David Attenborough moment you have been waiting for. With so many animals to see in Africa in July and unique cultures to discover, we narrow down the countries that offer the best safari destinations in July.
Africa in July: What to expect
Weather & climate

With warm 18°C (64°F) days and cool nights, travelling to Africa during July is a favourite for many travellers. In South-East Africa, the beaming sunshine and clear blue skies create idyllic conditions for game drives and the dry season presents excellent visibility for trying to spot those elusive animals.

With cracked arid grounds, withering vegetation and limited water resources, wildlife sightings are at their prime this month. The scenery is that classic African desert that you have always imagined and the beaches are pristine and inviting. Meanwhile, the monsoon season has welcomed the tigers of Ranthambore in India so consider avoiding this area in July.

Dry season: Masai Mara (Kenya), Zimbabwe, Botswana, Uganda, Namibia

Wet season: Ranthambore (India)

Wildlife

Having a face-to-face encounter with the king of the plains should be on everyone's bucket list.

There's no better feeling than gazing into the eyes of one of Africa's most stealthy predators, obtaining a front-row seat for the Great Migration or watching a performance of flamboyant birds on the waters of Lake Victoria

.

At Botswana and Zimbabwe, the

Big Five

roam the plains so add a sighting of a prehistoric rhino to your must-do list, or maybe a family of silverback gorillas from Uganda or Rwanda? As a country full of countless creatures, there's no better place to experience that natural thrill of a wildlife encounter.

Big Five:

Botswana, Zimbabwe (Not Victoria Falls)

Great Migration:

Kenya

Bird watching:

Uganda (Lake Victoria)

Gorillas & Chimpanzees:

Uganda (Bwindi National Park), Rwanda

Peak season

Regardless of the season, a rewarding and gratifying experience is pretty much guaranteed on a safari, but escaping the crowds and discounted rates sure are attractive. The low season in Thailand brings torrential rains, drawing wildlife to trees for shelter but also provoking unique animal activities that don't occur in the dry season.

However, on the other side of the world, the peak season is here! With the Masai Mara wildebeest migrating, optimal gorilla trekking conditions and the wildlife in Botswana and Namibia thriving, there's no better time to witness the circle of life on the quintessential African plains.

Peak season: Masai Mara (Kenya), Gorilla trekking (Uganda & Rwanda), Botswana, Namibia

Low season: Thailand
Best safari destinations in July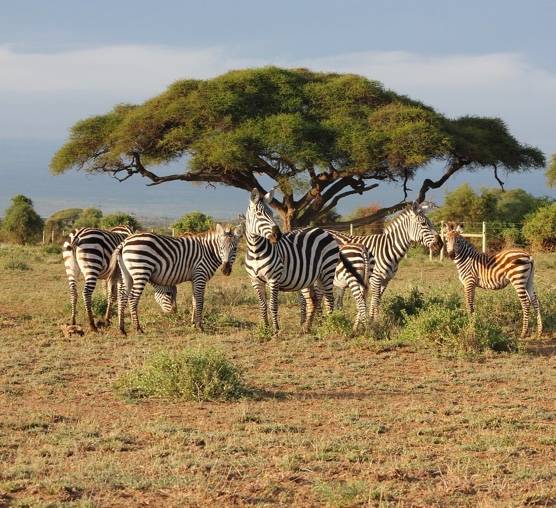 Masai Mara (Kenya)
With rolling grasslands dotted with acacia trees and a picturesque mountainous backdrop, exploring the Masai Mara will accomplish that quest for a once-in-a-lifetime adventure, gratifying childhood dreams of seeing African wildlife up close and appreciating the magic of an unfamiliar culture.

Why in July?
The clear blue skies and pleasantly dry weather create ideal safari conditions which attract travellers from around the world. Admire the natural beauty of the serene African wilderness before the crowds of the peak season roll in. With wildlife visibly roaming the plains and cool temperatures, July is a prime month to embark on game drives.

What to see?
The dry grounds and sparse vegetation allows the circle of life to shine this month. Curious cats scan the plains as wildebeest calvesmigrate and sightings of the Big Five are pretty much guaranteed. Although elusive, setting your sights on the prehistoric black rhino will be a pinnacle memory.

Pro tip:
Without a doubt, a true highlight of this month is the emerging herds of the Great Migration. Spot wildebeest test their strength as they attempt to cross the croc-infested waters of the Mara River. Choosing a Migration-specific safari will increase your chances of witnessing this performance on the plains.
View Safaris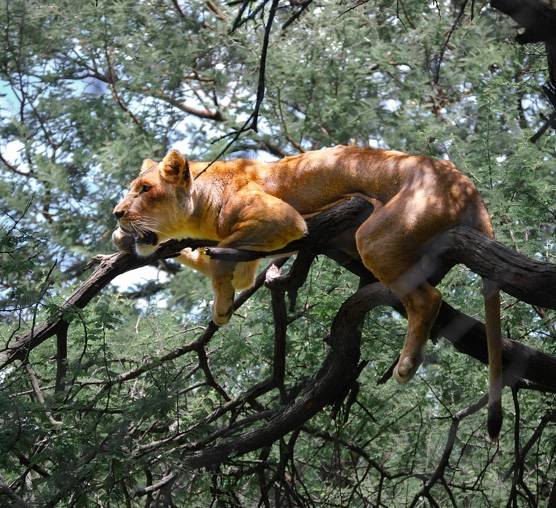 Zimbabwe
From the swaying savannahs of Hwange National Park and the home of the hippos at Mana Pools to the lush forests surrounding Victoria Falls and the ancient rock formations of Matobo Hills. Discover why this land-locked paradise is one of the most stunning countries in Africa. 
Why in July?
With sun-drenched plains and animals escaping the heat of the day by congregating at water sources, a boat trip of Mana Pools should be on the cards.
July presents prime conditions for wildlife viewing and ideal conditions for water activities and photographing
the out-of-this-world spectacle of Victoria Falls as the powerful spray starts to settle. 
What to see?
Zimbabwe is a trending destination for those in search of the
Big Five without the crowds.
With vast herds of elephants and buffaloes roaming the Hwange plains under the watchful eyes oflions and leopards, and black rhinosquenching their thirst at watering holes.
Pro tip:
Adding to Zimbabwe's unmatched natural beauty is the notorious gushing waters of
Victoria Falls
. The sheer grandeur of this iconic waterfall is breathtaking and a true gem to any African adventure. For an adrenaline rush, why not go white-water rafting or enjoy an optional helicopter flight for those astonishing views.
View Safaris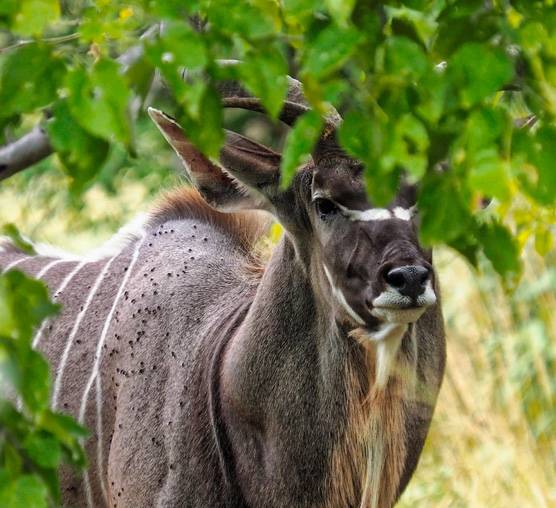 Botswana
Crowned as Africa's best safari destination, Botswana's diverse landscape creates unprecedented habitats for its uniquely, fascinating wildlife and untouched cultures. With serene natural beauty and densely populated national parks, Botswana should be at the top of every safari-goers list.
Why in July?
Remember to bring a jumper, early morning game drives this month bring cool temperatures and shining sunlight. Although more crowded, the
minimal rainfall and sparse vegetation make spotting wildlife a breeze
and with some of the most abundant national parks in Africa, you'll be spoilt for choice.
What to see?
Gaze into the prying eyes of a lounging leopard, trace the tracks of a scavenging rhino or witness great herds of elephants filling their trunks on a boat ride of the Chobe River. Botswana is blanketed with wildlife-rich game reserves and is home to the legendary
Big Five
, offering unparalleled, gratifying safari experiences.
Pro tip:
Imagine gliding over flooded desert grasslands as the sun hits the water transforming it into a sparkling floodplain. Weave between animal heads as zebras, wildebeest and elephants slurp at the water beside you.
A mokoro ride through the Okavango Delta is a must-do this month
as the wildlife flock to this water source to escape the dry savannahs.
View Safaris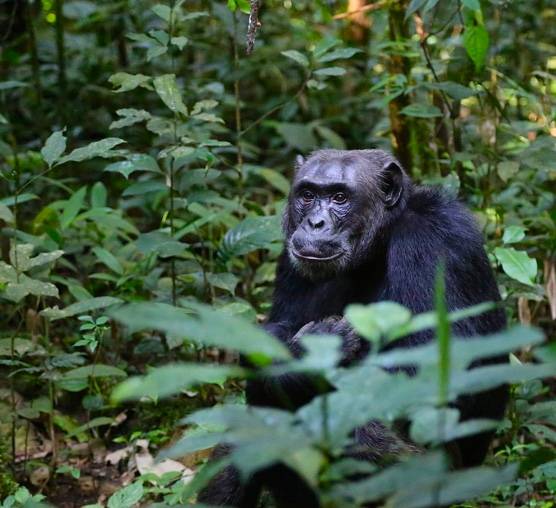 Uganda
No other wildlife encounter in
East Africa
matches the experience of spending time face-to-face with wild silverback gorillas. Ensure your journey is worth it by trekking through the tropical Ugandan jungle to search for these primates and enhance this once-in-a-lifetime experience.
Why in July?
A good gorilla trek is determined by the experience and satisfaction of finally gazing into the eyes of these humanlike creatures. With cool nights, mild days and minimal rainfall, July presents
idyllic trekking conditions as the dry grounds are sprinkled with shafts of sunlight from the canopies above
.
What to see?
Spot species of native birdlife dancing in the skies, play hide-and-seek with monkeys, baboons, and chimpanzees and even follow in the tracks of forest elephants and antelopes. Apart from the famed
mountain gorillas
, Bwindi Impenetrable Forest is a wildlife hub that creates the perfect climate for creatures to flourish.
Pro tip:
One of the most important aspects to remember if you are planning a gorilla trekking safari is that you need to obtain a permit to see the gorillas. There are limitations on how many people are allowed into the national parks and they tend to sell out months in advance, so
be prepared and book in advance
!
View Safaris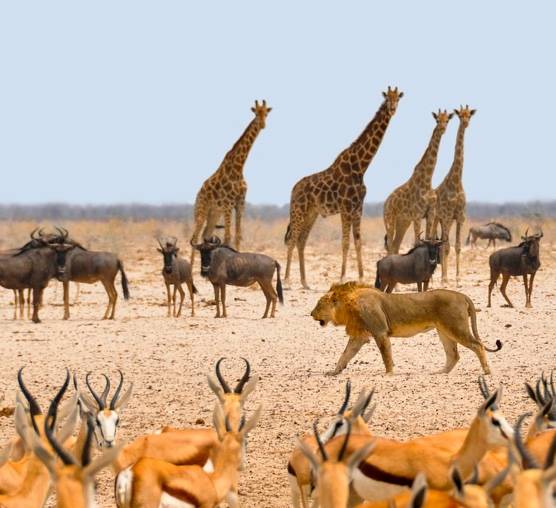 Namibia
From the unhabitable beaches of Skeleton Coast and the sand dune ocean of Sossusvlei to the striking rock formations of the Fish River Canyon and the wildlife-rich plains of Etosha National Park. With its dramatic and barren landscapes, discover why Namibia has been coined the Land of the Brave.

Why in July?
July brings bright days and cool nights making the stark landscapes a true delight on a safari adventure. The scarce vegetation and dry grounds present idyllic wildlife viewing conditions. As a quiet destination, even during its peak season, Namibia sets the scene for that quintessential remote African safari.

What to see?
Etosha National Park is like a scene out of a movie. With wildebeest, zebras, giraffes, and elephants all dipping their heads as they drink from one watering hole, standing on the arid cracked desert ground. With minimal vegetation, animal sightings are a much-loved, common occurrence during these dry Winter months.

Pro tip:
Being the middle of winter, remember to bring warm clothes for those morning sunrise game drives. You'll want to spend your nights around the campfire sharing stories of your days' adventures, sipping a classic hot chocolate with a blanket snuggled around you. Pure bliss!
View Safaris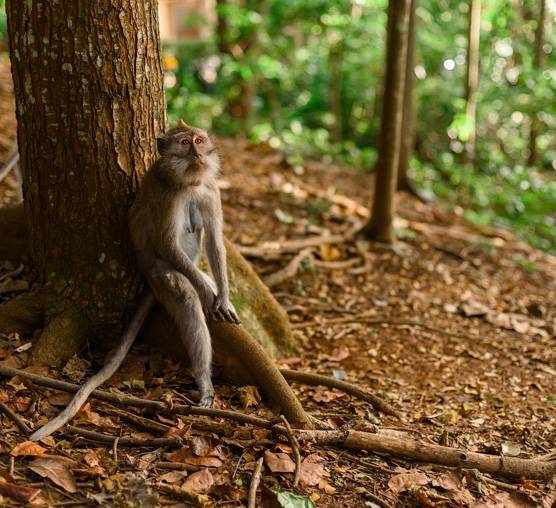 Indonesia
With thousands of islands to explore, countless cultures and numerous delicacies, a trip to Indonesia offers an authentic Asian experience. From diving in azure blue waters, weaving through islands and hiking up active volcanoes, there's so much to see and do in this diverse country.

Why in July?
With clear blue skies and an equatorial humidity, July officially marks the start of the peak season and attracts many tourists, from those who want to relax on pristine beaches to those who want to delve into culture and explore rich temples. With such diverse, blooming scenery, Indonesia thrives as a true gem of South-East Asia.

What to see?
Home to some of the most fascinating marine life in the world, Indonesia is a hot-spot for diving enthusiasts and promises a lively underwater world full of colour. The incredible biodiversity and endemicity of wildlife and birdlife make a safari to any of the islands a real treat, from orangutans and Komodo dragons to turtles and monkeys.

Pro tip:
Secure your belongings! Monkeys are pretty much residents and can be seen lurking on the sidewalk of many streets around Indonesia. They love to say hello, snoop around and will take anything they can get their hands on, those cheeky rascals!
 
View Safaris
A TRAVEL MAGAZINE BY TOURRADAR