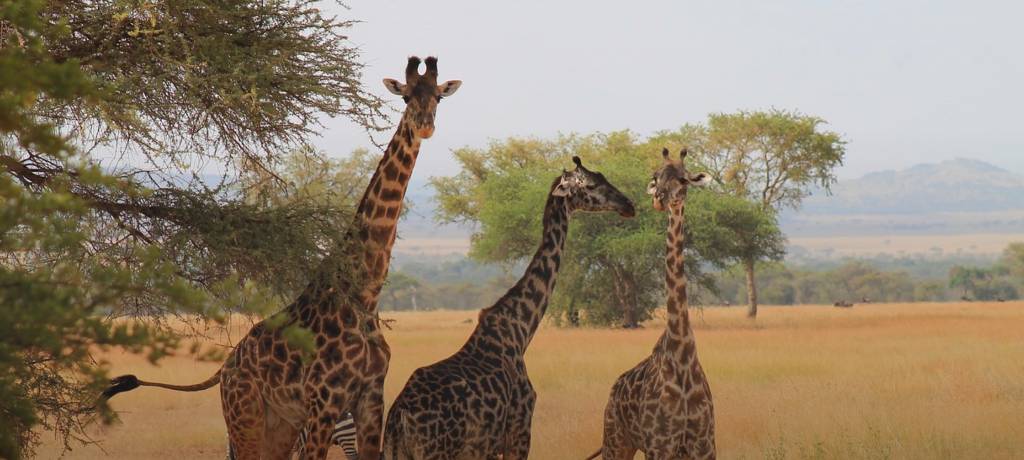 Safari in February
The natural thrill of coming face-to-face in the wild with animals you have only seen in a movie is a surreal experience. Whether you are searching for Simba or Shere Khan, a wildlife encounter is something for the memory books. With many wonders awaiting you, we discover the best safari destinations in February and reveal the stunning natural beauty of Africa in February.
Africa in February: What to expect
Weather & climate

With an average temperature of 17°C (62°F), February is a prime time to travel to Africa. Dry trekking trails and lush vegetation presents ideal conditions for those remarkable wildlife encounters. The increased rainfall in Kenya, Botswana and Tanzania, sees wildlife scattered throughout the plains making the most of their freshly-filled watering holes. In contrast, the dry season in Uganda and India is optimal for gorilla trekking and photographing majestic Bengal tigers.

Dry season: Uganda, India

Wet season: Kenya, Botswana, Tanzania

Wildlife

Creating a lush atmosphere for the birthing season, when the rains fall the Serengeti becomes the finest place in Africa to view the Big Five. This season attracts the Great Migrating herds and mass concentrations of predators. Watch as the dark trees of Ranthambore contrast the brightly-coloured birdlife, or embark on a bucket-list adventure and gaze into the eyes of gorillas and chimpanzees in the warm, tropical forests of Uganda.

Big Five: Serengeti
Great Migration: Serengeti
Bird watching: Ranthambore
Gorillas & Chimpanzees: Uganda

Peak season

It's peak season in Uganda and Kenya, as the February weather paints the perfect canvas for trekking through forests and the wildlife thrives in the nutrient-filled plains. Although it is more crowded, the abundance of animals makes your safari adventure a rewarding treat. Alternatively, if you prefer to experience true, remote African wilderness, then why not witness the calving season in Botswana and Tanzania, or gaze into the prying eyes of a Bengal tiger in India during February's low season.

Peak season: Uganda, Kenya

Low season: India, Botswana, Tanzania
Best safari destinations in February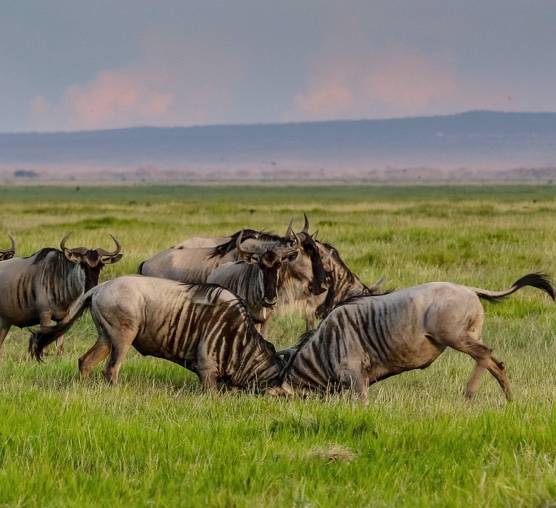 Kenya: Amboseli
Under the gaze of Mount Kilimanjaro, lies Amboseli National Park. This diverse ecosystem spreading from Kenya to Tanzania is home to many animals including large herds of elephants and an abundance of birdlife, a haven for bird-lovers and safari-goers.
Why in February?
With green grass and succulent trees, the plains are picture-perfect and wildlife are in awe. With little showers and the grandeur of the pristine wilderness, an overland adventure of this national park is the quintessential African safari.
What to see?
Known for its large herds of elephants, the lush acacia trees and freshly-filled watering holes allure wildebeest, giraffes and zebras to the area. The tranquil waters also attract a multitude of birdlife, making Amboseli a paradise for both birders and animal-lovers.
Pro tip
Enhance your safari experience with a visit to observe the Big Five at
Masai Mara.
 Grab your camera for those picture-perfect moments as baby animals learn to survive in this dusty plain and lions sit as kings on their thrones.  
View Safaris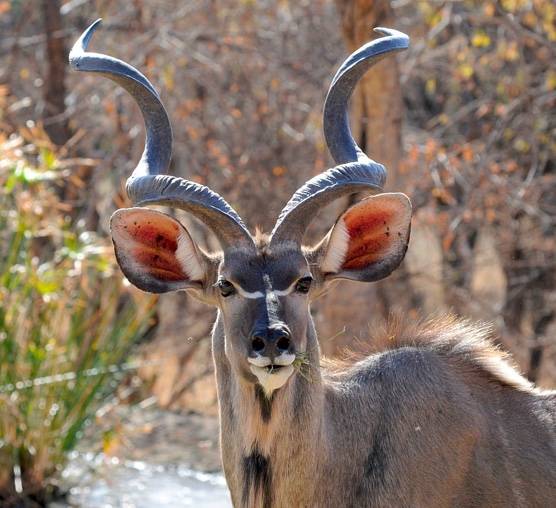 Botswana: Nxai Pan
This fossil pan flourishes when the summer rains pass. The lush emerald-green nutrients and freshly-filled watering holes allure migrating herds of wildebeest and zebra which creates an unrivalled atmosphere and a breathtaking safari adventure.

Why in February?
The wet season sweeps the plains of the Nxai Pan and the rain transforms the dusty plains into green grazing fields that allure migrating herds and creates a solid foundation for the birthing season. With less competition for the best seat in the house, February is a great month to experience the serene natural beauty of the remote African plains.

What to see?
At the heart of the zebra and wildebeest migration, February is a peak season to witness these wild creatures roaming the plains. The trampling herds create an out-of-this-world spectacle not to be missed.

Pro tip:
Make sure you bring your camera. With lush green vegetation dotted with flowers and an abundance of zebra and wildebeest, the Nxai Pan in February is a haven for photographers.
 
View Safaris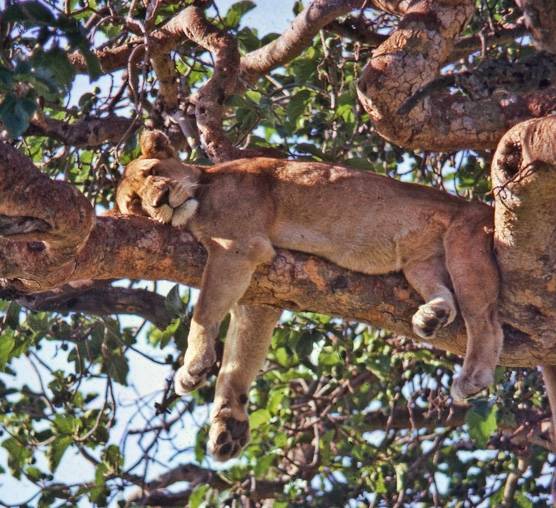 Uganda
Venture to the only national park where your guide shouts "lion" and you look up! Uganda is home to tree-climbing lions at Queen Elizabeth National Park, as well as the world-renowned gorillas of Bwindi Impenetrable Forest. There's something for everyone during Uganda's peak season.
Why in February?
As rains become sparse and vegetation thins, wildlife gather around waterholes making game viewing simpler and the abundant wildlife an unmissable spectacle of natural wonder. As rainforest pathways are dry, gorilla trekking is a favourite among safari-goers this season.
What to see?
There's no shortage of wildlife encounters this season, as wild animals flock to watering holes making game viewing a delight. You should expect to see zebras, elephants, antelopes and lions quenching their thirst and colourful birds dancing in the skies above.
Pro tip:
Chimpanzees are thriving this month, so combining your safari with a trek through 
Kibale Forest National Park
is a must-do. Gaze into their humanlike eyes for an authentic once-in-a-lifetime experience.  
View Safaris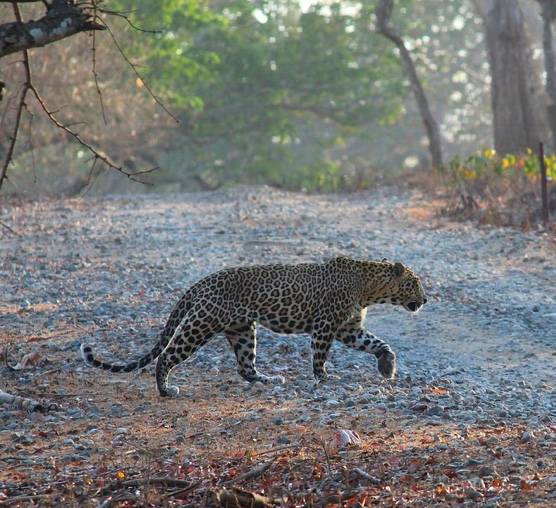 India: Ranthambore
Imagine scanning dense jungle bushland for a pair of curious cat eyes. Snapping a photo of that tiger you have been playing hide-and-seek with, is a rewarding souvenir from your exotic safari adventure of Ranthambore National Park.
Why in February?
With thriving green vegetation, pleasant temperatures and blooming flowers dotting the bushland, February presents great conditions for embarking on a safari in search of India's majestic wildlife.
What to see?
The nutrient-rich vegetation means that wildlife flourish in this environment. You should expect to see an abundance of colourful birds sprinkled in the trees, Bengal tigers weaving through ancient ruins, monkeys swinging from over-hanging branches and peacocks dancing in the swaying grass.
Pro tip:
If you have your heart set on viewing the curious cats then why not combine your safari with a trip to 
Bandhavgarh National Park.
 With leopards lounging in the shade to escape the heat of the day, deers protecting their young and a high concentration of royal Bengal tigers, this park is a must-do for safari enthusiasts.  
View Safaris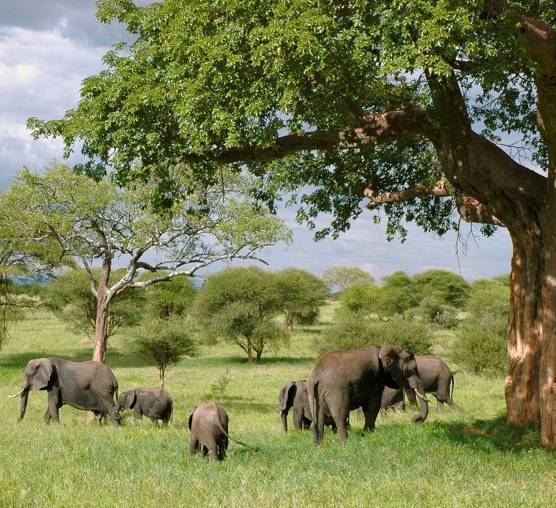 Tanzania
What doesn't Tanzania have? From the iconic wildlife-rich grasslands of the Serengeti to the legendary spectacle of Mount Kilimanjaro, this quintessential country is a must-visit. Home of the Big Five and a spectacular UNESCO site, Tanzania is a highlight to any African tour.
Why in February?
Freshly-filled watering holes and lush green vegetation provide a nutrient-rich haven for the wildlife that calls this country home. The green season means that you won't have to share your front-row seat for a performance on the plains. 
What to see?
Dotted with emerald-green nutrients allure the migratory herds of wildebeest and zebras and provide the perfect landscape for the birthing season in the Serengeti. With many young calves taking their first steps and predators keeping a keen eye out, this season is perfect for witnessing the circle of life in action!
Pro tip
Combine your safari with a trek up
Mount Kilimanjaro.
Challenge yourself with a hike to the snowy summit and admire the panoramic views of the plains below. If you bring a pair of binoculars, you may even be able to see wildlife dotted below.  
View Safaris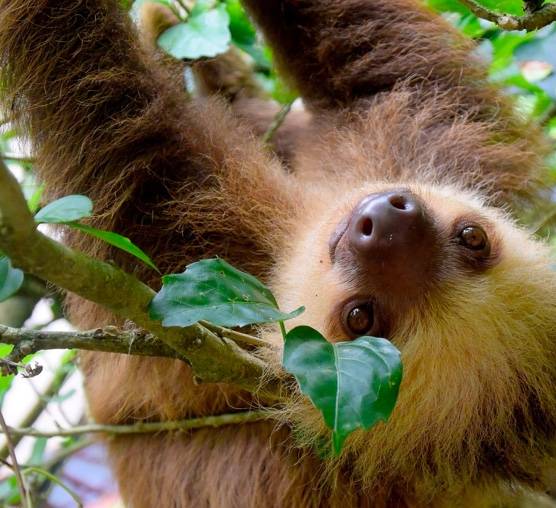 Costa Rica
From the golden beaches and capital of San Jose to the natural beauty of the Monteverde Cloud Forest, Costa Rica has so much to offer in terms of spectacular safari-like experiences. From a jungle safari to a sea turtle volunteering project, there are so many experiences for wildlife enthusiasts. 
Why in February?
With dry warm breezes sweeping across the country and wildlife procreation at its finest, a safari to this tropical paradise blooms with lush natural beauty and unique youthful wildlife.
What to see?
With baby sea turtles learning to swim from golden beaches, humpback whales dancing in crystal-clear waters, sloths lazily crawling along over-hanging branches, monkeys swinging from the treetops and colourful birds contrasting dark nutrient-rich leaves, Costa Rica offers the ultimate tropical safari adventure.
Pro tip:
Check out the neighbouring country of
Nicaragua.
 Dotted with sapphire-blue lakes and impressive volcanoes, Nicaragua's landscape provides the perfect habitat for sloths, anteaters and armadillos.   
View Safaris
A TRAVEL MAGAZINE BY TOURRADAR