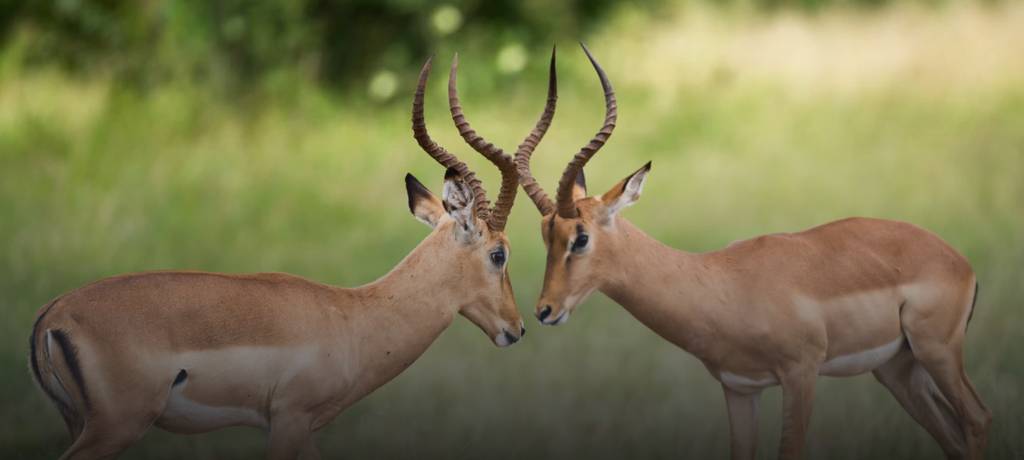 Safari in April
The thrill of observing creatures that appear prehistoric, strolling a few meters away from you, in their natural habitat, is something which brings joy to your soul, tears to your eyes or a plasters a shining smile on your face. We narrow down the best safari destinations in April and discover the very best of Africa in April.
Africa in April: What to expect
Weather & climate

With the green season in Namibia and South Africa drawing to a close, April brings a cool breeze of scattered rains and shafts of sunlight creating a picturesque paradise on the plains of Kruger National Park and the sand dunes of Namibia. Meanwhile, Botswana, Madagascar and India are in the dry season making wildlife sightings a highlight, as they are drawn to what is left of their water sources. The pleasant weather and cool 19°C (66°F) temperatures make April one of the best months to embark on a safari.

Dry season: Botswana, Madagascar, India

Wet season: Namibia, South Africa

Wildlife

Wildlife is abundant throughout Africa all year round, from the legendary lemurs of Madagascar to the towering giraffes of Namibia. However, South Africa and Botswana become wildlife havens during April as the wildlife flourish from the falls of the green season. For the best chances of laying your eyes on the Big Five, a trip to the notorious Kruger National Park in South Africa is a must-do, or if the vibrant colours of migratory birdlife attract your eye then planning a trip to the Okavango Delta should be a necessity.

Big Five: South Africa
Bird watching: Botswana
 

Peak season

With the sun shining and wildlife flocking to watering holes, there's no better time to search for wildlife in Sri Lanka than during April. However, throughout most of Africa, April is a low season as the rainy green season resides and scattered showers are dotted with rays of sunshine. The wildlife thrives in nutrient-rich conditions as the dry plains transform into a lush green landscape sprinkled with flowers. The low season also means fewer tourists and cheaper rates, so there's no better time to travel to Africa.

Peak season: India

Low season: Botswana, South Africa, Namibia, Madagascar
 
Best safari destinations in April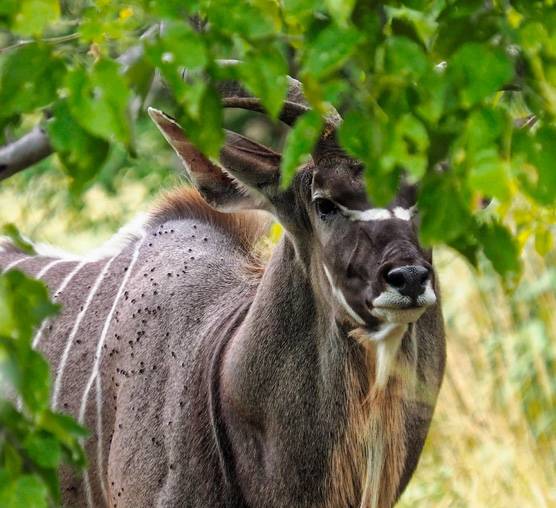 Botswana
Botswana is home to the glorious waterways of the Okavango Delta and the swaying grasslands of Chobe National Park where boat safaris are the norm. Ditch the 4X4 and experience a safari like no other in the jewel of Southern Africa.
Why in April?
Marking the end of the wet season, April is the perfect time to see the flowering waterways of the Okavango Delta as they transform the sands of the Kalahari into a sparkling floodplain. The rains create an aqueous vista that enhances wildlife encounters for an unforgettable boat safari of Chobe National Park.
What to see?
With the rains dissipating and the antelope birthing season in full-swing, predators stay near watering holes keeping a keen eye out. The game at Nxai Pan and the elephant herds at Chobe National Park are thriving as they fill their bellies with the nutrient-rich vegetation.
Pro tip
Combine your safari with a visit to the out-of-this-world spectacle of
Victoria Falls
. Lying just outside the borders of Botswana and surrounded by blooming greenery, the falls execute a glorious performance with thundering waters and a fine spray creating an unmissable event.  
View Safaris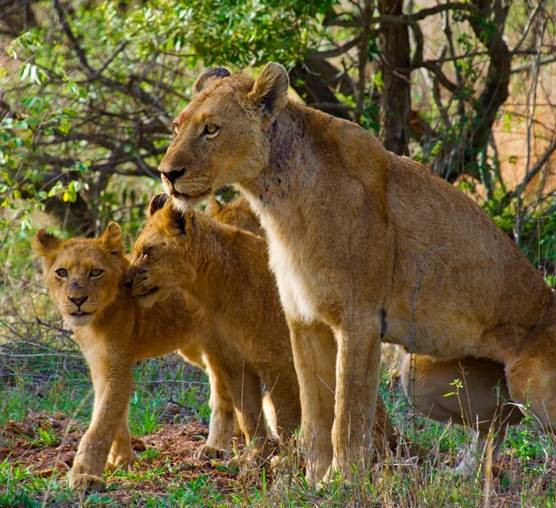 South Africa
From admiring the stunning natural beauty of the Garden Route to searching for the world's most enchanting animals at Kruger National Park or hiking the glorious Drakensberg Mountains, there's so much to see and do. Packed full of adventure, culture and ravishing vistas, South Africa is the quintessential African destination.
Why in April?
With fewer clouds in the skies and pleasant temperatures, April is a great time to visit South Africa. Whilst this is still the low season, the golden beaches are more secluded and game reserves are colourful and less crowded, creating that remote African safari you have always dreamt of.
What to see?
The end of the green season sees the Big Five make the most of the nutritious greenery and swarm around the remaining watering holes enhancing wildlife sightings. The birdlife dance in the skies and the marine life flourish in the warm waters making birdwatching and snorkelling must-do experiences.
Pro tip:
If you love the natural beauty of South Africa then why not consider a hike up the
Drakensberg Mountains
. The weather presents optimal conditions and the flora and fauna are thriving this month. Remember to take a pair of binoculars, as you have a front-row seat to a performance from the birds in the skies!  
View Safaris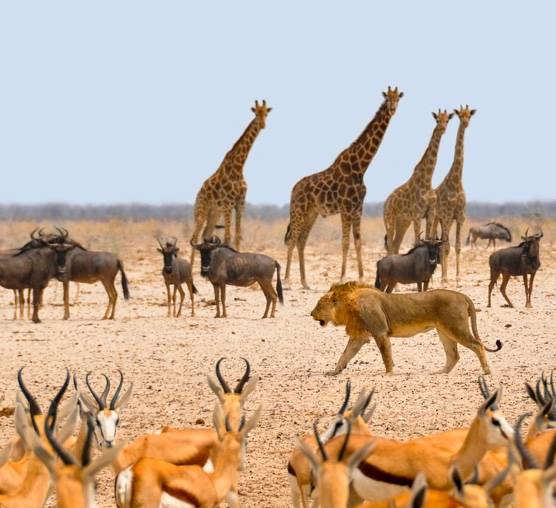 Namibia
Admire the striking beauty of Sossusvlei's dunes, witness the pristine wilderness of Etosha National Park or gaze into the depths of Africa's largest canyon, Namibia is home to some the most surreal landscapes and should be a destination on everyone's bucket list.
Why in April?
As the end of the wet season, April creates a contrast with lush green vegetation and patches of burnt-orange sand emerging. The diverse landscape, clear blue skies and stunning natural wonders paint this month as a photographer's paradise.
What to see?
The lush trees sprinkled with flowers create a haven for birdlife, the dwindling watering holes attract an array of wildlife and their month-old calves make game viewing a spectacle. With low prices, stunning vistas and amazing wildlife, there's no better time to travel to Namibia.
Pro tip:
Why not visit the most picturesque park in Africa? Experience true remote African wilderness at
Skeleton Coast National Park
. Surrounded by endless sun-drenched sand dunes, this national park is serene and presents a breathtaking landscape you won't find back home.  
View Safaris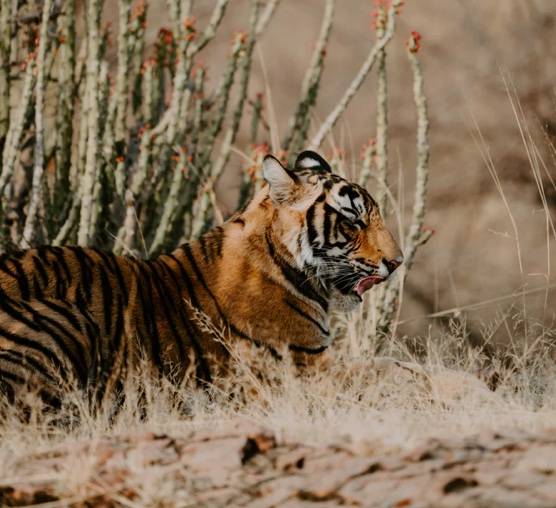 India
A tour of India will open your mind, bring strength to your body and soften your soul. Full of cultural experiences, vibrant festivals, ancient temples and exotic wildlife, fall in love with India and find out why over one billion people call this incredible country home.

Why in April?
The weather is hot and dry which means tourists are minimal and wildlife sightings are premium. If you have your heart set on seeing the curious cats, experiencing the vibrant culture or relaxing on the pristine beaches then April couldn't be better!

What to see?
The sparse grasses and few water sources create a landscape for premium wildlife viewing. From the majestic tigers of Ranthambore and the proud predators of Bandhavgarh to the enchanting Asiatic lions of Sasan-Gir and the gentle giants of Periyar, India has an array of wildlife-rich national parks.

Pro tip:
Prepare for lots of early mornings. Before the break of dawn when the temperature is cooler, national parks and monuments have minimal tourists making it the best time to visit. The peachy sunrises also create the perfect backdrop for photographs, bonus!
 
View Safaris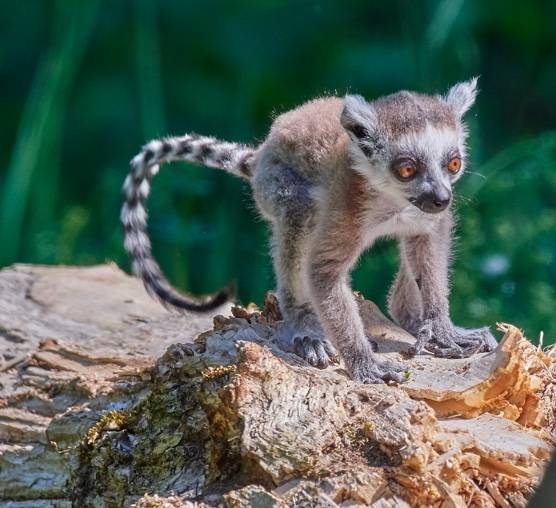 Madagascar
With such a diverse ecosystem, varied landscapes and unique wildlife, this country has earned the title of being the eighth continent. This extraordinary island offers breathtaking natural beauty, white-sand beaches, stunning rainforest and delicious local cuisine creating an unforgettable experience.
Why in April?
After the rains and cyclones fade away, April brings rays of sunshine which light a path for wildlife and reveals the lush landscapes in their awe-inspiring beauty. With few tourists and the extraordinary biodiversity out in bloom, there's no better time to explore this magical island. 
What to see?
Everyone wants to lay their eyes on Madagascar's black and white striped icons and luckily this month is your best chance of seeing them. Lemurs roam the rainforests filling their bellies and foraging amongst fresh emerald-green leaves. Partnered with various reptiles, amphibians, birds and whales, the wildlife thrives in the fresh Autumn air.
Pro tip:
Whilst the wildlife is like no other so are the beaches! Check out the iconic
Nosy Be
for crystal-clear waters and white-sandy shores. Scattered with abandoned pirogues, this pristine beach is an epitome of a tropical paradise.  
View Safaris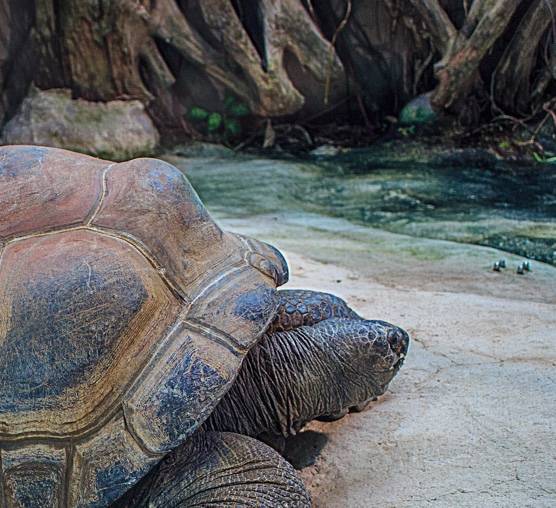 Seychelles
Seychelles is the definition of a tropical paradise with its golden sand beaches, sun-drenched palm trees and calm azure blue waters. With villas on the beach, this sensational pocket of Africa is essential for relaxing after an adventurous African safari.
Why in April?
Although these islands are a delight all year round, April brings warm winds that create pleasant waters and crystal clear visibility making snorkelling an effortless, wondrous experience.
What to see?
From baby sea turtles and enchanting dugongs to rainbow-coloured fish and giant tortoise, the vibrant coral and tranquil waters are home to an array of flora and fauna. If you prefer not to get your feet wet, the archipelago is scattered with flying foxes and a range of amphibians and reptiles.
Pro tip:
Observing a giant tortoise lazily wandering in the wild is a remarkable rare encounter. Head over to
Curieuse Island
to increase your chances of laying your eyes on these magnificent creatures.  
View Tours
A TRAVEL MAGAZINE BY TOURRADAR