Ship Overview
Built in 2008, the magnificent RV Orient Pandaw has served in five Southeast Asian countries and currently operates in Myanmar (Burma). Backed by many years of sailing experience, the RV Orient Pandaw glides smoothly thanks to her short draft and other marvellous engineering characteristics. With her luxurious staterooms and large public spaces, she casts a spell of relaxation and rest. Between excursions, guests can sit back and enjoy a fabulous view of life along Burma's majestic rivers from the vast Sun Deck. They can feast on delicious regional cuisine and participate in a wide range of activities. For peaceful solitude, they can retreat into plush staterooms outfitted with modern comforts and elegant furnishings.
Sprawling Sun Deck with comfortable seating and a bar
Vast air-conditioned saloon bar with live entertainment every night
Well-equipped lecture and meeting room for daily tour briefings
Charming art gallery and library featuring an assortment of literature
Region-based cultural performances by local artistes, film presentations and movie nights
Special cooking demonstrations by an expert chef and an exciting tour of the working ship
Private spa with a range of services rendered by qualified therapists
Free guided shore excursions covering local history, culture, monuments and natural wonders
Complimentary mountain bikes for adventurous solo excursions
Indoor games, badminton net, fishing rods
Staterooms / Suites
Staterooms on Main Deck
Staterooms on Upper Deck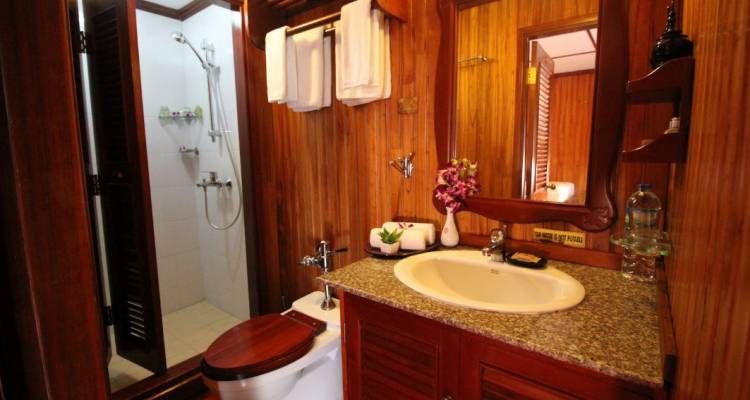 Features
The RV Orient Pandaw supports ten elegant staterooms on the Main Deck. Each stateroom offers 170 sq. ft. of comfortable living space and a host of contemporary amenities.
Exquisite brass and teak accents
Charming French window which leads to personal deck space
Plush en-suite bathroom with quality fittings including a natural stone shower
Cost-free kimono plus slippers
In-room air-conditioning, in-room safe, makeup mirror
Electric hair dryer, small DVD player (on special request)
Pillow menu, comforter, fine linens, top quality mattresses and twin beds (convertible)
Ample clothes closet with shelves and generous under-bed luggage storage
Complimentary evening bites, unrestricted bottled water
Turndown service on a nightly basis
Full-time laundry service (charges apply)
Dining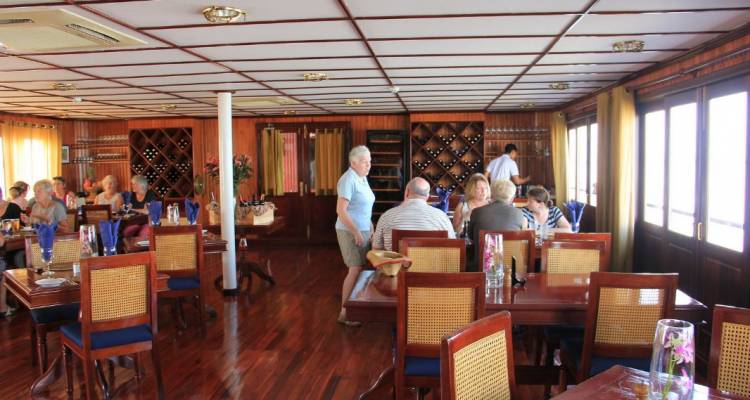 Great choice of fantastic regional cuisine and Western dishes prepared by expert chefs
Bespoke meal preparation, vegetarian offerings, light and healthy options
Breakfast and lunch are semi-buffet style, dinner is served at the table
Elaborate welcome dinner, extravagant farewell reception, special themes for dinners
Delightful welcome cocktail and drink
Comprehensive wine list including premier spirits
Around-the-clock hospitality bar
Complimentary liquid refreshments including juices, tea, coffee and regional spirits
On-board bakers offering variety of freshly prepared breads and rolls