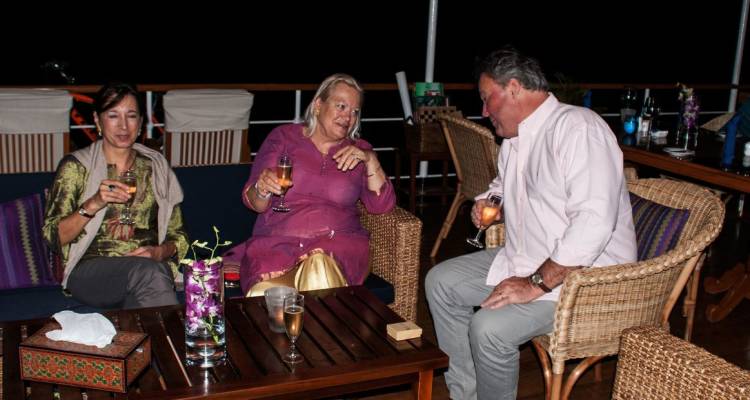 Ship Overview
Small and intimate, the RV Kalay Pandaw offers the perfect setting for memorable friend and family cruises on the Upper Chindwin waterway. Built in 2013 by Pandaw's own team of expert ship craftsmen, she features a light draft that allows her to access remote areas that are hidden treasure troves of exotic sights and sounds. This boutique river cruise vessel accommodates five elegantly furnished staterooms – four staterooms on the Main Deck and an enormous Owner's Suite on the Upper Deck. The promenade and Observation Deck are perfect places to absorb spectacular views of passing villages, mountain sceneries and pagodas. Life on board the RV Kalay Pandaw is an ideal blend of quiet contemplation and fun socialising.
Promenade and Observation Deck offering uninhibited views of unfolding sceneries
Informative lectures, movies and documentaries on regional culture, traditions and history
Captivating cultural performances by gifted local artists
Diverse activities including cooking, fruit carving and napkin arrangement demonstrations
Lavish arrival dinner, on-deck cocktail parties and gala farewell dinner
Guided on-shore excursions with varied activities ranging from walking to horse cart riding
Visits to colourful village markets guided by a Pandaw chef
Independent onshore bike excursions
Fishing rods and badminton nets for guest use during halts
Board games including chess, monopoly and scrabble
Staterooms / Suites
Staterooms on Main Deck
Staterooms on Upper Deck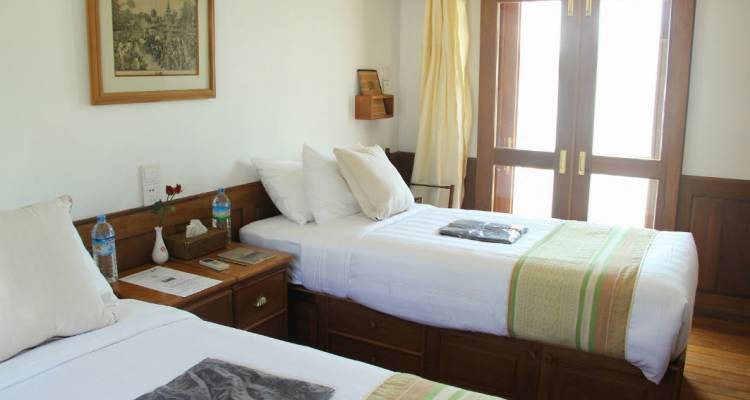 Features
The four staterooms on RV Kalay Pandaw's Main Deck are appreciated for their spaciousness and aesthetic furnishings. Each stateroom provides 180 sq. ft. living space and features a panoramic French window.
High quality brass and teak accents
Attached bathroom with top-end bath amenities
Air-conditioner, mini safe, hair dryer
Luxurious twin beds with fine quality linens, pillow menu and upscale mattresses
Double bed configuration option
Spacious closet, under bed storage and mirror
Complimentary slip-ons and kimono
Flowers and gift on arrival
Bottled mineral water free of cost
Delectable evening snacks
Turndown service at night, all-day laundry services
Dining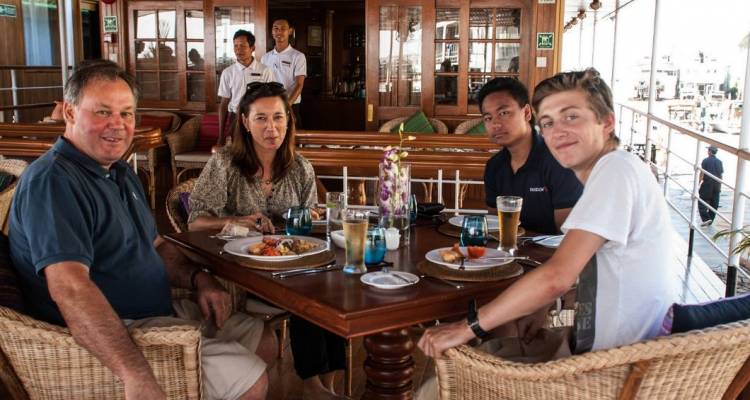 Excellent variety which includes local culinary specialties, vegetarian options and light meals
Customized meals on special request
Services of an experienced local head chef and team
Tea, coffee, colas, regional beers and spirits at no extra cost
Sizeable collection of wines including superior varieties
A la carte options and themed dinners
Specially designed lavish spread for welcome and farewell dinners
Warm welcome with complimentary cocktails and drinks