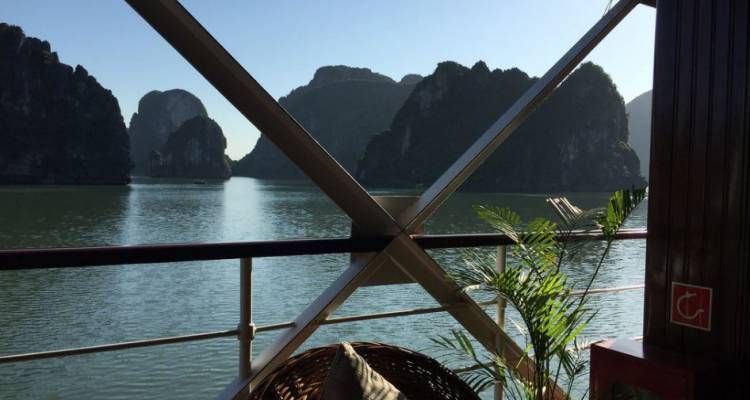 Ship Overview
Built in 2012, the 138 foot-long RV Angkor Pandaw is a sister-ship to Katha but boasts an enclosed air-conditioned dining room for enhanced comfort. Cruising along the Mekong until 2015, she was transferred to ply on North Vietnam's iconic Red River where she continues to charm guests with a wonderful colonial atmosphere and modern facilities. Carefully designed to provide an immersive river cruise experience, she offers guests plenty of opportunities to delve into stunning landscapes and the culture of quaint Vietnamese villages. Whilst sailing, guests can sit back and enjoy uninterrupted views of idyllic country life or participate in a wide range of interesting activities.
Sprawling observation deck with well laid out seating arrangements
24 hour hospitality bar and upscale lounge bar
Enclosed, air-conditioned panorama dining room
Dedicated spa area with a variety of massage services from trained professionals
Cultural performances that bring local customs and traditions to life
Well-stocked library featuring classic and contemporary literary works
Interactive on-board activities which include cooking demonstrations, napkin arrangements, fruit carving and a working ship tour
Educational talks, film presentations and movie nights featuring classic and region-based favourites
Complimentary Wi-Fi access in public areas
On-board mountain bikes ready for independent onshore explorations
Staterooms / Suites
Staterooms on Main Deck
Staterooms on Upper Deck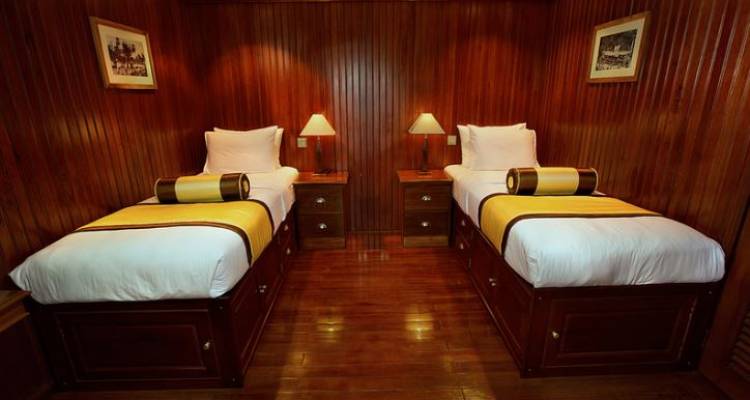 Features
RV Angkor Pandaw carries 10 elegantly furnished staterooms on the Main Deck. Featuring 168 sq. ft. of living space, each teak-lined stateroom is stylish and comfortable.
In-room air conditioning
En-suite bathroom with spa quality bath products
Complimentary fresh fruit and flowers on arrival
Hair dryer
Complimentary bottled mineral water
Mini DVD player and choice of in-house DVDs on request
Complimentary robe and slippers
Dining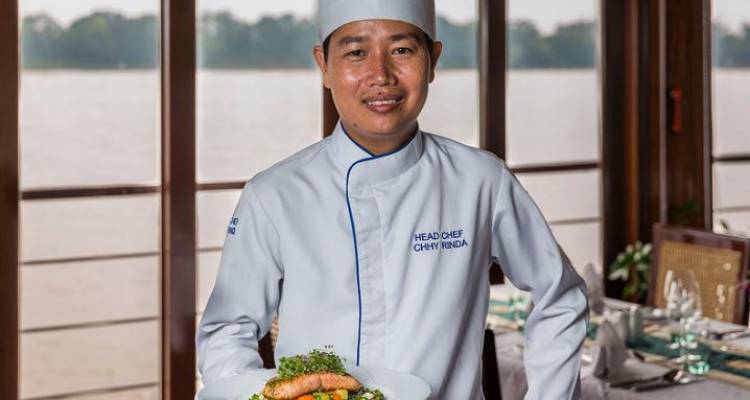 Carefully curated menus which feature an interesting mix of local culinary masterpieces and international favorites
International team of experienced chefs headed by an expert local master chef
Complimentary drink and cocktail on arrival
Semi-buffet breakfast and lunch
Seated themed dinners
Healthy meal options and vegetarian choices on a daily basis
Farewell gala dinner
Complimentary beverages including tea, coffee, fresh juices, water, colas and regional spirits
Comprehensive wine list including premium wines
On-board bake house offering a selection of fresh breads and rolls