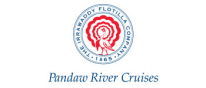 Pandaw Cruises
Headquarters in Singapore
OVERALL RATING
5.0/5 - Excellent
See all tours
Unlock up to $600 off
Gift of Travel Sale
Unlock up to $600 in extra savings
ends on 18 Dec 2017
1 Pandaw Cruises Review
Excellent

100%

Good

0%

Average

0%

Rather Poor

0%

Bad

0%
Accommodation

5 / 5

Transportation

5 / 5

Meals

5 / 5

Value for money

5 / 5

Guide

5 / 5
Write a review
Looking for a specific tour?
48 Pandaw Cruises tours
Check it out
About Pandaw Cruises
The Pandaw experience is all about exploring remote and often hard-to-navigate rivers and coasts in specially-designed luxury small ships. Pandaw operate their own luxury small ship river cruises on the Mekong River through Vietnam and Cambodia; the Red River and Halong Bay in Vietnam; Laos, China and Thailand on the Upper Mekong; the Irrawaddy & Chindwin rivers in Burma. We also operate boutique ships with partners on the Amazon in Brazil and the Brahmaputra, Hooghly and Ganges in India. Each ship, hand-crafted in brass and teak, is an object of beauty in itself. A Pandaw adventure is very different from that offered on an ocean-going cruise. The ships are small scale, and the atmosphere is informal, and very friendly.
Pandaw Cruises videos
Pandaw River Expedition 2014
Pandaw River Expedition 2017
The Mergui Archipelago
Myanmar
Halong Bay and Red River
Show more...
About Pandaw
Why Pandaw?
no fewer than 45% of our passengers have sailed with us before, many of them several times. They tell us that they come back for the special ambiance and old-world beauty of our ships as much as for the amazing scenery we sail through, or the onshore cultural treasures we explore together. While the craft may be small, we have the highest passenger-to-deck- space ratio of any cruise ships afloat. There are plenty of quiet spots to be discovered where you can read a book, write your travel journal, or simply mediate on the spectacular passing landscape or to chat with like-minded travellers friends old and new. Pandaw designs its ships with 360-degree promenade decks that allow our passengers the freedom to interact as much, or as little, as they like. It all adds to the famous 'Pandaw spirit' that brings so many guests back on board time and time again. When it comes to dining, passengers are welcome to eat on their own or with family or with friends. They can do so either in our dining room or on deck. Most dietary requirement are catered for. Here as elsewhere, the level of service on a Pandaw craft is a travel industry legend. It is a level of quality of which we are extremely proud, and we are constantly working hard to maintain. Our stewards and other crew are totally dedicated to your comfort. Pandaw has an all-inclusive policy so there are no hidden extras for excursions. Most drinks are included in the price of your ticket. Our cruises are family-friendly and offer plenty to do for the active and outdoorsy of all ages, as well as for those who wish to take it easy. We offer mountain biking and some challenging and exciting trekking ashore. These expeditions are particularly well-suited for older children who gain valuable life experiences from interacting with local kids when we stop in the villages. While passengers are free to do their own thing onshore, transportation, sometimes in the form of a cyclo or sampan, is provided for those who prefer a led excursion in the capable hands of our expert guides. By now it may be clear that if your idea of a cruise demands private balconies, big flat screen TVs in your room, thick carpets and dressing up for "the captain's table", then Pandaw is not for you. If, on the other hand, you seek unforgettable moments of tranquillity interspersed by conviviality and cultural richness, whilst gliding through some of the world's most amazing scenery, then welcome on board!
The Team
The Pandaw Group of Companies is entirely owned by the Strachan family. Paul and Roser Strachan remain closely involved in ensuring that their high standards are rigorously maintained. They regularly travel on the ships taking a strong interest in their design and style and enjoying interacting with our guests. Pandaw was the first operator since the Second World War to offer pioneering cruises on Burma's spectacular Irrawaddy River, reaching Bhamo, one thousand miles from the sea. We then went on to be the first to offer cruises on the stunningly attractive Chindwin river. As a family business the company has no borrowings, and thus runs on a very solid financial foundation. Paul takes personal charge of the Pandaw Charity, and a significant portion of the company's profits goes into maintaining current educational and medical projects in Burma.
Life Onboard
Sailing on a Pandaw ship is an outdoor, fresh air experience. However comfortable and roomy the staterooms, passengers prefer to spend their time sitting outside, on the promenade decks or on the vast observation deck above. Unlike most other cruise ships, every window on board (except for the portholes on the lower deck) can be opened and closed to suit your comfort. As we sail, we find that our passengers like to sit on deck, absorbed by the awe-inspiring riverside panoramas that unfold before them. From the comfortable vantage point of a teak-floored Pandaw deck, it's hard not to become hypnotised by the unceasing human and wildlife activity that characterises the great rivers of Asia.
Pandaw Cruises Photos

Questions & Answers
We are there for you! If you have any questions about this operator, then please don't hesitate to contact us 24/7 and we will get back to you latest within 2 hours!