Response rate

100%

Response time

0-1h
See all tours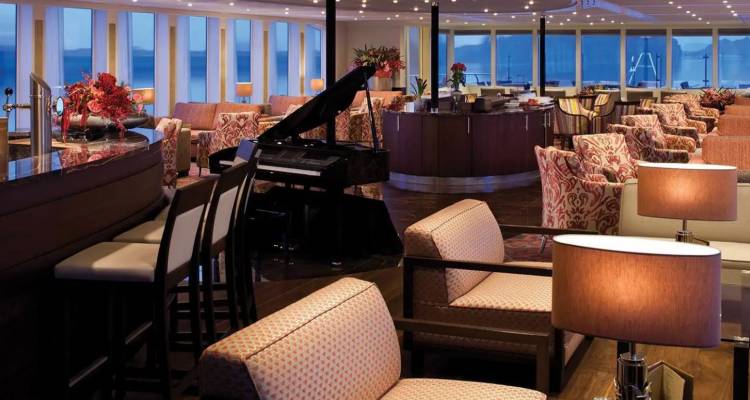 Built

2014

Guests

162
Crew

51

Length

135 m / 443 ft
Staterooms

81

Registry

Switzerland
Gross Tonnage

3600 gt

Beam

11 m / 36 ft
Country Region
Ship Overview
While there are no towers on the AmaReina, you'll feel like royalty in your very own floating castle. Luxurious comfort is afforded by the plush linens and soft robes within the staterooms, most of which feature view-enhancing twin balconies. A pleasing color palette with subtle floral and leaf designs brings you into the breathtaking scenery you'll see outside. Your palace features plenty of public spaces in which to mingle with your kingdom, like the fireside library. The Main Lounge, with its baby grand piano, is the epitome of class and a romantic venue in which to grab a drink. You'll also find fine dining fit for kings and queens in the Main Restaurant and at The Chef's Table, where a multi-course tasting menu will be presented to you. Additional regal amenities include a walking track, heated swimming pool, fitness room, massage and hair salon, and specialty coffee station.
Lavish suites and staterooms featuring two balconies – a French balcony near the sitting area and a two-seater step-out balcony from the bedroom.
An array of dining venues such as the main restaurant and a special Chef's Table offering fine gourmet creations and fresh, local flavours.
Guests can order from a wide variety of delectable tapas at the main lounge.
Beautiful, uncluttered public spaces such as the panoramic main lounge where guests can watch life pass by or exchange stories with fellow guests.
Serviced bicycles for guests who wish to explore the fairytale landscape that lines the river banks when the ship docks.
A lovely Sun Deck with a gorgeous seating area where guests can get a healthy tan and a heated swimming pool with an attached bar where guests can relax.
Luxurious spa treatments and salon services with top of the line products and personalised attention at the ultra-modern hair salon.
Well-equipped fitness room featuring a variety of equipment for guests who like to work up a sweat and stay in good shape.
Broad ranging nightly entertainment including riveting cultural performances from local groups and uplifting music recitals.
Staterooms / Suites
Royal Suite 300 ft² / 27.9 m²
Twin Balcony Suite (Cat P+) 235 ft² / 21.8 m²
Twin Balcony Suite (Cat P) 235 ft² / 21.8 m²
Twin Balcony Suite (Cat T+) 210 ft² / 19.5 m²
Twin Balcony Suite (Cat T) 210 ft² / 19.5 m²
Panoramic Balcony Suite (Cat C) 170 ft² / 15.8 m²
Twin Window Suite (Cat D) 160 ft² / 14.9 m²
Twin Window Suite (Cat E) 160 ft² / 14.9 m²
Panoramic Balcony Suite (Cat B+) 170 ft² / 15.8 m²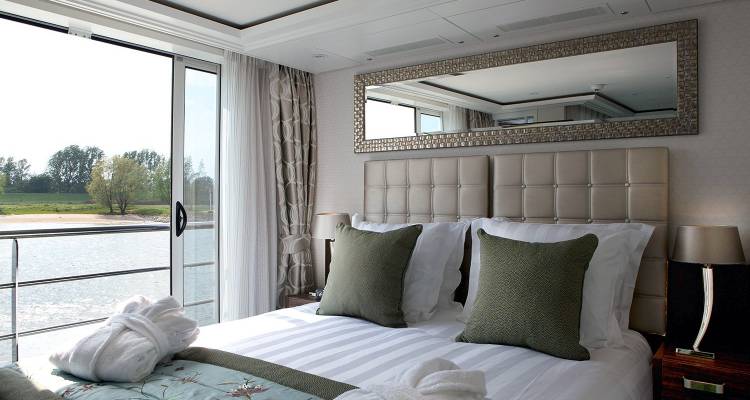 Features
Violin Deck
Up to 2 guests
Panoramic Balcony & Outside Balcony
Suites are extra spacious with exclusive "Twin Balcony" and mini-bar
An enhanced sitting area featuring a sofa and two chairs as well as an expansive bathroom with a bathtub and seperate shower
Each stateroom is equipped with a hair dryer, plush terry bathrobes, slippers and a safe
Your bathroom offers a magnifying mirror and spa-quality toiletries including soaps, body wash, shampoo, conditioner and body lotion
Deck Plans

Side View

Sun Deck

Violin Deck

Cello Deck

Piano Deck (No Elevator Access)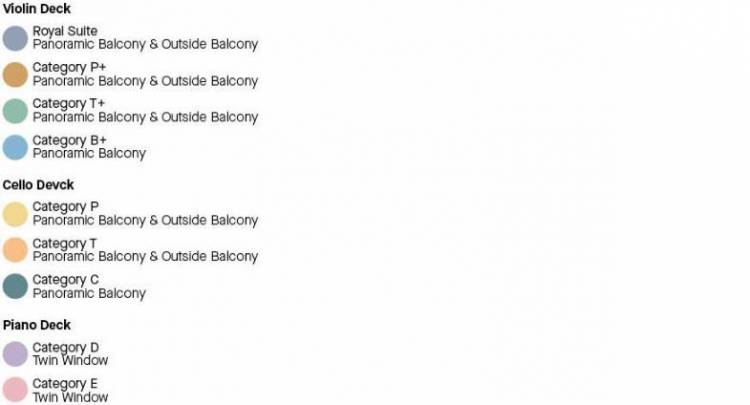 Suite Categories
Dining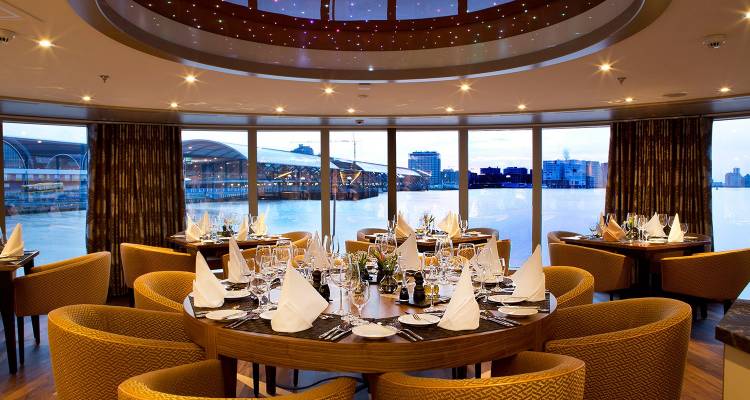 Ship's restaurants include Verde (dining room), Bella Cucina (Italian), Chef's Table (tasting menu), Wine Bar (private), Sun Deck (alfresco). AmaReina offers a variety of dining options for guests' culinary enjoyment. The culinary creations of Chaîne des Rôtisseurs are to devour in the Chef's Table restaurant or in the main dining room. On select days, passengers can enjoy their lunch on the Sun Deck outdoors. AmaReina pampers with gourmet dining and free-flowing wines.