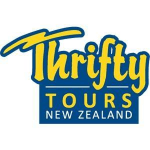 Number of tours

5
Age Range

5-99
Number of reviews

26
Rating

4.6

/5
Response rate

100%
Response time

8 hours
Thrifty Tours Destinations
Health & Safety
Coach Tours

Our coach operators have improved their contact tracing procedures and encourage passengers to bring their own PPE. All activities you partake in will provide hand sanitiser when boarding and will deny attendance to any passenger feeling unwell
Questions & Answers
When is the best time to go to New Zealand?

New Zealand is beautiful in every season, but the best time to come really depends on what you would like to do. Please contact our Travel Experts for any recommendations and we will find a tour for you!

What is the South Island like?

If you love mountains, vineyards and dramatic scenery, then the South is the island you'll enjoy the most. With the Southern Alps running the length of the country you're never far from some of the most remarkable views in the country. Renowned for it's hiking, the South has five of New Zealand's 'Great Walks,' multiple award-winning wineries, glaciers, rainforest, lakes and dusty plains. It is also home to the adventure capital of New Zealand, Queenstown!

What is the North Island like?

If you're more of a sun and sand kind of person, then the North Island is for you. It is significantly warmer than the South Island with many accessible surf beaches, coves and sheltered bays. The North is also home to geothermal Rotorua, all of New Zealand's active volcanoes, and the country's capital city Wellington. It boasts the longest beach in New Zealand (Ninety Mile Beach) and its sub-tropical Bay of Island region is renowned for its white sand and crystal clear waters. Perfect for that tropical paradise!

Which island should I visit? The North, South or both?

This entirely depends on your travel times. Ideally, you would do both! Both islands are stunning and each island has unique individual attractions. However, if you have limited time we recommend choosing one island to thoroughly explore as opposed to trying to rush them both. There's always next time!

Do the coaches have toilets on board?

Thrifty has a fleet of modern coaches that have an onboard bathroom. However, for some travel periods, Intercity coaches will be used and these coaches do not have bathrooms on board. Please keep in mind that the coaches on all tours will usually stop every two hours on average for bathroom breaks and photo opportunities.

What time do the coaches leave?

Each tour has a different start and end time. Please contact our Travel Experts if you require a daily breakdown for the tour you are interested in.

What are the coaches like?

Thrifty has modern coaches that are fitted with superior suspension for comfort, air conditioning, reclining seats and an onboard bathroom. Please note that for some travel periods Intercity coaches will be used and therefore bathrooms may not be on board. Either way, the coaches are comfortable and guarantee you spectacular views!

What is an independent coach tour?

An independent coach tour is like a bespoke self-drive holiday without the driving.

 Where you would need to arrange your plans around an organised tour itinerary, Thrifty's customised coach tours are unique to you. They fit around your flights and any other commitments you might have while you are in New Zealand. Explore New Zealand your way!
Contact our Travel Experts
+1 844 311 8331
24/7 Support
Our team of experienced tour specialists have travelled to hundreds of countries around the globe and have decades of first-hand travel experience to share. Contact us now to have all of your tour-related questions answered!