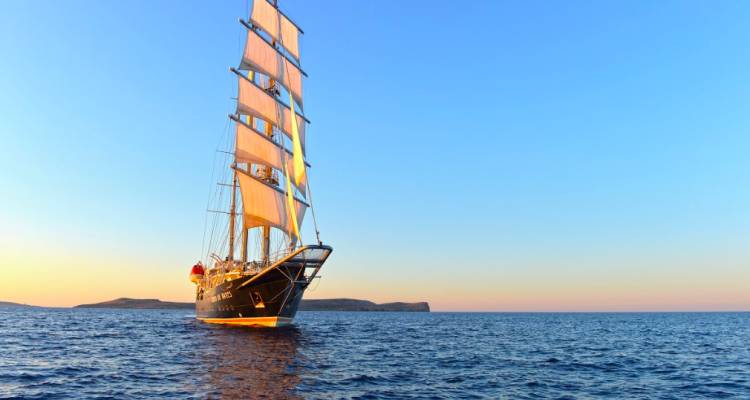 Built

2011

Guests

42
Crew

21

Length

64,00 m
Gross Tonnage

630

Beam

9,50 m
Cruising Speed

10 knots

Engines

Volvo Penta D16MH
Draft

3,20 m

Islandss
Ship Overview
RUNNING ON WAVES is a three-mast sailing vessel, rigging type – barquentine.
With the length (LOA) of 64 metres, she is one of the biggest sailing yachts in the world.
Classification by PRS: KM Sailing Passenger Ship 1 (+ 100 A5 by German Lloyd), implies unrestricted sailing region, except for glacial zones in wintertime.
According to SOLAS convention, the highest safety standards are maintained on board a vessel of this class, the same as would apply to a cruise liner carrying thousands of passengers.
"Running on Waves" operates under the flag of Malta.
The ship was conceived to combine maneuverability of a sport yacht, the highest standards of comfort and decor, and a shallow draft that allows calling at small marinas inaccessible even to many a big yacht, let alone cruise liners. The unmatched draft of 3.2 metres was made possible owing to a brilliant idea to use lead ballast.
The uniqueness of a number of technological solutions confirmed by the US Patent Department.
Every guest of ours enjoys 15,5 square metres of available open teakwood deck space, that is three times more than aboard most expensive cruise ships and would befit a most prestigious private mega-yacht.
The policy of the Company is to always keep the boat in a mint condition. That is why, despite her tender age, we do profound refitting every winter, so that in Spring she welcomes you in full glamour of perfection.
Sails are our main driving power, thus we boast unbeatably low level of fuel consumption, on average 75 l per hour only, which is about 10 times lower than on a motor boat of a comparable size.
Premium comfort notwithstanding, RUNNING ON WAVES is nothing close to a floating hotel or a museum on water, she is a supercharged windship, and with favourable wind can run at 16 – 17 knots under sail.
The ship's superbly efficient ratio of sailing surface to displacement 2 sw.m/t makes her one of the fastest sailboats of old and new times.
To make sailing comfortable at any sea conditions, cutting-edge technologies were used, such as pitch-killing stabilizers, while sophisticatedly calculated mass distribution prevents the hull oscillation frequency from resonating with the frequency, which affects human vestibular system.
There are desalinators on board which account for the unlimited supply of fresh water.
Air–conditioning throughout the vessel makes you feel a sheikh even in hottest days of Mediterranean summer.
Our state-of-the-art hydraulic ramp at the stern of the vessel allows for a direct access to water for swimming and water sports.
Staterooms / Suites
Mini-Suite Cabin Main Deck (215 ft²)
Premium Cabin Main Deck (193 ft²)
Premium Cabin Main Deck (172 ft²)
Premium Cabin Main Deck (150 ft²)
Standard Cabin Tween Deck
Pullman Standard Cabin Tween Deck
Standard Cabin Tween Deck (118 ft²)
Cabin Tween Deck (24) (118 ft²)
Cabin Tween Deck
Cabin Tween Deck (118 ft²)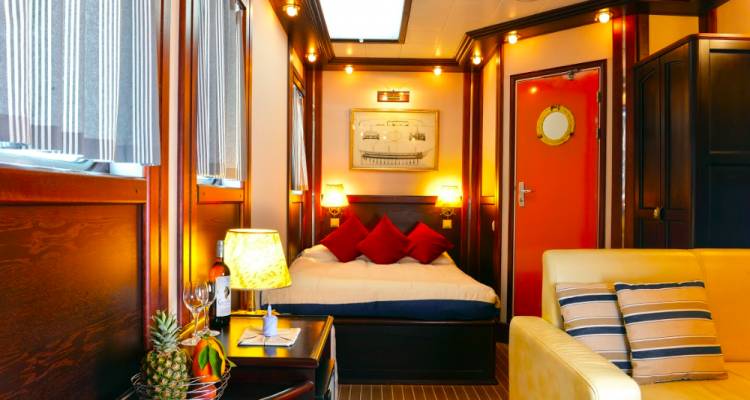 Dining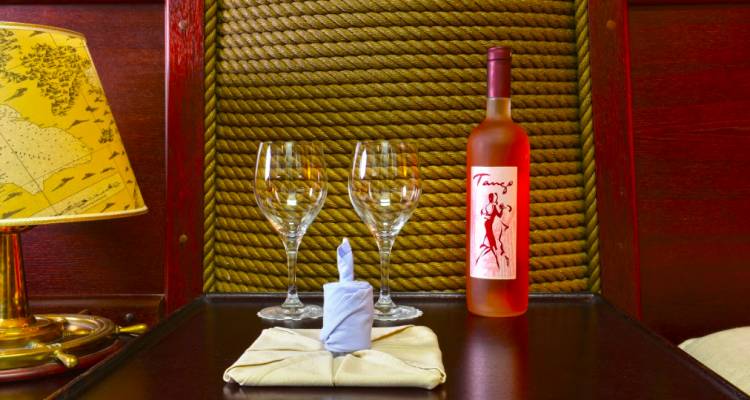 The restaurant located on the Main deck is ready to please the ship's guests with delicacies of Mediterranean cuisine. A fantastic Ocean Bar, located in front of the restaurant in the central part of the deck, offers refreshing drinks and exotic cocktails.
You can enjoy your breakfast seated on comfortable sofas located in the cockpit, aft of the ship. Smoking is not prohibited in this zone.
An observation deck in the fore of the ship is above the bowsprit, creating the feeling of flying over the water!
MS Running on Waves Tour