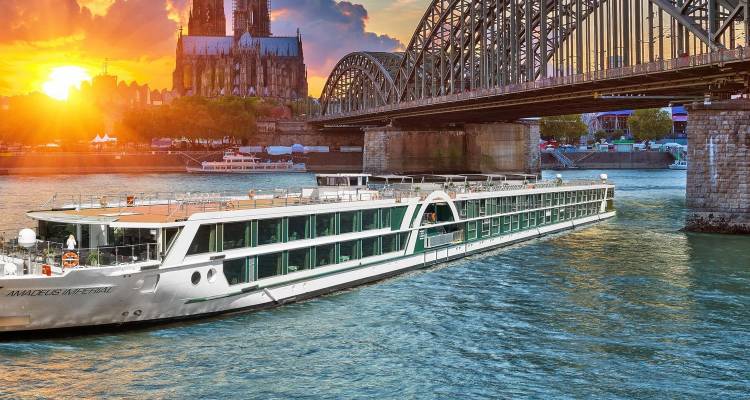 Built

2020

Guests

168
Length

135 x 11.4 m

Width

443 x 37.5 ft
Suites

12

Staterooms

72
River

Country Region
Ship Overview
Launching in April 2020, the AMADEUS Imperial is designed to offer our guests an effortless combination of the vibrant energy of a river cruise day with an increasingly calm and intimate ship experience.
The new ship offers 72 spacious deluxe cabins (17.5m2 / 188 sq.ft.) and 12 AMADEUS suites (26.4m² / 284 sq.ft.) in total. As on all ships built since 2011, the AMADEUS Imperial cabins on the Mozart and Strauss decks also feature lowerable panoramic windows along the entire cabin width. All deluxe cabins and suites are equipped with comfortable, spacious bathrooms, an infotainment system, a flat screen television, a telephone, a cabin safe, a minibar and individually adjustable air conditioning. The suites also have an accessible outdoor balcony with a seating area.
Spacious sundeck with shaded seating area and comfortable lounge chairs.
The special atmosphere of the AMADEUS Club at the stern of the ship – a successful combination of a stylish exclusive club with a library and a bar.
The "River Terrace" at the bow of the ship with its proven design – a glass protected seating area which offers unparalleled views of the passing river scenery and, at the same time, provides protection against the wind and rain.
Fully equipped modern fitness area.
Hair salon and massage services.
Tastefully furnished panoramic restaurant which accommodates all passengers at the same time.
Panorama Bar which offers space for talks and events and is the venue for the evening performances by the AMADEUS musicians.
Latest Wi-Fi system on the rivers.
Elevator between decks.
Reviews
Written on September 30th, 2022

Written on August 7th, 2022

Written on July 17th, 2022

Written on July 5th, 2022

Written on May 26th, 2022
Staterooms / Suites
Suite (26.4 m² / 284 sq.ft.)
A-1 Cabin (17.5 m² / 188 sq.ft.)
B-4 Cabin (17.5 m² / 188 sq.ft.)
B-1 Cabin (17.5 m² / 188 sq.ft.)
C-1 Cabin (16 m² / 172 sq.ft.)
C-4 Cabin (16 m² / 172 sq.ft.)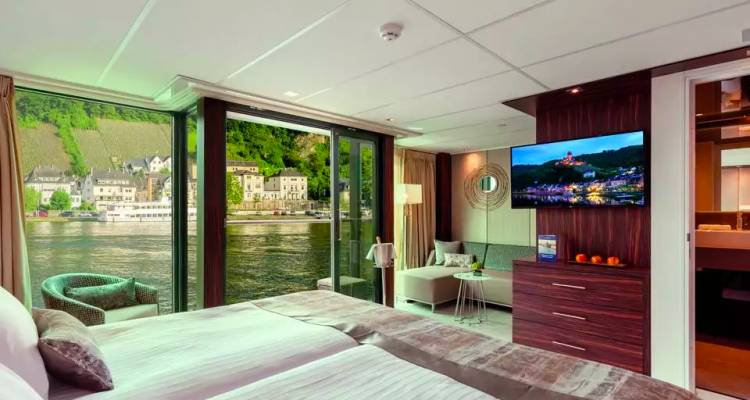 Features
Comfortable corner sofa, luxurious bathroom, walk-out exterior balcony, mini-bar, walk-in wardrobe, choice of bed configuration (double or twin bed), flat-screen television, individual climate control, en-suite bathroom with shower/WC, bathrobe, hair dryer, direct dial telephone and in-room safe.