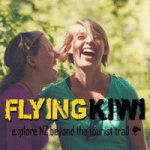 Number of tours

5
Age Range

10-70
Number of reviews

99
Rating

4.6

/5
Response rate

96%
Response time

within 2 days
Written on April 12th, 2021

A totally mixed group (nationalities and age) with great guides. Very good experience! I would have loved to be able to continue for the whole 28 days!

Hot Rocks Tour 10 Days - Top rated by National Geographic

Written on March 31st, 2020

Guides were great along with the variety of activities available and the people you meet on tour. Will definitely do a South Island trip in the future. Great th…

Read more

Flying Kiwi commented on this review

Thanks for the review Rachel, pleased to hear you enjoyed your trip. We look forward to seeing you on board touring the South Island with us sometime soon :)

Written on March 20th, 2020

New Zealand is beautiful and energizing and the people we met were just great on the tour. There were many highlights to applaud but I want to point out that so…

Read more

Flying Kiwi commented on this review

Thank you for your review Nancy. The farm stay is a highlight for many as they love it's rustic and remote charm. Sam and Janelle indeed do a wonderful job as do all of the team. We do include many things on our trips but items just as skydiving etc will always be optional and up to each individual to choose as to their wants and budgets. All the best Nancy in these difficult and challenging times ahead we are all facing with Covid-19.

Northern Wanderer from Auckland - top rated by National Geographic

Written on March 17th, 2020

This was a great trip, exactly as it was advertised. The tour guide Janelle and the bus operator were great hosts and fun to be around. If you are seeking a dif…

Read more

Flying Kiwi commented on this review

Thanks for the great review Gordon and so pleased you loved your trip :)

Nadine

Beach It from Auckland - Top rated by National Geographic

Written on March 13th, 2020

This tour surpassed my expectations. It driver and guide were great. Nothing was too much trouble. We had a great group that gelled from the start and mixed re…

Read more

Flying Kiwi commented on this review

Thanks so much for the review Nadine and so pleased you loved your tour. :)

Written on March 11th, 2020

It was a great trip but the previous rains prevented us from doing some activities that we were planning to do.

Flying Kiwi commented on this review

Thanks so much for the 4 star review Martin. We are sorry you were a bit unlucky with the weather but great to hear you still had a great trip.

Craig

Southern Light from Picton - Top rated by National Geographic

Written on March 11th, 2020

Such a good experience never forgotten

Flying Kiwi commented on this review

Thanks Craig and so pleased you enjoyed the experience.

Written on March 11th, 2020

way way too rushed. NO time for farewells on final morning, especially when breakfast being packed in bus at 6:45....NO TIME TO EAT the breakfast we paid for. …

Read more

Flying Kiwi commented on this review

Thanks for the feedback Martha and we are sorry to see you felt rushed on that last day but pleased you enjoyed the rest of the North Island. We are very concerned about your comments of not having time to eat as mealtimes are a fun and integral part of all our trips. The last 2 days we do cover more kms than many other days but this is broken up into sectors. Its worth mentioning that many tours do the whole country in 21-24 days so our route at 28 days involves less driving than most. As you mentioned we arrive after dark as we took the time to enjoy a wonderful dinner by the beach first. Our guides also provided a FREE upgrade to a lodge instead of camping so there was no setting up required. It is an early start the final morning with breakfast laid out 30 mins before we head off so everyone can help themselves - we are really sorry if for any reason you missed this. All feedback goes into our training and guide processes so we will do whatever possible to make sure this very unusual occurence cant be repeated.

Written on February 29th, 2020

Excellent. I am very happy about every aspect of this trip. The only suggestion for change is about the long hours and lack of days off for the bus driver and o…

Read more

Flying Kiwi commented on this review

Hi Aleksandra, thank you for your review it's great to hear you enjoyed your trip. Drivers and guides at times choose to work additional days during the busy season but don't worry we always ensure their work hours fall within the legal logbook rest/work hours required. Theirs and your health and safety is at all times our top consideration. Thanks again and hopefully we'll see you back on board one day. Regards the Flying Kiwi team.

Wild West from Queenstown - Top rated by National Geographic

Written on February 27th, 2020

Fantastic Tour! Great guides, good food, new friends, and beautiful outdoor experience

Flying Kiwi commented on this review

Wonderful! Great to hear, thanks for the review Lisa :)
Flying Kiwi Videos
Questions & Answers
How much personal spending money should I bring?

As a general rule, it comes out at around NZD$30 per day, depending on the person. Things like meals, accommodation and transport along some free activities are included. There are optional activities you will need to budget for as well as some meals which are not included in the itinerary.

What is a bush camp?

A bush camp is a campsite usually in a remote or wilderness location. They have limited facilities, usually just a long-drop toilet with a great view!!

Is there mobile phone coverage?

Most of our north island camps have network coverage available. For approximately ½ of the camps in the south island there is no network coverage. As this is an outdoor trip, please respect that some of our passengers have come to escape the rat-race and keep your phones on silent or give yourself a break and turn-off your phone for a few days you never know what you might hear instead.

Where can I charge my camera, phone, batteries, i-pod or MP3 player?

These are regularly available at the commercial campgrounds and some of the buses are also able to charge some of the appliances.

Are activities included in the price?

There are walks each day which are free. Bike rides are also free as long as you have hired a bike. All other optional activities have an associated cost. These can be found on the activities section of the website or in our activity guide on board the bus. Apart from the Routeburn walk and Dolphin Swimm in Kaikoura, these do not need to be booked in advance. Your driver/guide will give you the low-down the night before of what is coming up the next day and you just need to let them know what you would like to do, they take care of everything after that.

I'm a vegetarian or have other dietary requirements – is that a problem?

No problem at all, we are used to catering for all kinds of dietary requirements and as we cook for ourselves we can easily accommodate your needs. Just let us know when you book.

What does the tour leader/assistant do?

Your tour leader/assistant are there to provide you with a wealth of knowledge about New Zealand – history, culture, and trivia as well as recommending and booking activities, doing the shopping and helping with the cooking, and getting you from A to B each day. They are walking guidebooks always there to help and entertain! Please be gentle with them – good guides are hard to find.

It's Summer. Do I really need thermals and a fleece?

Yes! We can experience extreme weather even in the summer.

What footwear do we need?

You'll need to bring a decent pair of comfortable footwear, that you can walk in comfortably, trainers are ideal. Hiking boots are good but not essential. It is also good to bring a pair of flip-flops, sandals or thongs (depending on whether you speak NZ English, Oz English or just English) for the camp showers.

Is the Interisland ferry included and how much does it cost?

The Interisland ferry is included on trips that traverse both islands, the Ultimate Explorer, Grand and Reverse Traverse. The other trips it is not included but Flying Kiwi can book this for you, you just need to contact the office.

Is it ok to travel alone on Flying Kiwi?

Flying Kiwi is perfect for people travelling by themselves. New Zealand is a relatively safe country and the communal nature of our tours means that you will have plenty of chance to chat while chopping veggies for dinner or washing the dishes.

What's the average group size?

Our buses range from 20 seaters to 30 seaters with an average group of about 18 and a max of 24. We keep them smaller so you can see and do more and because we find that that groups of this size simply work better.

How fit do I have to be?

You don't have to be super-fit to travel with Flying Kiwi – all walks, bike rides and activities are optional and they range from light strolls to full day hikes in Alpine terrain. Easier options or alternatives are always available. Your driver or guide is always discuss the level of fitness required. Or if you are happy to sit on the bus and watch the world go by that is also ok.

What is the average age of travellers on Flying Kiwi

The average age of a Flying Kiwi passengers is about 27. The majority of people are between the age of 20 and 40 but age is just a number and if you want to come and enjoy the New Zealand outdoors then you are welcome on-board. No matter what your age we find we attract people who want to meet other travellers, and get out and enjoy the great outdoors.

Do I need to book my own accommodation?

No as this is a camping trip, we will pre-book all of the tent sites around the trip, all you need to do is put your tent up when you arrive. For some trips there are a maximum of 3 nights accommodation at your own expense but we will help you reserve that in advance. Unless you tell us otherwise for these nights we will book you into a dorm room. Singles and doubles are available on request and subject to availability. You are free to book your own accommodation if you wish.

Is it a party bus or outdoor adventure tour?

Flying Kiwi's main priority is the great New Zealand outdoors in all its forms whether you are a keen cyclist, walker, water fan or adrenaline junkie there is something for everyone. In the evenings you are free to do as you choose but due to the remoteness of some of our locations, we will have a bonfire on the beach, a barbeque or just sit and watch the stars. We do have a couple of optional big nights out on the circuit if you want to let your hair down.

Do I need a backpack or is a suitcase ok?

Suitcases are fine – you don't need to walk great distances with them just between your tent and the bus. The majority of the time while you're doing activities they will be stored away in the trailer or under the bus. Please try to limit the weight of your main bag to 20kg. A good day pack (small rucksack) or bag you can carry easily is recommended for water bottles, towels, cameras etc.

What is the weather going to be like?

New Zealand experiences extremely changeable weather. Some days temperatures can be touching 30 degrees and later the same day freezing if a cool southerly wind comes if off the sub-Antartic. Our trips are flexible and work well whatever the weather.

Can I hop-on and off the bus?

Flying Kiwi does not operate a hop-on/hop off bus service. However it is possible to take 9-day breaks within the trips to allow you, to explore some more of New Zealand that isn't covered in the Flying Kiwi itinerary, catch up with friends or just relax in one place.
Contact our Travel Experts
+1 844 311 8331
24/7 Support
Our team of experienced tour specialists have travelled to hundreds of countries around the globe and have decades of first-hand travel experience to share. Contact us now to have all of your tour-related questions answered!