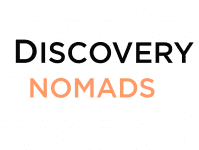 Number of tours

77
Age Range

18-99
Number of reviews

179
Rating

4.0

/5
Response rate

88%
Response time

within 1 day
Lynnmarie

Written on June 17th, 2022

My friend and I just returned from this tour and absolutely loved every minute of it. TourRadar was flexible and allowed us to swap out Rome for Cinque Terre at…

Read more

Written on May 19th, 2022

our trip was just ok. If you do some research on your own, I think you will be much better off and getting to see more interesting stuff. A lot of long walking…

Read more

Discovery Nomads commented on this review

Hi Alexandra! Thanks for a review. The hotels we booked you in were H10 London Waterloo, Holiday Inn Paris Gare de l'Est, NH Amsterdam Museum Quarter. Those are nice hotels and very centrally located. All the hotels were paid by us, however as written in the tour description, city tax is paid directly at the hotels. For your trip is was about 25 EUR in total. Anne Frank visit is not included in the tour, neither in the brochure, you only get a glimpse of it on the walking tour in Amsterdam. We also offer additional sightseeing tours like Anne Frank and others and can always customise the tour to meet your requirements. The trip is scheduled months in advance, but we send the final documents 10-20 days before the departure. Hope you will find this useful. Best, Discovery Nomads

Hannah

Tourradar did a great job organizing the trip although my preference would have been more catered point to point transfers as aside from the skeleton of the tri…

Read more

Written on April 17th, 2022

Very poor organized tour. The local guides are not well trained with limited English. All you have are hotel booing and train tickets.

Written on April 14th, 2022

Tolle Tour man sieht in kurzer Zeit viele Sachen.

snabel

Written on April 4th, 2022

this trip was an over expensive mess. I'm still waiting on my refunds. they have missed tours because the agent forgot to confirm the booking. they have missed …

Read more

Discovery Nomads commented on this review

Hi Snabel! Your tour ended on April 3 and you received the refunds on April 7. We have refunded the helicopter tour you missed cause you didn't go and the transfers. The problem with the transfers was that since Australia just recently reopened, companies are missing on clients and because they can only operate when the minimum number of customers met, if not they unfortunately have to cancel last minute. This what happened and we advised you to take a taxi which was refunded afterwards. We hope you enjoyed your stay in Australia and luxury hotels you were booked in: Sofitel Sydney, Pullman Cairns, Radisson Melbourne, DoubleTree Hilton Perth. Best, Discovery Nomads

Written on March 19th, 2022

The European highlight tour was a great way to experience a lot of Europe in a short time. Spend some time double checking trains and departures the day prior a…

Read more

Jennifer

Written on March 9th, 2022

I don't like to give bad reviews but I didn't not like that I was charged a single supplement fee but yet all the hotels that were booked were for 2 people if I…

Read more

Discovery Nomads commented on this review

Hi Jennifer! A single supplement is an additional fee paid by a guest who is traveling alone. We don't offer shared accommodation with other travellers so single supplement is mandatory. The cost of a single supplement varies by trip. All hotels were booked for you only. Complimentary breakfasts are included in some hotels, not all hotels as per tour description. Hotel Mai Amsterdam is located in the heart of the city, steps away from the Dam and all the main attractions. Hope this explains your questions. Best, Discovery Nomads

Written on March 9th, 2022

The tour was fantastic! We stayed in luxury hotels and in Paris our room had a view of Eiffel Tower! Couldn't wish for a better hotel and breakfasts were to die…

Read more

Written on March 9th, 2022

We had great time in Canada! All hotels were great, perfect locations. Guides were friendly and helped us with restaurants reservations. Only downside it's real…

Read more
Discovery Nomads Destinations
Questions & Answers
Where can I find more detailed information about this tour?

A Voucher which contains essential information about your trip will be given to you. Information such as the daily itinerary, where to meet your guides for sightseeing tours, hotels information, train departure/arrival times, included activities, etc will be mentioned in there. The Voucher is available 10 Days before the departure.

How do I get to Hotels?

Hotels are located close to the train stations so it takes about 10 minutes to get to your hotel from the train station.

How do I meet the local guides?

You will meet the local guide for all the sightseeing tours and activities. Meeting points usually located close to the visited sites eg Eiffel Tower, Colosseum, etc. You need to get to the meeting point by yourself using public transportation.

Is it possible to customize the tour and add a few other cities?

Yes, it's possible to customize the adventure to fit you just right. We can add more days to the tour and even other cities, just let us know where you would like to go and we will do the rest.

Is it possible to add pre and/or post accommodation to the tour?

Yes, we offer pre/post accommodation for all our tours, please request a quote.

Is there an airport pick up included for Discovery Nomads Tours?

Airport transfers are not included in our tours, but we offer them as an extra, please request a quote.

What does road trip adventure mean?

Road Trip Adventure is the most exiting journey, you will get a car (full insurance cover, of course) and drive along the most scenic routes in Europe or US, stay in design hotels and meet your local guides in each city along the way, there's lots of activities included and the routes are organized that way so you enjoy driving and won't get tired.

What is the age limit for this tour?

Participation in a Discovery Nomads Tours is eligible for 18 years old adult. Anyone under 18 must be accompanied by a parent or guardian for the entire journey.

Is it possible to get a list of hostels or hotels for the tour?

A list of hotels is not available in advance, as it's still being confirmed by Discovery Nomads in the lead up to the trip departure. Nevertheless, the travelers can expect comfortable centrally located 4* stars hotels from top brands like Hilton, Marriott, Novotel, Mercury, Ibis, Radisson, Best Western, Starwood hotels, etc.

What does single supplement mean?

If you are travelling single, then a single supplement is mandatory and you will get your own room at our designer's hotels. The additional price is quoted in 'What's included' section. We do not offer shared rooms with other travelers that you are not acquainted with.

Why Independent Adventures?

If you like to your own room at design 4 stars hotels, travel by train and/or plane instead of wasting time in the bus, have some free time when you are travelling, dine in local restaurants and enjoy great value when it comes to the cost of your trip, then an independent vacation may be the perfect style of travel for you! We arrange all of your hotel accommodations and transportation on an independent package (like an escorted tour), but there are some differences. On an independent trip, you will not be part of a group and you will have more freedom to spend your days exactly how you were dreaming about. You will meet a "local guide" and join a small group of other travellers in each of the cities you visit for sightseeing activities and city tours. The "guide" is a local so don't hesitate to ask him about all the "insider's" places and anything you want to know. Only breakfasts are included on our trips, allowing you to choose restaurants that best suit your tastes and budget. Though we will send you some tips where to try the best local foods and drinks. We know that they are the best because we have been in each and every place we recommend! On independent adventures we provide you with any additional service you possibly could want to. If you need a private transfer from the airport to hotel, tickets to museums, theatre or concert, a day trip to the best wineries in Tuscany in Italy or boat trip to Whitsundays in Australia or maybe spend a few more days in Paris, we are here to make it happen! That's the beauty of independent adventures - your trip can be perfectly tailored to your needs.

What does traveling independent mean?

You will be traveling without tour groups and nerving tour leaders. A local English speaking guide will meet you at each city along the way, and we'll take care of pesky stuff like transport, accommodation, city tours and other activities but the rest is up to you.
Contact our Travel Experts
+1 844 311 8331
24/7 Support
Our team of experienced tour specialists have travelled to hundreds of countries around the globe and have decades of first-hand travel experience to share. Contact us now to have all of your tour-related questions answered!