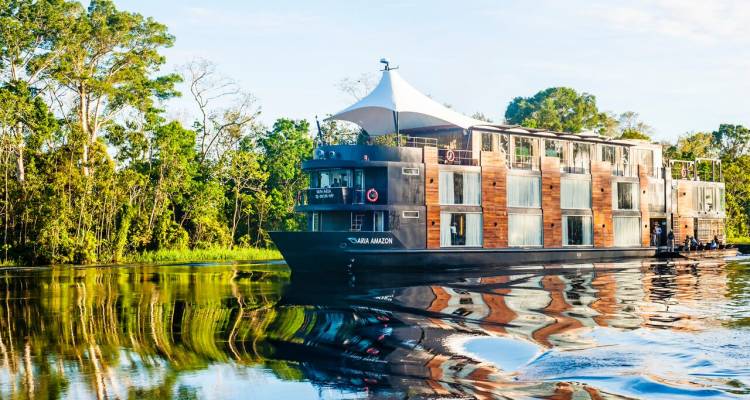 Guests

29.5feet / 9m

Built

147feet / 45m
Crew

5feet / 1.5m

Length

500 tons
Width

12knots

Suites

220 volts
Staterooms

2 new Cummins 400HP Marine Engines

Registry

2x 135 KVA Cummins
Rivers

Country Regions
Ship Overview
Built: 2010
Port of embarkation: Iquitos, Peru
Vessel's Registry: Peru
Type of Vessel: River Expedition Vessel
Water: 9000-liter water treatment plant
Safety: Radio communication with separatebattery pack, satellite phone, life jackets, flares andsignals,fire extinguishers and smoke detectors in each cabin, automatic defibrillator on board.
Launch Boats: Fourauxiliary aluminum launch boats equipped with four-stroke low emission engines;constant radio communication with the main vessel. Each boat has a capacity of 8 passengers.
Crew: 27, including a cruise director, paramedic and 4English-speaking naturalist guides.
Accommodation: Up to 32passengers with private facilities(Additional accommodation for one child in each cabin)
Cabins: 16suites:
• 8DesignSuites on firstdeck
• 8DesignSuites on seconddeck
-All outside-facing with large panoramic windows
-All air conditioned with en suite sitting areas
-4 interconnecting suites for families
Cabin features: Twin beds that can be converted to a California king-sized bed
En suite sitting area
Internal communications system, bathroom with shower, toilet, sink, cabinet, hairdryer, and a basket oftoiletries.
Hot water around the clock.
Social Areas:
Indoor Bar
LoungeDining Room
Outside Lounge
Outdoor Jacuzzi
Exercise Room
Massage Room
Observation Deck
Boutique
Staterooms / Suites
Design Suite First Deck
Design Suite Second Deck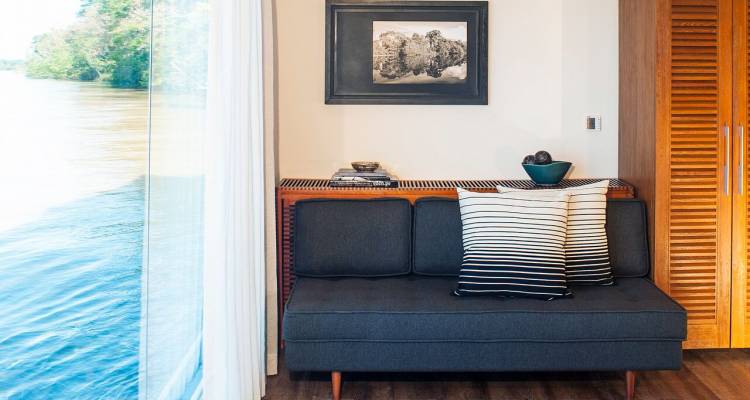 Features
Ensuite Bathroom
Air-conditioning
Large windows
Double bed
Twin beds
In-room safe
Hair dryer
Toiletries
Storage space
Lounge area
Amazing view
Outside cabin
Deck Plans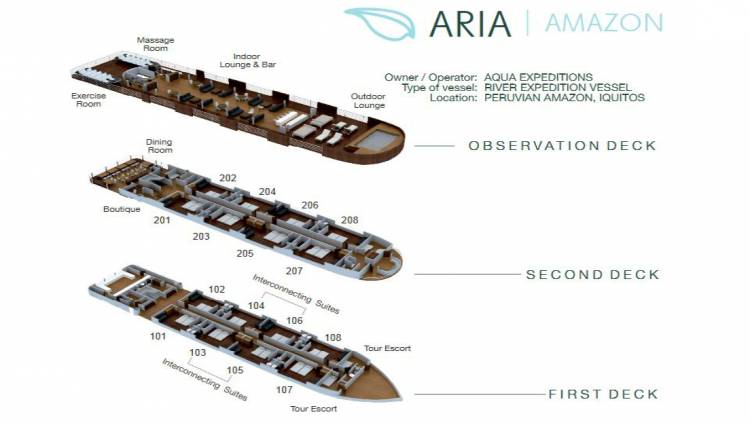 Dining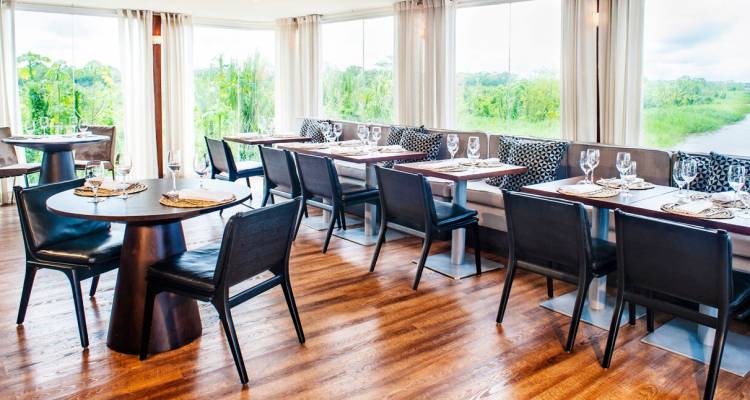 Executive Chef Pedro Miguel Schiaffino's Amazonia-inspired cuisine offers up plenty of reasons to take one's eyes off the captivating landscapes showcased by the floor-to-ceiling windows which define this elegant space.
Designed to balance the stunning scenery, the refined interior of the Aria Amazon dining room has been stylishly finished with contemporary Peruvian art, fine china and crystal glassware. These aesthetic elements are matched by attentive, personalized service from long serving staff that quickly learn guest names and tastes, from Peruvian coffee in the morning to the evening's fine South American and European wines.
Choose to dine à deux, or family style among new friends. Whatever dishes you choose among Schiaffino's fresh, ever-changing modern Amazon jungle influenced menus, perhaps the hearts of palm soufflé followed by an Amazon bass tiradito, do save room for dessert, be it a warm banana tart or classic chocolate fondant.