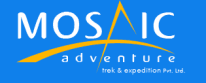 Mosaic Adventure
Headquarters in Kathmandu, Nepal
OVERALL RATING
5.0/5 - Excellent
See all tours

Save up to 70%
across the globe
ends on 27 Nov 2017
1 Mosaic Adventure Review
Excellent

100%

Good

0%

Average

0%

Rather Poor

0%

Bad

0%
Accommodation

5 / 5

Transportation

5 / 5

Meals

5 / 5

Value for money

5 / 5

Guide

5 / 5
Write a review
Looking for a specific tour?
17 Mosaic Adventure tours
Check it out
About Mosaic Adventure
Mosaic Adventure is travel and tour organizer that is based in Kathmandu, Nepal. We have a team of the experienced, dedicated and enthusiastic youngsters who have spent a great deal of time in the field of tourism industry. Rajendra Sapkota, The CEO, has an in-depth knowledge in the sector and has spent most of his life in the tourism sector. The management team of Mosaic Adventure is thoroughly professional and works very hard to earn all important reputation and recognition. Mosaic Adventure provides almost everything that one could possibly expect in a trek and an expedition or in a complete holiday package. This must be why the organization has earned the most loyal clients and their applause. Our motto is to serve the clientele wholeheartedly and we love our job to the bone. Ask anyone who we have served and they have only one thing to say, you couldn't be in better hands than the Mosaic Adventure. Hard-earned popularity and recognition do not come for nothing. We offer you the wide variety of choices from specialized packaged tours to tailor-made holiday trips throughout Nepal, Tibet & Bhutan, and from Himalayan foothill trekking to religious pilgrimage tours to places like Lumbini or Muktinath. Moreover, we offer you the best trekking, peak climbing, sightseeing at cultural heritage site like Durbar Square, Jungle Safari trips, special interest tours and Adventure holidays that include bungee jumping, rafting, paragliding and cycling. You name it and we serve you the fun-filled tour you have chosen with guaranteed safety, personal care, concern and effort. Proper communication, endeavor to build up a rapport, and utmost satisfaction of the clients are a must to run an organization smoothly. These are the rewards for any team that works as hard as we do. We do not try to send them back home once they have travelled with us but we try to make our clients come back and travel with us again the next time they come here. What we aim at! Nepal is one of the most ecologically and geographically diverse countries in the world. It has the sky-rocketing mountains that are as high as 8000 meters and more and the treks routes along their feet. And it also gives people the shot at the safari to the tropical jungles where they can encounter rare and endangered wild life. This is the diversity that keeps the tourists coming back. Nepal is blessed with next-to-perfect climate and boasts climatic ranges, temperate to tropical climate and from tropical climate to bone chilling cold climate. This presents the tourists who visit Nepal with the opportunity of witnessing diversified flora and fauna which no other countries in the world can offer. People think of Himalayas, beautiful lakes and other natural heritages when they think of Nepal. But very few people know that there is more to Nepal than just natural landscapes. Nepal is as diverse in culture, food and life-style as it is in nature and ecology. At Mosaic Adventure, we use our tour packages, holiday trips and trekking programs to meet our business objective and targets. As we strive to achieve our goals we are aware of the fact that our first and foremost priority is the interest of our guests and clients. Mosaic Adventure wants to serve these exclusive information to your doorsteps and provide you with your chance to experience everything firsthand. Once you have visited Nepal, you will be proud to say to yourself and to others that Nepal has everything they say they have and Nepal is everything they say Nepal is. If we get our clients to confess this we will consider this our greatest success and the highest paid rewards. Thus, with this aim in mind, heart and soul we have been trying for years to reach out to the people like you who love travelling, adventure sports and different cultures. We vow to serve our clients to the best of our ability and try and ensure that they enjoy every second of their trip with us. Also, we are committed to keep our words and our sole aim is to make sure our clients are going back home with the rich experiences of the visit of Nepal which they think is the most cherished moment of their whole entire life. Mosaic Adventure is a government registered trekking company and registered with the Ministry of Tourism and Civil Aviation Department of the Tourism Industry, the Ministry of Industry Commerce and Supply office of Company Registrar, the Department of Small and Cottage Industry, the Ministry of Finance Department of Tax and Inland Revenue Department and the Nepal Rastra Bank Foreign Currency Regulation Department. We are also an active member of trekking agent association of Nepal (TAAN), Nepal mountaineering association (NMA), and a lifetime member of Kathmandu Environment Education Project (KEEP). We are an authorized licensed holder that allows us to operate tours and all tourism related services in Nepal such as trekking, air ticketing, hotel reservations, peak climbing, vehicles rentals, paragliding, trekking & mountaineering permits, rafting, etc.
Mosaic Adventure Photos

Popular for Mosaic Adventure
Questions & Answers
We are there for you! If you have any questions about this operator, then please don't hesitate to contact us 24/7 and we will get back to you latest within 2 hours!