Your Adventure Begins Here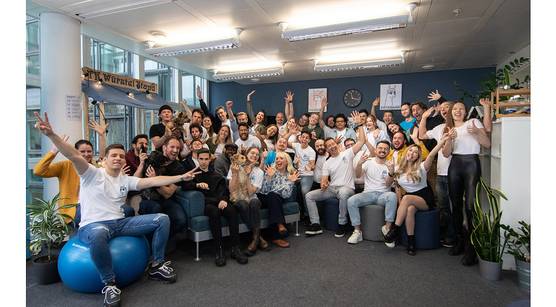 At TourRadar, our core vision is to connect people to life-enriching travel experiences. We deliver this to our customers through the adventures we offer and our team members through our diverse and unique culture, grounded in a love of travel.

The culture at TourRadar takes different forms - the daily foosball games, the collaborative product planning sessions, the monthly CFO (Chief Fun Officer) events, the friendly chat with teammates by the coffee machine, and our innovative spirit.

Being a member of the TourRadar team means having unified goals and objectives, ensuring that we always win as one. We empower our teams to achieve their best by cultivating a challenging, collaborative environment (one that happily welcomes office pups!). While the responsibility for excellence remains yours, as a team of like-minded, creative professionals, we'll always support your efforts. 

Our culture enables our success. Through diversity, open and respectful values, and an ever-playful attitude, you'll do more than just evolve your career - you'll enjoy every experience along the way!
Values
Customer comes first

With every campaign launched, every product designed and every booking made, our travelers are the core of everything we do. We live and breathe travel, so it makes perfect sense that helping customers fulfill their own travel goals is what fuels us.

Embrace the growth mindset

Even the best-laid plans may go awry, but when we fail, it's how we learn from these mistakes and what we do next that makes all the difference. We rise to challenges head-on, together, instead of being overwhelmed by problems that lie ahead.

Honesty above everything

By sharing our successes and highlighting our failures, we learn from them. Every team member can see the objectives of anyone else in the company. We believe that when you commit to and celebrate transparency, you achieve more, faster, and with a clear perspective.

#LDTS

#LDTS stands for Let's Do This Shit. While it mostly describes itself, we use it whenever we need to celebrate good news, pump our teams up, or summon the energy to accomplish something huge. We consider it our call to arms - a reminder that nothing is impossible!

Never stop traveling

We practice what we preach! Exploring our wonderful world, tasting new foods, and meeting new people is the foundation of TourRadar. Travel isn't just something we do; it's who we are and, most importantly, something we can never lose sight of.
Hi there! We are the...
Engineering team

No two days are the same, from developing applications for our travelers and operators to creating in-house services for our Travel Experts and working alongside our B2B partners. Together, we welcome each day and face whatever exciting challenges lie ahead.

Product & Design teams

We're the kind of teams who are driven by hypergrowth and who get excited over our weekly releases (really, we do!). With a thirst for data and user experience, we bring creative ideas to life with initiatives that aim to transcend the multi-day touring experience as we know it.

Marketing team

As a team of creative self-starters, we've yet to find a problem we can't solve. From programmatic display advertising to editorial management, our team works across multiple continents to execute exciting campaigns for our worldwide audience.

Customer Support team

We dare you to find a country we haven't traveled to? Labeling ourselves as Travel Experts, our day-to-day is driven by the round-the-clock support we provide for our travelers. Our diverse yet tight-knit team is located all around the globe, ready to take your call.

Business Development team

As the go-to contacts for our tour operators and partners, we believe that great things happen when we come together. Our multinational team unites the travel industry by building connections and creating meaningful partnerships, each fostered by our shared love for travel.

Finance & People teams

Armed with unrivaled problem-solving skills and a passion for making complex processes a breeze, we ensure our day-to-day operations are smooth sailing. With team members across the globe, we've got everyone covered - from our TourRadar team members to our partners and operators.
We can't forget the Barketing team!
Woof, woof, woof!  Whilst our four-legged friends can't talk for themselves, they deserve a spot on this list too. You'll find them greeting you at the door in every one of our offices, eagerly awaiting for a cuddle when you need a time out, or offering themselves up for a lunchtime walk. 

Our Global Perks
Travel Credits

Experience our world-class adventures firsthand and explore new destinations using our travel credit system.

Flexible Working Hours

Schedule your working hours according to your personal needs across your work week.

Remote Working Options

Choose between working from our beautiful offices, from home or from anywhere across the world for a certain period of time.

Sustainability

Join like-minded colleagues in voluntary work groups to discuss and actively shape TourRadar's journey to becoming the most sustainable provider of multi-day adventures.

Mental Health Support

Unlimited, free and anonymous access to mental health check-ins, therapy sessions & workshops led by an external curated team of professionals.

Home Office Allowance

Monthly home office allowance to cover costs arising from working from home.

Regular Social Events

Monthly team lunches, rooftop BBQs, company offsites, ping pong tournaments and much more!

Diverse & International Work Environment

Thrive in an international work environment with more than 40 different nationalities under one roof.

Learning & Development

Yearly Development and Reflection Talks (DaRT) to discuss individual learning and career opportunities, individual learning budget and a highly flexible and cross-functional work environment.
Try our Office Exchange Program!
Here at TourRadar, we're privileged to have three offices across the globe (Vienna, Toronto, and Brisbane), so we encourage everyone to use our Office Exchange program. You'll have the chance to get to know the faces you see in your meetings, and better yet, become a local in a new city.

Locations
Vienna, Austria

Located in the heart of Vienna's 1st District, our headquarters (and its surroundings) create an atmosphere like no other. Every day we enjoy the open office floorplan, our canine companions, and our recreational spaces equipped with coffee machines to keep us buzzing. Beyond the office walls, you don't need to wander far to enjoy world-class restaurants, museums, and inspiring green spaces.

Toronto, Canada

Our Toronto office is located in the city's center at the base of Dundas Square, one of the city's most vibrant areas. The team works literally above Toronto's largest mall, the Eaton Centre, not including hundreds of different shops, bars, and restaurants. With the Dundas subway just below the office building, you are only steps and an elevator ride away from a 25th-floor panoramic view of Canada's largest city. Join us in Toronto, and you'll be ordering double-doubles with your loonies and toonies in no time.

Brisbane, Australia

Our Australian office is located in the heart of Fortitude Valley, a raw yet sophisticated inner-city suburb of Brisbane. The Valley, as it's affectionately known, is home to all things nightlife, entertainment, dining, and boutique shopping. It's the suburb that never sleeps, and you'll enjoy getting caught up in the fun. You'll love working out of our Brisbane office if you love sunny days, sandy beaches, and cold drinks.
We're hiring!
Frequently Asked Questions
I just submitted my application. What happens now?

Thanks for applying! We just need you to sit back and hold tight until a recruiter reads through your application. Depending on the number of applicants, this can sometimes take 1 - 3 weeks. We're a small yet efficient recruitment team who takes pride in carefully sifting through every application looking for the perfect fit. We'll be in touch either way.

I met all of the position requirements. Why wasn't I invited for an interview?

We wish we could say hi to all of you! Due to our high volume of applicants, we may only be able to interview some candidates. We encourage you to apply for another position or try again in the near future.

You have positions all over the world! Can I apply for a job even though I don't live in that country?

Typically we only consider applicants who are already legally able to work in the country where the position is located. However, for some roles, we also consider remote candidates, where working from one of our offices is optional. If in doubt, please check the job description or get in touch with us.

What else can you tell me about #LifeAtTourRadar?

We'd hate to toot our own horn, so we've decked out our socials to do that for us! Connect with us on LinkedIn and Instagram to see what our teams get up to. If you want to inspire the adventurer in you and feed your wanderlust, make sure to also visit our YouTube channel!

My question wasn't answered. Where can I find out more information?

Our recruitment team is always one email away! Simply reach out to us at recruiting@tourradar.com if you have any further questions.
What to Expect: From Application to Invitiation