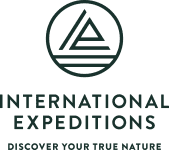 Response rate

100%

Response time

5h
See all tours
Tour on this Ship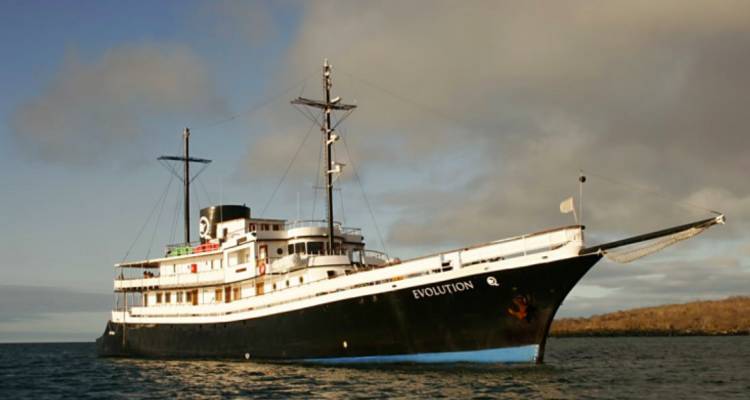 Built

Refurbished 2017

Guests

32
Crew

16

Registry

Ecuador
Gross Tonnage

675

Ocean
Islands
Ship Overview
For our Galapagos Islands cruise ship we have selected the M/V Evolution, accommodating just 32 guests. This intimate ship features a great deal of public space, including an observation deck and a canopied bar on the roof deck, perfect for enjoying a snack and drink on the canopied roof deck while whale watching or chatting with fellow passengers. Two-person kayaks also are available and a doctor is aboard on every voyage and even accompanies your small group off-ship.
Because there is an "open bridge" policy aboard the M/V Evolution, you are welcome to visit the captain and crew and learn all about the ship's operation and navigation. Each day our naturalist guides will give talks and briefings on the day's events and about the natural and human history of the Galapagos. They will help you understand the context of what you've seen and help prepare you for the next day's activities. A convenient boarding platform makes it easy and safe to board our excursion boats.
Cabins
Your air-conditioned cabin is the perfect haven between excursions, featuring private facilities and ample storage space. During every excursion, cabin stewards will service your spacious cabin.
Staterooms / Suites
Category 1 (A Deck )- 263 square feet
Category 2 (A Deck) - 194 square feet
Category 3 (C Deck)
Category 4 ( Deck C) - 140 square feet.
Category 5 (D Deck) -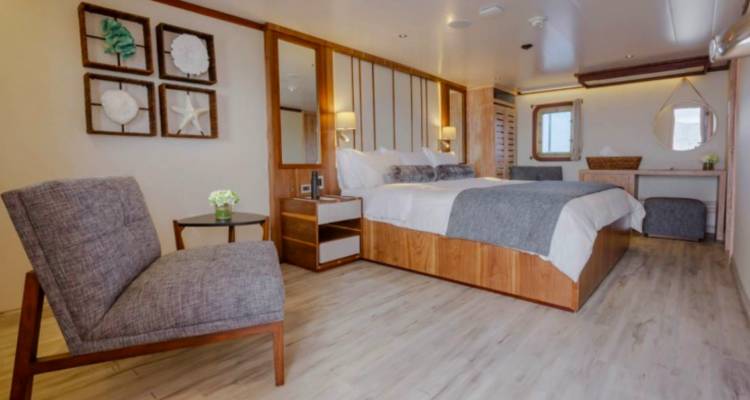 Features
Master Suite A1 is located on the Albatross Deck. The Master Suite features a king bed, view windows and a reading area. Triple accommodation available.
Dining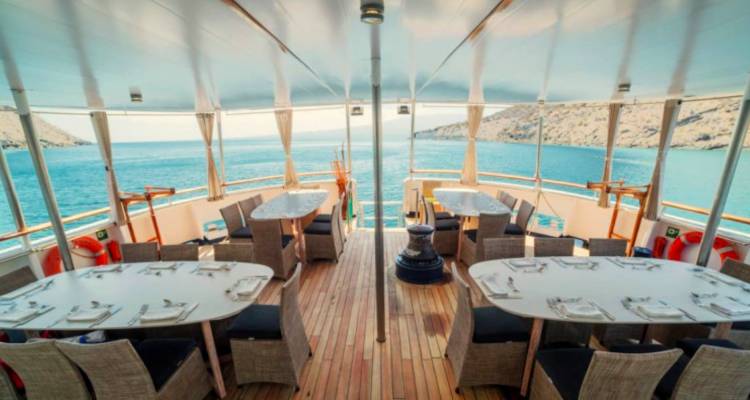 Meals are served in one seating in the dining room, and each meal boasts international and traditional Ecuadorian cuisine, fresh fruit and sumptuous desserts.
M/V Evolution Tour