Did you go on tour with Chris?
Chris 'Koda' Tabone
Guide at
Koda Sail
Australia, Melbourne
Avg. Rating
From what started out as a short 2 month trip back in 2010, has now turned into a lifestyle for me. Before then I had been traveling on and off since 2001, but then decided that this is it, this is what I was born to do! My travels have taken me to 55 countries so far (there's still more on my list!), but whenever someone asks me where my favourite place in the world is, my response is ALWAYS Croatia! It's such an amazing country, I'm totally in love with it! Cities like Dubrovnik and Split are enriched in so much history, they still give me goosebumps. The people here are so friendly, helpful and very entertaining. I've made many local friends here over the years and can't wait to get back here every Summer. In 2014 I was awarded Top 5 in the Tour Radar's 'Guide of the Year' awards which was a nice reward for an already awesome job. Being rated so highly from my past passengers is a nice recognition. To know that I have had an influence on helping people enjoy their holiday, it's a nice feeling. Here's an article on Tour Radar from me with some top travel tips given as part of the Guide of the Year awards in 2014. http://www.tourradar.com/blog/travel-secrets-worlds-top-tour-guides/
Share Chris's profile
Countries where Chris guides in
Chris's Favourite Tour
Dalmatian Voyager - Depart Split
Unforgettable Tour Memory
Nothing beats that first tour when after completing all the heartache of training, the preparation for the tour, getting through the tour then on the final day telling your group this was your first go at it and then absolute shock from everyone. It brought happy tears to my eyes to know that I had done it!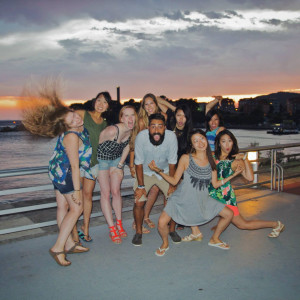 Best Travel Tip
Don't be afraid to make the first move and introduce yourself!
Chris's Reviews from travellers
Chris's meets
"I know I am early but can't wait for this tour - booked today - hopefully there will be lots of other fun people with me"
Departed 19th October 2016 | 22 comments | 9 people

"Hey"
Departed 17th July 2016 | 1 comment | 1 person

"Hey!"
Departed 30th August 2016 | 1 comment | 1 person