Response rate

100%

Response time

0-1h
See all tours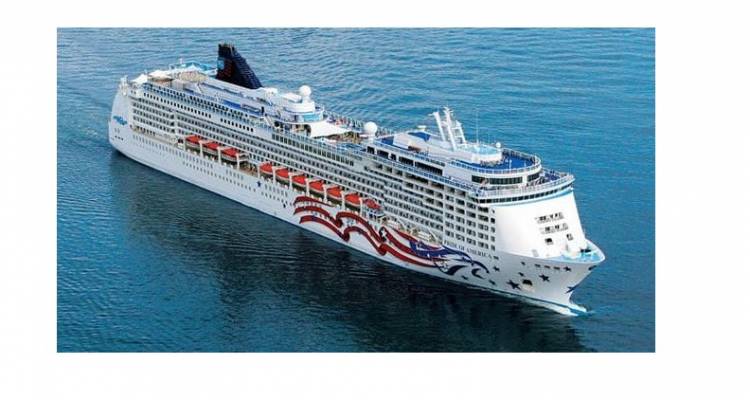 Built

2005 (refurbished in 2016)

Guests

2186
Crew

927

Length

920.6ft/280.4m
Width

105.6ft/32m

Staterooms

1192
Gross Tonnage

80439

Draft

20ft/6.09m
Ocean

Country Region
State
Ship Overview
Aloha! Come aboard Pride of America for the best way to island hop Hawai'i. This ship offers up all the best from around the U.S., including an American crew. Cruise America's paradise in style, with 15 restaurants and 12 bars and lounges, excellent family accommodations, spacious suites and lots of balconies - perfect for whale watching, witnessing Kilauea Volcano or taking in the dramatic view of the Napali Coast. As the first and only U.S.-flagged cruise ship in 50 years, Pride of America offers a one-of-a-kind itinerary that visits four of Hawaii's best islands, including overnights on Maui and Kaua'i.
Whether it's lazy days and romantic nights or an action-packed week of adventure, Norwegian Cruise Lines' Freestyle Cruising is a great way to enhance your vacation. With Freestyle Cruising, you'll discover freedom. Norwegian Cruise Lines offers diverse and exciting restaurants, a more relaxed dress code, and more things to see and do. And that's just the beginning. The entire cruise experience has been designed around giving you the option to choose. Wear what you want. Dress according to your mood. Prepare to be pampered. Do everything or nothing at all. It's your choice.
15 restaurants
12 bars and lounges
Excellent family accommodations
Spacious suites and balconies
Staterooms / Suites
Deluxe Family Suite with Large Balcony (Cat. SA)
Deluxe Owner's Suite with Large Balcony (Cat. SB)
Owner's Suite with Large Balcony (Cat. SC)
Deluxe Penthouse with Large Balcony (Cat. SD)
Penthouse with Large Balcony (Cat. SE, SF, SG, SH)
Family Suite with Large Balcony (Cat. SI)
Obstructed View Family Suite (Cat. SJ)
Aft-Facing Large Balcony (Cat. B1)
Family Balcony (Cat. B2, B3)
Large Balcony (Cat. B6, B7)
Mid-Ship Balcony (Cat. BA, BB)
Balcony (Cat. BC, BD, BE, BF)
Just Cruise Balcony (Cat. BX)
Family Oceanview Picture Window (Cat. O1)
Mid-Ship Oceanview Picture Window (Cat. OA)
Oceanview Picture Window (Cat. OC)
Obstructed Oceanview (Cat. OK)
Just Cruise Oceanview (Cat. OX)
Family Inside (Cat. I1)
Mid-Ship Inside (Cat. IA)
Inside (Cat. IB, IC, ID)
Just Cruise Inside (Cat. IX)
Studio Inside (Cat. T1)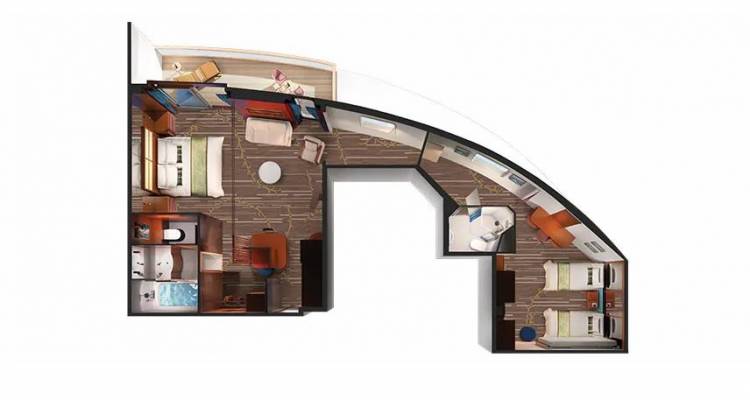 Features
Deck 9
Accommodates: 6
Total Approx. Size: 607-650 sq. ft. (56.4-60.4 m²)
Balcony Size: 98 sq. ft. (9.1 m²)
Living room
Private balcony
Two separate bedrooms (one with a king-size bed and walk-in-closet, another with two lower convertible beds and a bunk bed)
Two TVs
Two bathrooms (one with bath and shower)
Butler service and concierge available
Deck Plans

Deck 14

Deck 13

Deck 12

Deck 11

Deck 10

Deck 09

Deck 08

Deck 07

Deck 06

Deck 05

Deck 04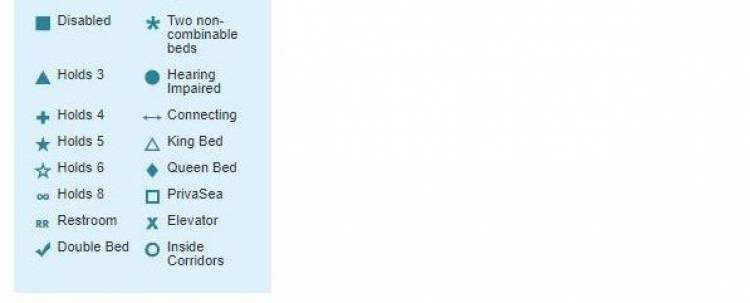 Deck Key

Categories
Dining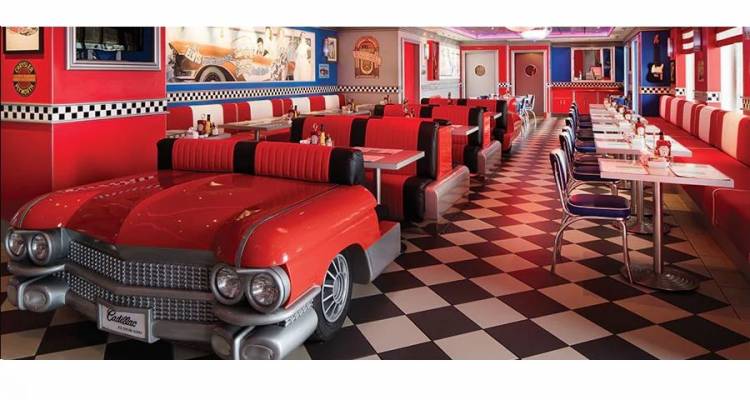 With 19 dining options, more than any other cruise line in Hawaii, Pride of America offers a genuine Hawaiian culinary experience by serving local Hawaiian cuisine such as Pineapple Beurre Blanc with fresh seafood, papaya with Asian short ribs and a variety of tropical juices.
Serving a wide variety of culinary delights to please every palate, our complimentary dining options include two main dining rooms, a help-yourself buffet and a variety of casual cafés, grills and on-the-go choices. Plus, our Main Dining Rooms offer a menu that changes daily, Chef's Signature Dishes and carefully selected wine recommendations, guaranteeing a different culinary adventure with every visit.
Enjoy a night of gastronomic proportions at one of our many speciality restaurants. Sip your favourite cocktail as you select from choice cuts of Angus beef at Cagney's Steakhouse. Enjoy delicious pasta made with the freshest ingredients inside our chic Italian eatery, La Cucina. Or savour French cuisine at Jefferson's Bistro. No matter what you choose, our speciality dining options feature the tastes you'll crave.