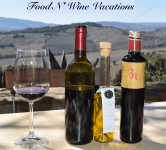 Food N' Wine Vacations
Headquarters in Atlanta, GA, USA
OVERALL RATING
5.0/5 - Excellent
See all tours
Highlights
Exclusive educational and cultural visits
Small group size for a personalized experience
Programs providing an authentic experience
A unique experience at a great value
Food N' Wine Vacations Guides


Save up to 70% -
Get early access
3 Food N' Wine Vacations Reviews
Excellent

100%

Good

0%

Average

0%

Rather Poor

0%

Bad

0%
Accommodation

5 / 5

Transportation

5 / 5

Meals

5 / 5

Value for money

5 / 5

Guide

5 / 5
Write a review
Looking for a specific tour?
12 Food N' Wine Vacations tours
Check it out
Dreamin' Amalfi

Incredible experience that wont be forgotten! From expert tour guides to comfortable transportation to first class accommodations, I highly recommend touring I…

Read more

We took the tour to Amalfi. Sam was very responsive and helpful. It's like a one stop shop. They helped us with flights, suggestions where to go and where to st…

Read more

Best of Provence Tour

Magnifique! We booked the Best of Provence Tour. Best it was. The villa looks like as if it was taken from a movie. The setting is so calming, the rooms are lar…

Read more

Culinary Paradise in Italy

Written on April 20, 2017

I am a travel agent and i must say that i was impressed with how this organization and Sam works. They are quick to respond, always happy to answer questions. …

Read more

… which is seven women used our profits to take a trip with Smadar and Food N' Wine Vacations. It was a wonderful trip and none like I have ever ta…

Read more

Best of Provence Tour

Written on December 5, 2012

Sam of Food & Wine Vacations did a fabulous job working with me to determine which type of activities would be fun for me and my husband Warren to do in Provenc…

Read more

Food and Wine Tour Tuscany

Written on October 8, 2012

Smadar Our trip to tuscany was truly a vacation. Every day was a unique and fulfilling experience on none stop food, wine and site seeing. The villa and Valter…

Read more

Best of Provence Tour

Written on October 3, 2012

Our trip was fabulous and our tour guide was the very best. She was vivacious, showed her love for all things in Provence - the people, the history, and of cou…

Read more

Best of Provence Tour

Written on October 3, 2012

… Cassis . . . . everything was special. I'm so glad we found you and Food N' Wine Vacations. Becky (GA)

Read more

Food and Wine Tour Tuscany

Written on October 1, 2012

Everything was amazing! Definitely a trip of a lifetime (so far!) The villa was absolutely beautiful. We cooked and ate so much amazing food and wine. It was ce…

Read more
About Food N' Wine Vacations
Food N' Wine Travel Style Food N' Wine Vacations™ is all about experiences. Our tours focus on connection to people and places, to their history, landscapes, food and tradition. From driving in beautiful landscapes to tasting regional specialties and wines, and staying in charming private estates. We take care of everything from A-Z so that all you have to do is show up and have a great time. We design all of our programs with the goal that our guests will have a memorable one of a kind experience. Exploring one region Our tours feature in depth exploration of a particular region which gives you the opportunity to be part of the surroundings. We keep a fine balance between sightseeing, cooking classes, winery visits, but we can't stop eating…. Accommodations We work with private estates that capture the essence of the region. We choose properties that have a story or history and offer authentic and warm hospitality. Whether you're staying in a 17 century noble villa in Tuscany or a retransformed truffle farm in Provence, they are a part of your personal cultural experience. Cuisine Cuisine and culture go hand in hand. We dine in locals restaurants, we go to the markets, we cook with chefs regional recipes, we visit cheese farms, olive oil farms and we meet the wine maker at his winery. Our Partners Food N' Wine secret ingredient is the local relationships we established in the regions we travel. Our friends, the wine maker, the chef, the chocolate artisan, the cheese maker. They all love to share their stories and knowledge with Food N' Wine guests. Local host Your tour guide and host are fluent in the local language and customs, which adds up a lot to the experience. They can advise on local specialties from food and wine or what you should take back home with you, or simply have a conversation about local traditions. Outstanding value - in addition to the accommodations, tour guide, all visits and sightseeing, we provide MOST meals including wine. If we don't include a meal in a particular day is because we want to let you choose if you want to give your palate a little break. Or maybe not...
Food N' Wine Vacations videos
Food & Wine Vacations
Spain Tours
Food N' Wine Vacations Guides
Food N' Wine Vacations Photos

Popular for Food N' Wine Vacations
Questions & Answers
Here we have collected and answered the most frequently asked questions.
When is the best time to travel on your tours?

The best time to travel is spring and/or fall: April-June, September- October. The weather is mild, and the places are not crowded with tourist so you can really experience the lifestyle.

What does my trip include?

Your trip includes accommodations, most meals, transfers, transportation according to the itinerary, guide and local host, food artisans and tastings, wine tasting and much more. Bottom line all you have to is show up and enjoy!

What is not included in the trip?

Flights, Travel insurance, Personal purchases, Anything not included in your specific itinerary

Who is going on these trips?

Food enthusiasts, Cultural travelers, Wine groups, solo travelers, couples, people who like cooking, People who want to make a connection to the destination.

Can you help me with pre and post planning the tour?

Yes! We offer complementary consulting to make your experience complete.