About
Stuttgart Beer Festival, also known as Cannstatter Volksfest, is the hidden gem of German beer festivals and funfairs. While not as enormous as Munich's Oktoberfest, it comes in a close second, attracting over 4 millions visitors yearly to Stuttgart, Germany. The event takes place at the Cannstatter Wasen which is a 35 hectare festival venue situated on the banks of the Neckar River. While it has a similar feel to Oktoberfest, boasting massive beer tents, traditional food, music and attire, it is unique in that few people outside of Germany know about it, despite its size. This makes it an especially unique bavarian experience for travellers looking to discover something off the beaten track.
The event began nearly 200 years ago in 1818 under King Wilhelm's rule as a commemoration to the end of many years of hunger. A towering column decorated with fruits, vegetables and cereals was erected that first year and remains as the festival's icon, symbolizing the agriculture harvest.
The fair has evolved over the years into the adorned celebration it is today, spanning 17 days from the end of September to mid October. If you can't decide between Oktoberfest and Stuttgart, you're in luck because Stuttgart runs one week longer than Oktoberfest—giving you the option of going all out and attending both!
Entrance into the festival and tents is free of charge, but make sure you have enough cash for food, drinks, rides, and services. Note that Wednesdays are always Family Days with special discounts and activities.
Opening Ceremony & Keg Tapping
The festival is kicked off each year on Friday afternoon with the traditional keg tapping ceremony taking place in a selected tent. Stuttgart's incumbent Lord Mayor attempts to tap the first barrel of beer with the fewest amount of hits possible, which is quite a spectacle.
Festival Parade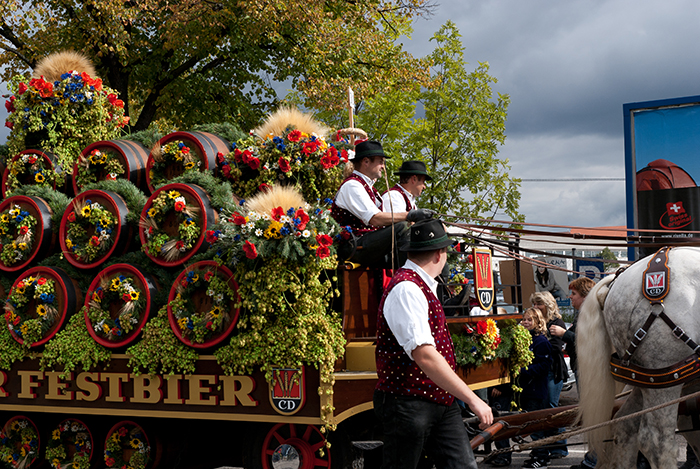 The Volksfest parade has been in existence for hundreds of years and takes place the first Sunday of the festival. Over 250,000 spectators line the streets to enjoy the marvelously decorated horse drawn brewery wagons, historical vehicles, agriculture displays and traditional bavarian costume and music. The parade makes its way from the Cannstatter Kursaal grounds along the quaint and narrow streets through the suburbs to the Wasen.
All about the Tents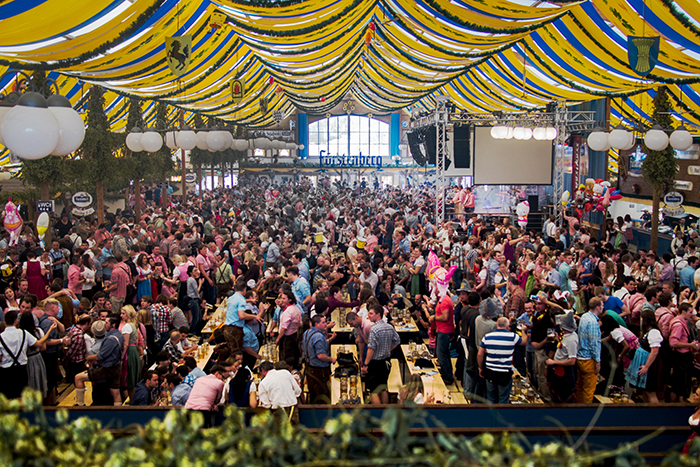 Stuttgart hosts ten fabulous tents, most of which seat around 1,300 guests. As mentioned previously, admission to the tents is free of charge, but it's essential that you arrive early to ensure you get in before capacity is reached. You can guarantee a spot in a tent by making a reservation. Take a look at the official event's website, decide which tent you fancy most, and make reservations directly with that tent brewery.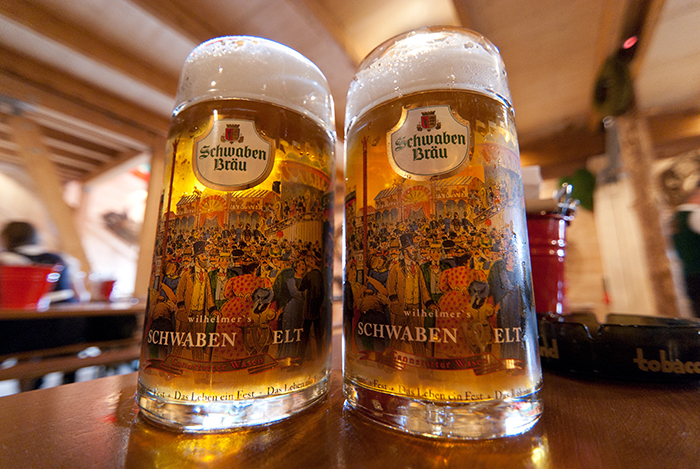 Each tent has its own charm and atmosphere and boasts unique specialty beers and wines. Some tents have lovely beer gardens which are great for getting some fresh air. Don't hold back—now is the time to indulge in all the tents' German specialty dishes like pork loin, Bratwurst, roasted chicken and plenty of traditional desserts. You will be thoroughly entertained all day and night by both traditional and contemporary bands and DJs. Check out the tent detail pages to scope out your personal must-see tents
FairGrounds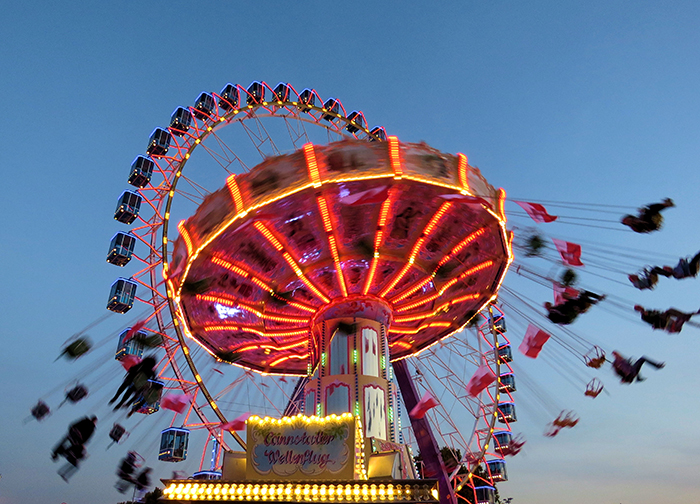 Let your inner child run free by jumping on one of the many fairground rides that range from the famous big wheel, roller coasters, a nostalgic carousel and a wild water coaster.
Traders' Market
Make sure to check out Traders' Market, boasting over 50 traders selling various wares including textiles, leather goods, household items, art, tea, herbs and spices, jewellery, gifts…you name it, they have it!
Hot Air Balloon Race
One of the premiere highlights of the festival is the hot air balloon race. On this special day, 15 hot air balloons and a number of gas balloons hover in the sky over the Cannstatter Wasen as the race takes off. This typically takes place on the second weekend, but note that it may be rescheduled or canceled due to adverse weather.
Attire
Embrace the German festival culture by sporting your very own Bavarian outfit! Having the right outfit for the festival is key. The Tracht (attire) consists of the male Lederhosen and the female Dirndl. Lederhosen are leather breeches which are either knee length or shorter and can be worn with or without suspenders. A Dirndl is a traditional dress which consists of a bodice, blouse, full skirt and apron. The colors are typically rich and dark.
Useful Information
How to Get There
The Stuttgart Airport is 25 kilometers away from the Cannstatter Wasen which can easily be accessed by car, train, taxi, bus or public transport in about 30 to 40 minutes. The festival's travel detail page lists detailed information on travel options. The address of the festival is: Cannstatter Wasen, Mercedesstraße 50, 70372 Stuttgart, 48° 79' 36'' north.
By Car - Driving to the festival is possible, but note that parking in the immediate vicinity of the main entrance is limited. The parking area is impossible to miss as the it's well marked with signposts. Note that parking costs 6 euros per day. There are also several park and ride locations in Stuttgart. See details on the festival's travel detail page. You can also take advantage of the festival's 'Drive me Home' service! Beginning daily at 8 pm, a Drive me Home driver will drive you and your car back to wherever you are staying. All you have to pay for is their return taxi ride!
By S-Bahn & Train - Take either the R1, R2, R3, or R8 train or the S1, S2, or S3 S-Bahn to the Bad Cannstatt station. From here, follow the signposts to the festival which is a quick 10 minute walk away.
By U-Bahn Light Rail - There are three U-Bahn stations in close proximity to the Cannstatter Waswer. Take the U11 to Cannstatter Wasen, U1, U2, U3 or U19 to Haltestelle Bad Cannstatt Wilhelmsplatz or the U1, U2 or U11 to Mercedesstrasse.
By Bus - There are also three bus lines that take you to the event. Bus 56 takes you to Bad Cannstatt Station, bus 56 and N5 take you to NeckarPark Station and 52, 55, 56, N4, N5 and N6 take you to Bad Cannstatt Wilhelmsplatz.
Where to Stay
There are many hotels in the vicinity of the festival. The festival has partnered with Stuttgart Tourist which provides detailed information on hotel options.
If you really want to go all out, consider staying at the neighboring festival camping ground! The Camping StuttGart Cannstatter Wasen site is fully equipped with all your camping needs and is suitable for tents, caravans and motorhomes.
Images courtesy of LenDog64, Luftphilia, and die.tine.