Bicycle Tours & Trips
Travel like the locals do on a bicycle adventure. Ride off-the-beaten-track through the hills of Northern Thailand, glide past the sweet-scented fields of Provence or let the aromas of Tuscan vineyards delight you after a long days' ride. From mountain biking to road cycling, a tour on two wheels invites you to experience a whole new world - whether it'd be cruising through the sunlit trails of Vermont or when conquering a steep ascent on Nepal's mighty cycling routes.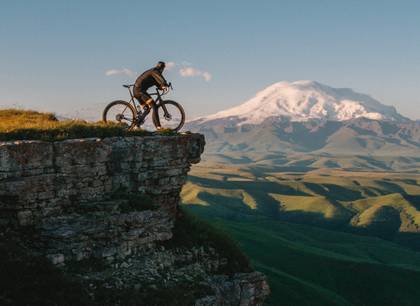 Over 250 Bicycle Holiday Packages With 2,438 Reviews
What to Expect on a Bicycle Adventure
Learn tricks of the trade

Cycle alongside a group or go private with a guide by your side. On a cycling trip, your guide is an avid cyclist who knows how to make your journey as easy and seamless as possible. From correct breathing techniques and much-needed motivation to ensuring everyone is having an enjoyable time. You'll leave as dearly departed friends!

Go alone with confidence

If you prefer to hit the open road alone or ride at your own pace, a self-guided cycle might just be what you're looking for. An organised bicycle trip takes away the hassle and arranges everything for you, from accommodation to navigation equipment. Just simply roll up to your lodgings knowing everything is taken care of.

Stays with a difference

A lot of the best cycling routes in the world lay along sleepy riverbanks or in quaint villages where locals rejoice at the sight of a visitor. Most bicycle tours often feature local hosts who know how to prepare your bed for some good ol' rest and relaxation, or better yet, cook a hearty homemade meal ready to fuel the day ahead!

Connect over cycling

The best part about taking an adventure is being able to share it. Why wait 'til you get home when you can share your cycling adventure with those who love it just as much as you do? Say cheers to your triumphs, relate over your tribulations and exchange tips and tricks over a refreshing appetiser together. 
Cycle through Washington DC with us!
When you're travelling the world on tour, there's plenty of different ways to experience a city's sights and sounds but few are better than by bike! If you're interested in getting the most out of your visit to Washington, Zion National Park or anywhere in the Land of the Free, consider a 
USA bicycle adventure
!
Most cycling tours will include a brief training session to cover the basics of bike safety and is kept at a steady pace so that every fitness level can enjoy the experience! If you're after something more exhilarating, check out our 
serious
 and 
heart-pumping
 cycling trips!   
View USA Cycling Trips


Best Ways to Cycle
Mountain Biking

Contrast serene postcard-perfect scenery with an exhilarating mountain bike adventure! Whilst the upwards routes of winding mountain paths may be challenging, it's all worth it when you feel that wind in your hair zooming down. From the cold, rugged slopes of

Annapurna

to the dry, desert hills of the

High Atlas Mountains

, a mountain biking vacation is guaranteed to take your breath away!

See All Adventures

Road Cycling

If cycling trips that go off the beaten track aren't quite your style, then why not consider road cycling adventures? Whether you are riding past wild animals in

Africa

 or meandering through the historical alleyways of

Europe

, there are many cycling holidays suitable for anyone. From the eldest family members to the youngest, road cycling trips are perfect for any fitness level!

See All Adventures

Bike & Barge

What better way to recover from a day of cycling than in your very own floating hotel? Spend your days riding through European vineyards, past ancient castles and along rivers that flow through storybook towns. From the quaint villages of the

Seine

to the iconic cities of the

Danube

, a bike and barge trip perfectly combines an active adventure with a relaxing escape!

See All Adventures
Most Popular Biking Destinations
Places to Cycle Around the World
Bicycle Trips for Everyone
Easy

An easy cycling tour is just that - an easy experience where you don't have to worry about wearing yourself out before even reaching your destination. You can expect leisurely speeds, plenty of breaks, and a generally relaxed experience fit for the whole family. We recommend being familiar with a bike and of a reasonable level of fitness to fully enjoy your adventure!

See Easy Bicycle Adventures

Moderate

Moderate cycling trips are the perfect middle ground for those with previous cycling experience who aren't quite ready or able to cycle in more extreme conditions. You can expect longer cycling durations and distances between breaks, as well as a relatively faster pace. To get the most out of your moderate adventure, you should be physically fit and can cycle confidently.

See Moderate Bicycle Adventures

Serious

Here's where bicycle trips get really exciting! Perfect for the avid cyclist who dreams of journeys across mountains, countries, seas, or forests. Serious cycling tours aren't for the light-hearted, but for those who are equipped with expert cycling knowledge and at peak physical form. It's a fulfilling way to see the world while meeting like-minded cyclists!

See Serious Bicycle Adventures
Your Biking Questions, Answered
How do I know a bicycle tour is right for me?

If your favourite thing about travelling is exploring new and exciting destinations, training for a mountainous adventure, or gliding past scenery that takes your breath away, then a bicycle adventure is for you. With your accommodation, meals and supplies sorted, an organised cycling trip takes the stress away so that you can fully enjoy your journey!

Do I need to bring any cycling gear?

On a typical bicycle adventure, you can expect all the necessary cycling equipment to be included in your tour price (standard bicycle, helmet, navigation, etc). However, some tour operators require you to bring your own bike or equipment, so be sure to double-check your tour inclusions - if you're still unsure then reach out to us, we'd be happy to help!

Do I need to train for a cycling tour?

Not if you don't want to! The best thing about booking your bicycle adventure on TourRadar is that you can decide your own difficulty - from easy rides to heart-pumping expeditions! Simply filter down your cycling adventure until you find one that ticks all of the boxes, if you're still not sure then reach out to us, we'd be happy to help!

Do you have any eBike tours?

Absolutely we do, in fact, most of our cycling tour operators offer bicycle upgrades depending on the terrain of your tour. Upgrades can sometimes include eBikes (electric bikes), specialised bikes, or even trailer attachments if you're bringing little ones with you on your adventure!

Can I combine Adventure Styles?

Yes absolutely! Although, have you considered an active adventure or an explorer tour instead? These two Adventure styles combine various activities and cultural experiences to craft the ultimate adventure (including cycling), so if you're looking for a tour that has everything, definitely check those out!

How do I book a bicycle adventure on TourRadar?

Find your next bicycle adventure by searching through our tours until you find one that stands out. Simply choose your dates and fill out your details to secure your trip. If you have any questions along the way, our Travel Experts are standing by 24/7!
Current Deals on Bicycle Trips
Best Tour Companies for Cycling Adventures
It's not easy to choose the best cycling company, but these bicycle tour operators are much loved by past travellers!
Other Adventure Styles You Might Like
Having a change of heart? Not to worry, we've got plenty of Adventure Styles to suit every taste - from the fussiest connoisseur to the hopeless romantic.
Don't just see the world, experience it.

Trek

and discover traditions of local hill tribes,

bike

over unforgiving yet breathtaking alpine terrain,

paddle

to island coves only accessible by water,...

See More

Take a deep breath and escape to a trail where birds serenade, fresh air rejuvenates, and blue skies mesmerise. Whether you're chasing endorphins on a trek of

Machu Picchu

or connecting with the...

See More

Calling fellow adventurers! Tossing up between a hike of

Mount Fuji

to admire sunrise views, a kayaking excursion on pristine

Lake Louise

, or even a stroll through the vineyard valleys of the

See More
ADVENTURE INSPIRATION HAND-PICKED BY OUR TRAVEL EXPERTS