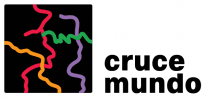 Response rate

100%

Response time

0-1h
See all tours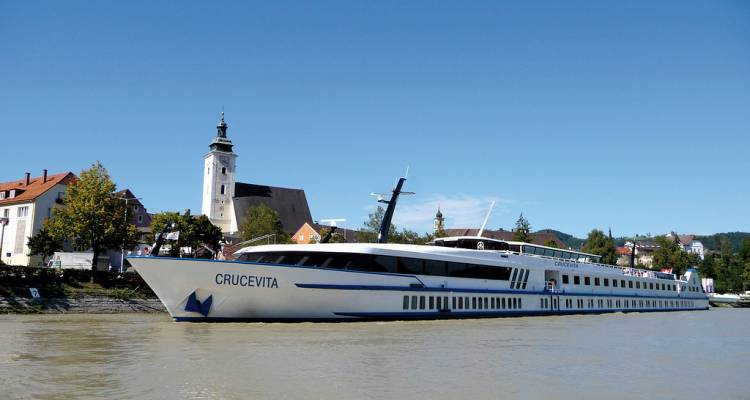 Built

Remodeled: 2018

Guests

110
Length

104.5 m

Electricity

220 V.
Beam

11.4 m

Cruising Speed

24 km / h
Draft

1.4 m

Rivers
Ship Overview
MS "Crucevita" is known as one of the most elegant and impressive river ships in Western Europe. The design of the ship follows the lines of a splendid yacht. The interior of the ship was designed specifically to offer passengers maximum space: a large living area with a fireplace, an impressive lounge and a large restaurant. Nothing else to embark, the passengers submerge in an atmosphere of exuberant and comfortable luxury. Enjoy your trip aboard the MS "Crucevita", with a personalized service, focused on the details, with a charming and professional staff.
Facilities:
On the Promenade bridge, located around the large spiral staircase that leads to the Main deck, you will find the lobby with the reception. In this area there is a large library with comfortable seats and an open fireplace surrounded by large sofas. The elegant and spacious restaurant is located on the Main deck, as is the wellness area with gym and sauna. The Sun Bridge is divided into 2 areas: a wide open area with sun loungers and an area covered with a large awning. The Main deck and the Promenade deck are interconnected by a large elevator with capacity for up to 4 people. To the Sol bridge, it can be accessed from the Promenade bridge by means of an external chairlift. Without a doubt, you will spend a relaxing stay aboard.
Staterooms / Suites
Promenade Deck Cabin(approx. 12m)
Main Deck Cabin (approx. 12m)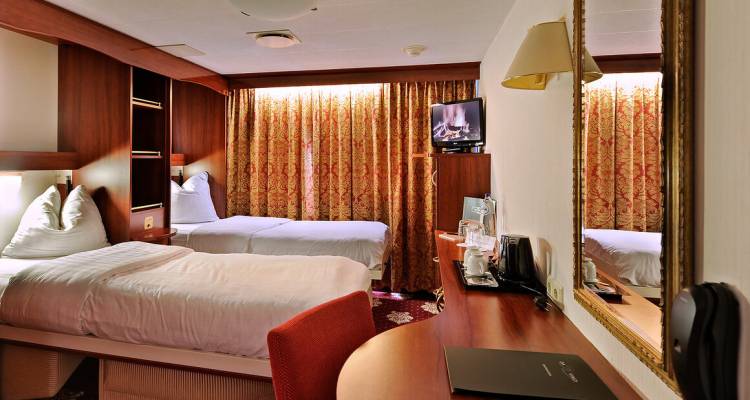 Features
Cabins om Promenade deck have French balconies (*renovation scheduled for 2019 winter-season). The Promenade Deck and the Main Deck are interconnected by a big, regular elevator suitable to carry up to 4 persons. The Sun Deck is accessible from the Promenade Deck by an outside chairlift.
Dining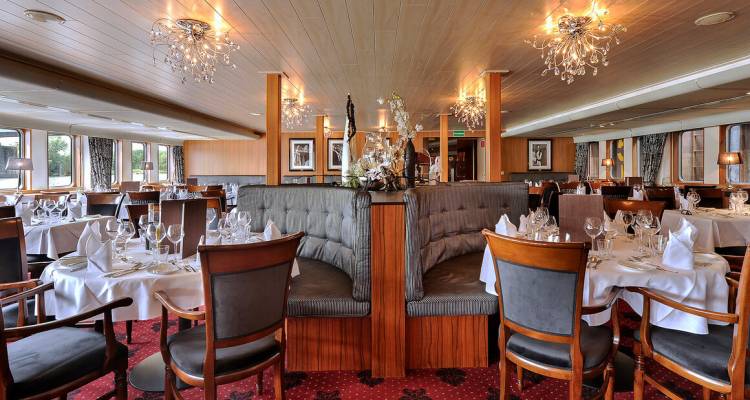 Elegant and spacious restaurant located on the Main deck.
Full board, three meals per day (from the dinner on the arrival day to the breakfast on the departure day)
Early-riser breakfast every morning
Afternoon high-tea: tea, coffee and cake or late night snack
Welcome buffet
Tea/coffee for breakfast, tap water on table for all meals
Coffee-station (starting 1 hr before breakfast until the start of dinner)
Welcome and farewell captain's cocktails (including 1 drink per person)
Welcome and farewell captain's dinner with special menu
Refreshments after excursions
Breakfast is served buffet style with hot and cold dishes, there is a healthy corner
Lunch and dinner set-menu with a choice of a main course (fish, meat, vegetarian)