Highlights
Europe's only flexible Hop on, Hop off network
Regional Adventure trips in Europe & Asia
The best Festivals and Events
Trips to suit all budgets and timeframes
Awards & Recognitions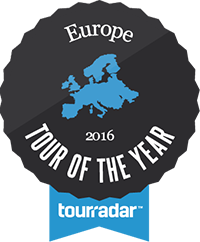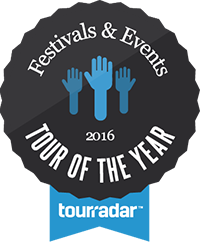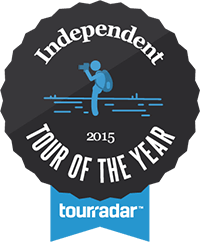 Busabout Guides


+82
1,998 Busabout Reviews
Excellent

78%

Good

20%

Average

1%

Rather Poor

0%

Bad

1%
Accommodation

4 / 5

Transportation

4.5 / 5

Meals

4.5 / 5

Value for money

4.5 / 5

Guide

5 / 5
Write a review
About Busabout
Busabout is not your average travel company. We offer you a flexible travel network that links up 46 of the best cities and destinations in Europe. Our Hop-On Hop-Off network, European Adventures, Festivals, Music Festivals, Sailing, Island Hopping & Asian Adventures allow our guests to build their own unforgettable adventure. Add in the company of fellow travellers and the best-in-class tour guides and you get a completely unique way of experiencing the world. By being the alternative choice we have remained dedicated to their freestyle form of travel. Busabout is your answer to experiencing Europe in your own unique way.
Busabout videos
Greek Island Hopping with Busabout
Vietnam Adventure
Cambodia Adventure
Adventures & Sailing
Asia
Show more...
Croatia Sailing
Hop on, Hop off - Best of Both Worlds
2017 - Welcome to Busabout
Italian Adventure
Why Busabout
Independent Travel
In 1998, Busabout set themselves apart from the rest by linking up the best cities and destinations, and seeing the company rise above from just being an average tour operator. They are committed to allowing travelers to explore Europe in an independent way, allowing the time, cash and experiences available to go further. Busabout is known as the alternative choice, dedicated to their freestyle way of traveling, and their one of a kind hop-on hop-off coach network.
Staff That Live To Travel
Busabout staff and crew live to travel, and they know first hand what makes a memorable trip. This is why sometimes they will show you around, and other times you are free to explore yourself. No matter which it is, they will always give youlocal knowledge to make the most of what is available.
Busabout Benefits
Independence, With Benefits
With Busabout, you get all the benefits of a group tour, like door-to-door service, knowledgable guides on the coaches, optional activities to make the most of your time there, as well as the experience of being able to travel around with like minded backpackers. As well as these benefits, you have the bonus of flexibility of independent travel, with the hop-on hop-off bus system, allowing you to decide where you want to explore next and how long you want to spend there.
Understanding Travelers
Understanding that backpackers want independant travel, to explore the world, and to keep it all within budget, means that Busabout can now offer its adventures across mainland Europe, island hopping through Greece or Croatia, trekking through Eastern Europe, or marveling at the ancient cultures of Egypt and Morocco.
Busabout Guides
Questions & Answers
Here we have collected and answered the most frequently asked questions.
Is it possible to change departures dates for Busabout adventures and treks?

Yes, depending on availability but an amendment fee may apply.

Does Busabout adventures and treks includes accommodation?

Yes, most of Busabout trips includes accommodaton with the exception of Greek Island Hopper since it is a flexible product. The Croatia and Turkey Sailing trips, accommodation is included on board the boats/gullets, with the Scandi-Baltic Adventure accommodation is included in a mix of hostels and guesthouses, along with on-board cruise accommodation during overnight sails. With the Ibiza Island Hoppers, Iberian and Italian Adventures, as well as all our Eastern European Treks, all accommodation is also included – mainly smaller hostel dorms, guesthouses and the occasional hotel.

How do I link up Busabout adventures and treks?

Please contact us and we will be happy to assist in booking your Busabout trip and provide all the information you need to know to link them up.

How do I get to the start point of Busabout trips?

Information on your starting location and time will be emailed to you after your booking is confirmed, so you can plan your arrival accordingly.

How can people contact me while I'm on a Busabout trip?

Busabout is able to track all of their passengers across their circuit so in the event of emergency you can contact the Reservations office at info@busabout.com or call +44(0)8450 267 514 who will be able to assist.

What is the age limit to Busabout trips?

You need to be 18 at time of travel because the nature of the trips are for independent backpackers. Busabout can, in exceptional circumstances, give confirmation of acceptance of a person outside this age restriction, provided they are accompanied by a person 18 years or over.

What adapters is needed on the trip?

A standard Europe adaptor is recommended and the coaches come with a few power points on board.

What are the operating dates of the Busabout Hop-On Hop-Off season?

The Busabout Hop-On Hop-Off operates in the summer season and runs from the beginning of May through to the end of October.

What is the accommodation on a Busabout trip?

Busabout offers modern, cool and independent hostels in the city and in some of their smaller destinations, resort style campsites at some of their Italian cities and the odd city guesthouse. Dorm share options are also available with a budget of around €20 - €25 a night. Cities like Paris will be closer to €30; Prague closer to €10. There's not much of a hostel culture on the Greek Islands so you stay at beach resorts and guesthouses which are generally much cheaper than European hostels anyway.

Are there any solo travellers on a Busabout tour?

Absolutely! There are plenty of independent travellers with Busabout so it's easy to meet and spend time with like-minded people.